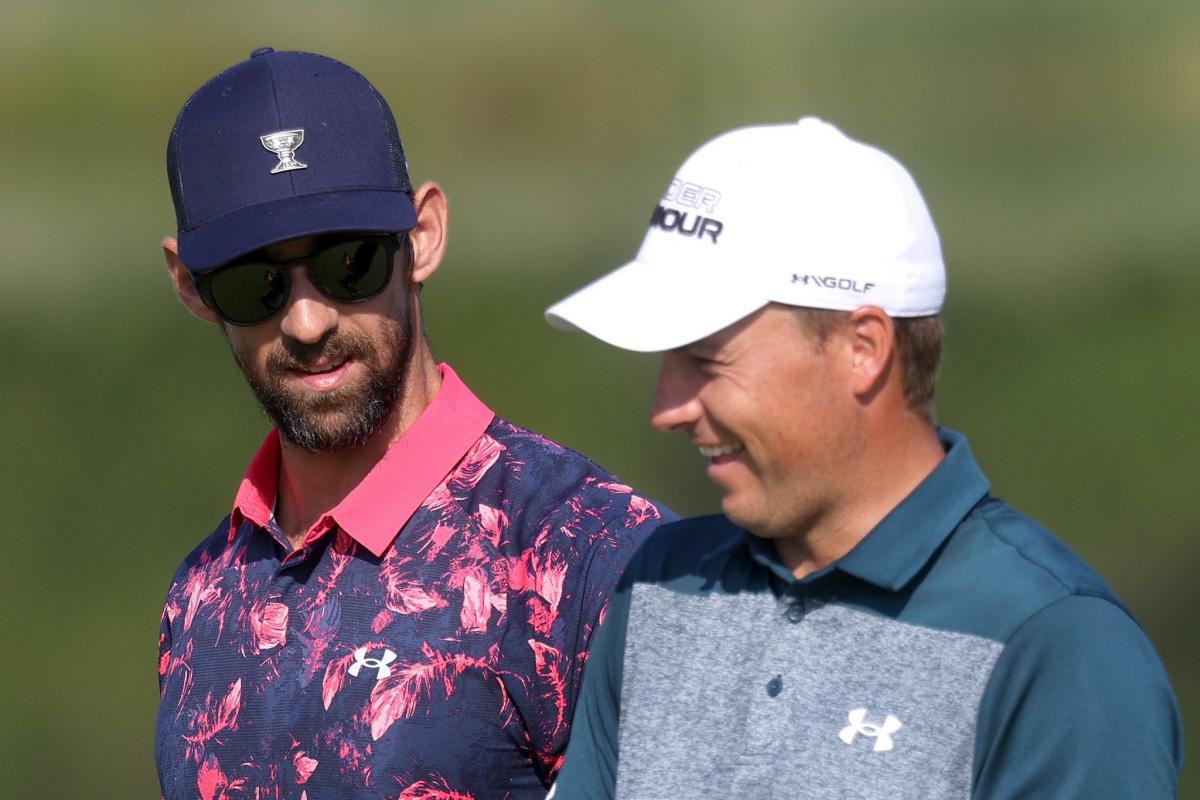 Michael Phelps and Jordan Spieth on the course. —Courtesy of Under Armour via Twitter
Under Armour founder Kevin Plank was honest. "I was so scared," he said, repeating the point for emphasis. "I was so scared."
This is a guy who, last Christmas, was gifted a golf simulator (essentially an expensive adult arcade game) by his wife. He's become a golf nut, welcoming a teaching pro to his house for lessons once a week using the machine. And so—as is a great fear of many motivated amateurs—he didn't want to embarrass himself on Wednesday showing off his game in front of other people.
Especially these people: PGA Tour pro Jordan Spieth and 23-time Olympic gold medalist Michael Phelps, who have endorsed Plank's Under Armour products for years. They, along Baltimore billionaire Jim Davis, made for a celebrity foursome during an 18-hole round at the tony Caves Valley Golf Club in the Baltimore County hills.
This week, the normally exclusive club is hosting the nationally televised BMW Championship—a key stop on the men's professional golf circuit and the first PGA Tour event held in Baltimore since the 1962 Eastern Open at Mount Pleasant. Yesterday, activity really got going on the typically private and quiet 962 acres with the pro-am—a regular feature of pro golf tournaments where the pros share time with run-of-the-mill, high-paying amateurs before the real competition begins on Thursday.
Often—as Spieth said afterward, standing next to Phelps and Plank in front of the media—pro-am rounds can be an excruciating, four-hour slog for the pros, even though they're thrilling for the average Joe and Janes.
"A lot of times when you have an 18-hole pro-am the next day, you don't know who you're going to play with, and you're somewhat, not regretting the day, but more just, 'Okay, we've got to go out there and play 18, it's going to be a long day, how do we save energy?' But with this situation, I was very excited."
So was the world-famous Phelps, the Towson High School graduate and a skilled golfer who once was featured on an entire season of a Golf Channel television show. "We can't have a better group," Phelps said. "This group was unbelievable." Despite his fears, so was Plank. "We just had an all-star cast, so there was no chance of having a bad day out there."
That sentiment is often shared by people who are fortunate enough to walk the grounds of the picturesque Caves Valley club—where Plank is a member, along with others like former president Barack Obama, Ravens owner Steve Bisciotti, and Orioles legend Cal Ripken Jr.
Carved into the hills northwest of the city, 25 minutes from downtown, Caves Valley might be as exclusive as it gets in Baltimore. Annual membership dues run in the tens of thousands and it's a golfer's paradise (no pools or screaming kids anywhere, usually.)  But this week, you can grab a ticket for $75 to see the place, as well as the top 70 men's golfers in the world over four long (and hot) days. Among them is Spieth, who signed a 10-year endorsement deal with Under Armour back in 2015 and is a hometown favorite of sorts.
Upwards of 10,000 fans are expected each day, and already Caves Valley is buzzing with activity—massive corporate tents, hundreds of volunteers, and autograph-seeking kids (though signing technically isn't permitted under COVID rules). "Seeing the crowd out there was awesome," Phelps said. "It's amazing to see fans back at sporting events."
National television coverage begins at 3 p.m. Thursday on the Golf Channel and continues through Sunday, with the final four hours of the tournament airing live on NBC and culminating on a fan-lined 18th hole. World No. 1 Jon Rahm is the defending champion, and $1.7 million will go to the winner.
The dream by MileOne Autogroup CEO and Caves Valley chairman Steve Fader (who owns two BMW dealers) took years of planning—including revamping the golf course and months of an infrastructure build out. And it's finally here.
"What a tremendous thrill," Plank said. "Congratulations to Steve Fader and the whole membership here at Caves Valley. It's going to say the BMW PGA Championship here in Baltimore, Maryland."
Interestingly, this was the idea behind the club way back when it opened in 1991. It was the brainchild of former Monumental Life Insurance CEO Leslie Disharoon, who wanted a Baltimore-based golf club that could help attract business leaders, and attention to the area. The club has hosted other events, like the U.S. Senior Open in 2002 and LPGA International Crown in 2014, but the BMW Championship—the second round of the FedEx Cup, the golf equivalent of the NFL's playoffs—brings an element no other event has to the area before, including a projected $30 million in economic impact and widespread good advertising.
On TV, you're likely to see and hear the stories of Baltimore-based Under Armour, or how an off-campus house at the University of Maryland is being built because of this golf tournament being here. And maybe even some clips of two world-class athletes—one a Baltimore native and the face of Under Armour, one a Baltimorean by association—hitting shots together in what Spieth described as an enjoyable few hours. "We kind of ham-and-egged it out there and had to yell 'fore' a few times," he said, "We had a lot of fun."
For instance, on the tee box of Caves Valley's par-3 17th-hole on Wednesday, there was Phelps, doing his famous cross-armed swim warmup before hitting a shot as a DJ rapped, and local favorite Jimmy's Seafood was being served.
You can see the combination of forces in this video, with Phelps getting pumped up to the music and Spieth eating a sandwich in the foreground.
According to Spieth, what followed was Phelps' best swing of the round. "When the pressure was most on, to no surprise, Michael stepped up and hit his best shot of the day," Spieth said. "It's actually amazing. Some of the shots he hit were not his best, and then he'll step up in that situation and put it to like eight feet and then knock it right in the hole."
There is more truth and nuance in that observation that you might think. Phelps, who has notably and publicly discussed his mental health struggles over the last several years, and Spieth—a 12-time PGA Tour winner who endured a three-year slump without winning a tournament until earlier this year—have had conversations about the mental side of sports, a relationship that started with their affiliation with Under Armour.
"I pick his brain on the mental side of things now," Spieth said. "It's been something that I've actually worked on a lot in the last few years, and that's been a space that probably should be talked about more within athletes. I've been really fortunate that he's lent an ear and also bounced ideas off me."
As for Phelps, who lives in Arizona with his wife, Nicole, and three children, it sounded like he couldn't be happier to be back home. He said this week was the first time he's been to Caves Valley in five or six years, and the "tremendous [golf] nerd" in him, is overjoyed.
"It's a dream come true for me," he said. "It's kind of sad, but I obsess about this game. Being able to understand a course like this and see what these guys do on this course, it's just a different experience. It's incredible."
And, off the course, he's enjoyed simply spending time around familiar people and some new places, like the Sagamore Pendry, the tournament's host hotel in Fells Point. When Phelps checked into his room earlier this week and looked across the water of the Inner Harbor, he saw his own face staring back at him—from the industrial tanks across from the Under Armour headquarters that show Phelps' likeness—and those of two other local sports legends, Ripken and former Ravens linebacker Ray Lewis.
"I can't say it enough how much I love this city and how great it feels to be home," Phelps said. "Looking out on to the water…to our tanks last night— me, Ray and Cal—I just sat out on my patio and I was so calm. This is a very special place."
Hopefully, thanks to some golf, more people will get to know that this week.