On Course
The Caves Valley Golf Club is set to host Baltimore's first PGA Tour event in nearly 60 years, while shining a light on a life-changing scholarship.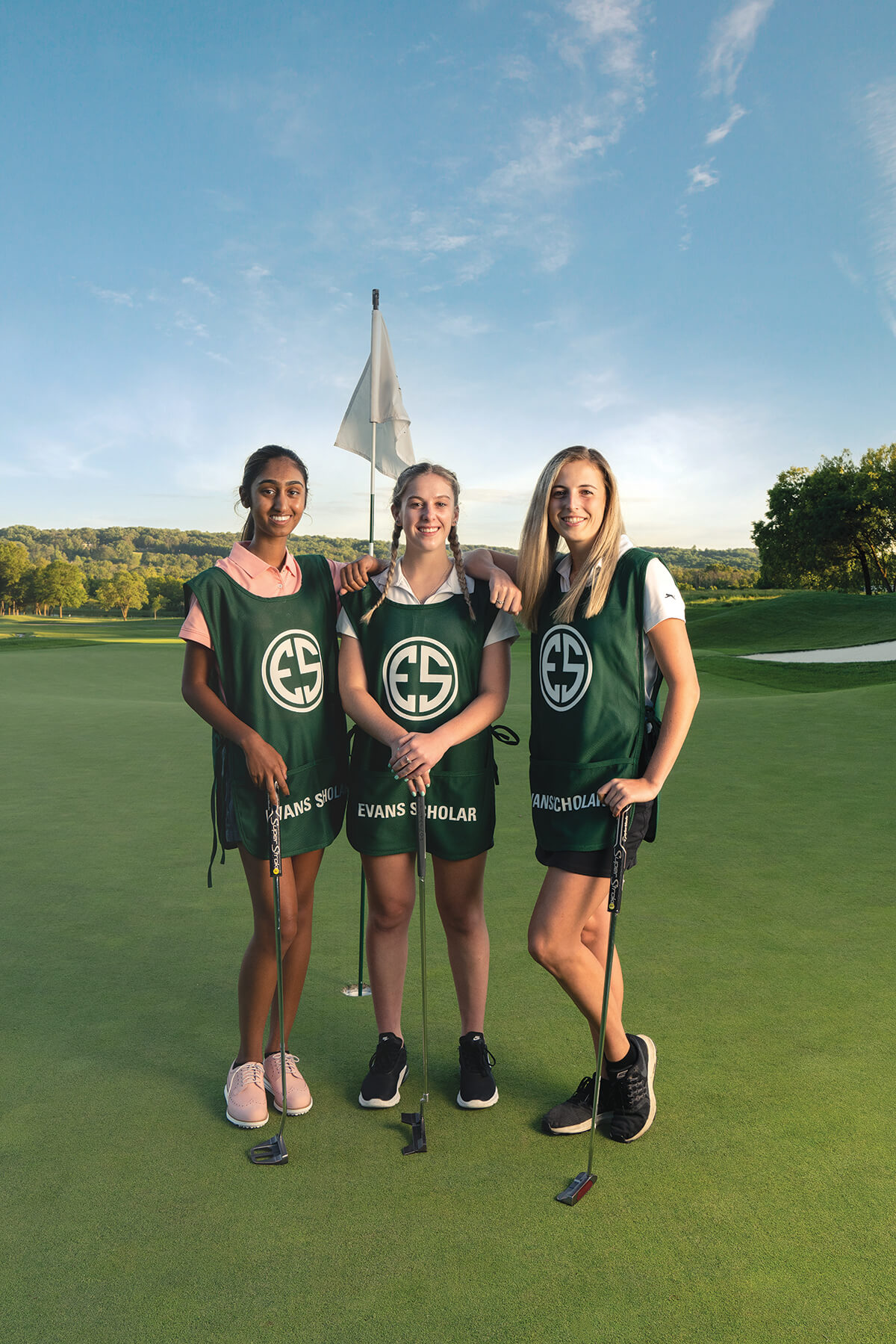 When Varada Maulkhan, the teenage daughter of immigrants from the South American country Guyana, first walked the grounds of Caves Valley Golf Club a few years ago, she observed what most visitors do about the private, picturesque property in the Baltimore County hills. "It's gorgeous," Maulkhan says. "It's always been gorgeous."
As she strolled the carefully manicured, low-cut fairways of the championship 18-hole course—routed along what were once the heavy woods and farmland of a tobacco plantation—a peaceful silence was only broken by birds singing in the towering hardwood trees, the satisfying thwack of golf clubs hitting balls, and the hushed tones of conversation inside the club's fences. She hit drives, irons, and putts on the same challenging ground where multiple American presidents—like Barack Obama, Bill Clinton, and George H.W. Bush—and hundreds of business leaders and golf icons, like the late Arnold Palmer, have played since the luxurious club opened in 1991.
Safe to say, Caves Valley's 962 acres northwest of the city—rarely seen and stunningly secluded despite being 25 minutes from downtown—are about as exclusive as it gets in Baltimore, or anywhere.
Annual dues for the roughly 550 members, which include notable locals such as Orioles legend Cal Ripken Jr. and Ravens owner Steve Bisciotti, as well as national figures like New York Times columnist Thomas Friedman and former Secretary of Homeland Security Tom Ridge, run in the tens of thousands. Even Obama, a member, pays the fee. Unless you can afford it, know someone who does, or live in one of the two dozen multi-million-dollar homes on the property, the chances of getting past the security gate next to the oak trees on Park Heights Avenue are as low as hitting a hole-in-one.
But it is possible, as the 18-year-old Maulkhan—who graduated with straight- As from Catonsville High this spring—has demonstrated.
She first played on the course in a regional nine-hole junior golf event that she qualified for through the First Tee – Greater Baltimore, a nonprofit organization that introduces kids of all backgrounds at a very low cost to what's traditionally a rich, white, male-dominated game. The Caves Valley Golf Club Foundation, the club's charitable arm, is one of the local First Tee chapter's primary funders, donating six figures annually.
Maulkhan got turned onto golf in second grade, at the age of 7, after her father, Kris, a regular weekend golfer, heard about First Tee, which runs youth programming at city courses such as Clifton Park and Forest Park in West Baltimore. "I went to my first lesson," she says, "and ever since then we've been going to First Tee."
Maulkhan has become a good golfer, though she was never going to get a college scholarship for playing. But that's not the entire point of First Tee. As part of its youth development programming, the organization also runs a caddie academy. And that's the second way Maulkhan got access to Caves Valley and, ultimately, much more than she ever imagined. Through the academy, Maulkhan started caddying as a part-time job, mostly at Greenspring Valley Hunt Club and Baltimore Country Club, and on a few occasions on the tree-lined fairways at Caves Valley, where golf carts aren't recommended.
Practically, a caddie is a frequently overlooked grunt-work job of the golf world. The everyday duties include lugging strangers' heavy golf bags up and down hills as they play 18 holes over four hours; telling a golfer how far it is to the green; finding lost balls in tall grass, sand, or behind trees; raking bunkers; being a good companion (but knowing when to stay quiet, too); and getting paid for the time and miles of work.
It's physically demanding and a significant time commitment, especially for a teen who could easily spend an equivalent number of hours hanging out with her friends instead. But the rewards of making more than 100 loops, as the caddies call them, over the last couple of years have been well worth it, as far as Maulkhan is concerned. And not just because she's gotten more comfortable in social situations and made some extra spending money.
This fall, Maulkhan is going to college—at the University of Maryland—on a full ride, all because of her days as a caddie. She is the First Tee – Greater Baltimore's first-ever student to receive an Evans Scholarship, offered to high school-age caddies with enough loops, good grades, strong character, and a financial need. Tuition and housing are paid for four years.
It's a relatively little-known opportunity (at least around these parts), but that should change soon, thanks to a prestigious golf tournament coming to town that will shine a spotlight on the Evans Scholarship—and on Baltimore.
From August 26 to 29, Caves Valley will open its typically closed gates to the paying public as it hosts the nationally televised BMW Championship, the first PGA Tournament in Baltimore in nearly 60 years. (The practice rounds, starting on August 24, will also be accessible to the public.) The world's top 70 men's players will compete, and during the tournament's run, Maulkhan's story will be prominently featured, right up there with the narrative about pro stars like Under Armour-sponsored athlete Jordan Spieth and 51-year-old Phil Mickelson. "She's going to have a busy week," First Tee – Greater Baltimore executive director Matt Bassler says, noting that a youth clinic and other promotional events are being planned. "We've tried to get an Evans Scholar for years."
"IT CHANGES THE TRAJECTORY OF A YOUNG PERSON'S LIFE FOREVER. IT DID MINE."
In certain parts of the golf world, especially the Midwest—where the Western Golf Association (WGA) has mostly hosted the BMW Championship (previously called the Western Open) for decades—achieving a college pathway via an Evans Scholarship is a well-known aspiration. Around here, not so much. As of this spring, there were just six active Evans Scholars from Maryland, and the last one chosen from the Baltimore area was Timonium native and former Dulaney golfer Samantha Lannon, who just graduated from Ohio State. "I thought once I got it, it would set off a wave," Lannon says, "but for the three years after, there was still no one."
That was one big part of the equation when BMW, the WGA, and the PGA Tour chose Caves Valley to host this year's tournament. All of the proceeds from the annual BMW Championship—more than $36 million since 2007—go to benefit the nonprofit Evans Scholars Foundation, created by Midwesterner Charles "Chick" Evans Jr., the celebrated former U.S. amateur player, in 1930.
Since then, the Evans Scholars Foundation has paid for the full tuition and housing for more than 11,000 high-achieving caddies. Total cost covered: $435 million. The footprint today includes students at 19 different four-year colleges, including nearly every Big Ten school. There are also 17 Evans Houses, program-owned homes where all the scholarship winners at a particular school live together.
Tournament organizers want to spread the word about the Evans Scholars program in new markets and boost fundraising via ticket sales and sponsorships. (As of press time, it has already worked, as the tournament was on pace to sell 40 percent more tickets than it did in 2019 at Medinah Country Club near Chicago.)
While host cities reap the benefits of tourism spending and national exposure, BMW Tournament profits also go to help fund programs such as the WGA's Caddie Academy, held each summer at golf clubs in Chicago, Philadelphia, and Seattle, which draws students from feeder outlets like First Tee. This year, more than 90 percent of the roughly 120 kids in the academy are minorities, and 75 percent are girls.
"Part of our growth program is to showcase the scholarship," says WGA executive and BMW Championship tournament director Vince Pellegrino, himself a past Evans Scholarship recipient. "Outside of what the championship does to showcase the best players in the world, to promote the charitable mission to the greater Baltimore area is very important to us. It's real. It's about giving kids an opportunity who might not otherwise have a chance to go to college. It changes the trajectory of a young person's life forever. It did mine."
The opportunity is now closer than ever. As part of the agreement that brings the BMW Championship to Baltimore, the Caves Valley Foundation has donated $2 million to the WGA to buy and renovate a house in College Park that will be the program's 18th Evans House. It's three blocks from campus on College Avenue. If all goes well, Maulkhan, along with Becca Lannon of Timonium—Samantha's younger sister, who is also going to Maryland with a full ride thanks to the Evans program—will be among the first residents by their junior years.
Steve Fader, the CEO of MileOne Autogroup, became chairman of the Caves Valley Golf Club in 2011. He's one of the fortunate ones to live in the hills of the remote property and says, "I feel blessed every time I drive through those gates." When I meet him in the Caves clubhouse one morning, he's polished (wearing a navy blue BMW Championship polo beneath a sport coat), gracious (insisting we eat—a delicious, fresh, chef-cooked breakfast sandwich), and explains just how passionate he is about golf, while noting that he wasn't always into the game.
Growing up in Randallstown, the first time he ever saw a golf course was on campus at Western Maryland, now McDaniel College.
"I didn't know anybody that played golf," he says, sitting at a dining table, within eyeshot of a fully stocked bar and a practice putting green outside. But his college roommate happened to be captain of the men's golf team. "And that was it," he says. He was hooked. After going to law school in Southern California and at University of Baltimore, Fader—whose father worked at Howard Uniform Company and later became a partner in Heritage Automotive—joined Woodholme Country Club in the early 1980s. He became a member at Caves in 1996.
Those were still the early days at Caves, which had opened five years earlier, following years of planning. The idea was the brainchild of former Monumental Life Insurance CEO Leslie Disharoon, the club's first chairman. When Caves Valley was first conceived, the city was still reeling from the Colts' departure, there was fear the Orioles would leave, too, and Camden Yards hadn't yet been built. "The outlook for the future of Baltimore, in spite of the Inner Harbor, was not great," Disharoon told The Baltimore Sun in 2017.
Along with other business leaders, Disharoon, who now lives in Charlottesville, Virginia, sought to create a golfer's paradise (no pools or screaming kids) that could help attract new business—and talented people from all over the world—to the area. The founders were also committed to Caves Valley being free of the kind of race, gender, or religious discrimination that has often been a blemish on private golf clubs.
"The founders were dreamers," says Dennis Satyshur, who was hired as the head pro at Caves Valley when it opened 31 years ago and is retiring this year. "A national golf club in Baltimore is ambitious. It's not Palm Beach or Palm Springs. This was coming out of the ground from nothing, and they were saying, we're going to have a great caddie program, we're going to host national championships, we're going to be a part of economic development and bring people to Maryland that wouldn't be here otherwise."
"THE FOUNDERS WERE DREAMERS…A NATIONAL GOLF CLUB IN BALTIMORE IS AMBITIOUS."
Make no mistake: Even with a promise of inclusiveness, there's a strong air of exclusivity that comes with high-priced memberships, initiation fees, and things like a red-coat policy for members (comparable to the green jackets of Augusta National, home of the Masters). Caves is not a public course that anyone can simply play for a reasonable rate, like Pine Ridge or Mount Pleasant, which hosted the last PGA Tour event in Baltimore in 1962, the Eastern Open.
Noted golf-course architect Tom Fazio designed Caves Valley to be a world-class venue. Since opening, it has hosted men's and women's NCAA championships, a U.S. Senior Open in 2002, and the LPGA's 2014 International Crown. But none of those tournaments carry the cachet of the BMW. It was five years ago that Fader, who owns two local BMW dealerships, first pitched the idea of Caves hosting the championship to a BMW executive while playing a round on the course. The tournament is the second round of the FedEx Cup, pro golf's version of the NFL playoffs, and as such, the field of entrants is about half the number of a typical PGA Tour event.
"I thought our campus was set up well for that," Fader says. "That started the journey, where I was told, 'We should start talking about that.' It was a long and at times arduous adventure."
Baltimore was attractive to the WGA—the tournament organizer—because it was an East Coast, urban town, fitting in perfectly with its emphasis on deliberately diversifying the game and spreading the word about the Evans Scholars program in new markets. The same idea goes for next year, when the BMW Championship will be held in Wilmington, Delaware, or in 2018, when the tournament was played outside Philadelphia.
"They're looking at the golf course and the locale, have they been there before, is it a good golf community, and will they embrace the event?" Fader says.
Thanks to his car dealerships, Fader already had a built-in relationship with title sponsor BMW. But that doesn't mean Caves was a sure thing, primarily because the course, while already at a national competition level, still needed to be made even more challenging for the top 70 players in the world. Caves would have to commit to upgrades. "The tour ultimately has the responsibility to approve any venue," Fader says.
In February 2020, after negotiations were finalized, Caves Valley was officially announced as the 2021 BMW Championship host. In the 18 months since, the club has spent millions of dollars renovating their prized course. They replaced every single sand bunker to incorporate the latest bunker technology, added roughly 500 yards of length and eight new tee boxes for the pros, renovated and upgraded an artificial stream, and installed a new irrigation system with 2,800 individually programmable sprinkler heads. (Handy in late August in Baltimore.)
It's important to remember that, as much as golf can offer a heartwarming story like Maulkhan's, pro golf is big business. This year's BMW Championship will pay out roughly $9.5 million in prize money. Jon Rahm, last year's winner, earned more than $1.7 million, and television pays big-time to air and stream the action six hours per day. Tournament organizers also sold out corporate hospitality for this year's event so quickly that they needed to add more capacity, which changing COVID restrictions allowed. The BMW Championship typically brings around $30 million of economic impact to its host area, according to Pellegrino. But when Fader talks about Caves hosting the tournament, what he's most enthused about is the opportunity to showcase Baltimore on a national stage and share uplifting stories about the city he loves. He can't wait to see the broadcast on NBC and Golf Channel, six hours each day, beautiful drone shots of the club and surroundings included. "It's like having the Preakness four straight days," Fader says. "It's a great story for Baltimore."
"IT'S LIKE HAVING PREAKNESS FOUR STRAIGHT DAYS. IT'S A GREAT STORY FOR BALTIMORE."
At least 10,000 fans will be allowed on the sprawling property each day, perhaps more with looser COVID restrictions, in an open-air, social distancing-friendly event. They can experience for themselves the oasis cut into the woods, the steep hills, tall trees, the birds, and the world's top 70 men's golfers competing among them.
"It's one of those unique courses that's tucked in a beautiful place in the country," says Jordan Spieth, who estimates he's played the course maybe 10 times while in town over the years visiting Under Armour headquarters. "You just feel like you're away from everything. It's peaceful golf. But certainly, that may not be the case when we've got a lot of fans and the pressure of a FedEx Cup playoff event for us."
If any of the Caves members wear their red jackets, you can be sure they'll stand out in the crowd. Less prominent, but no less significant, will be the current, former, and maybe future caddies walking the property, too. Some will also be watching on TV, like Lannon, the Evans Scholar. An aspiring veterinarian, she just started her first year at the Virginia-Maryland College of Veterinary Medicine in Blacksburg, Virginia.
"I'm super excited about [the tournament], but I don't think I'll be able to make it back home," she says, adding that she's played the course, too. Four years ago, a gracious member invited her for a "victory lap," she says, after she landed her scholarship.
In late February, when Maulkhan got the letter informing her she'd been awarded an Evans Scholarship to Maryland, she first thought the envelope contained another potential teenage milestone—a credit card. Her father had just gotten his new card, with benefits for eating at restaurants, a few days earlier in similar, thick, 8.5-by-11-inch packaging. The envelope before her now looked the same and had her name on it. "It was a really fancy envelope, the same exact size as my dad's," she says, "When I opened it, it was a big shock."
Her mom, Sandy, working at home (for M&T Bank) in another room, thought something might be wrong when she heard her daughter screaming. Nope. It was pure excitement. "It was kind of like, 'I need to get everyone here now so they can see,'" Maulkhan says.
That night, her father, who never went to college and got her started with First Tee, paid for a celebratory dinner—on his credit card. Varada could pay him back later.