The Buck Stops Here
Has the talented but well-traveled skipper finally found a permanent home in Baltimore?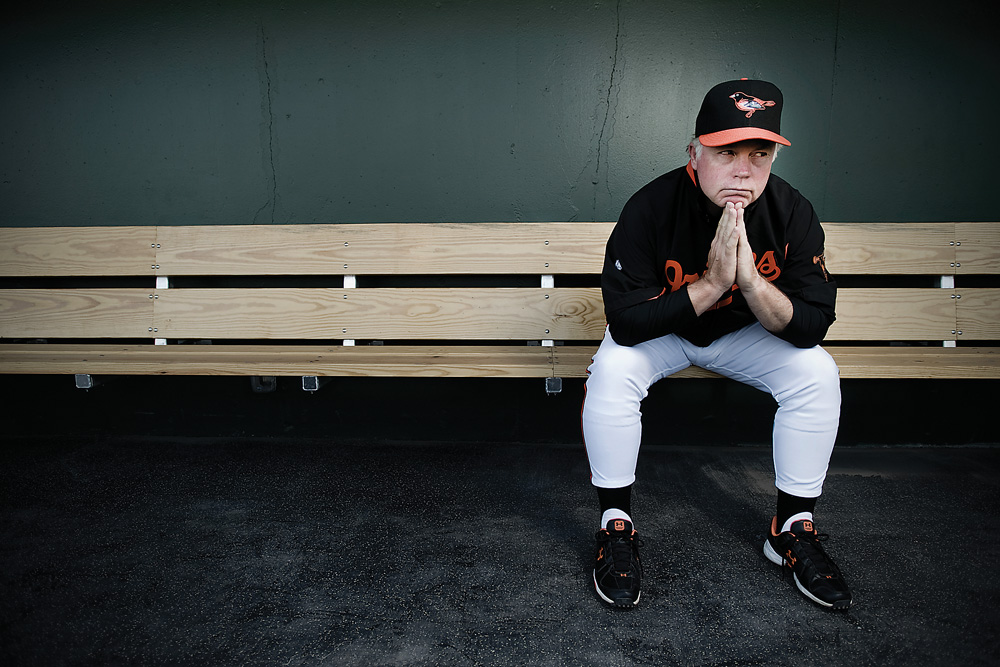 Buck Showalter is redecorating.
He's just been hired and, seemingly out of the thick August air, has transformed the Bad News Birds into the hottest team in baseball.
But the extreme makeover is not just restricted to the field.
On a wall opposite his desk in the Camden Yards manager's office hangs a framed photo of Oriole Park in all its glory—the sun is shining, the place is packed, and no doubt the beer is cold.
Where others might just see a pretty photo, Showalter senses trouble. A closer look reveals why.
"The bases were loaded and we were getting hammered," Showalter says. "I ain't looking up at that."
Down comes the picture.
The new skipper's eye for detail is legendary. "Never draft an 18-year-old with a full beard," he once told ESPN's Tim Kurkjian, a former Sun reporter. "It means he's fully developed and won't grow any more."
"He is hyperobservant," says Karl Ravech, anchor of Baseball Tonight, a show on which Showalter worked two stints as an on-air analyst. "I've been doing this for 17 years now, and watching games with Buck was like watching games with nobody else. He would always raise questions: Why a third baseman was playing a foot off the line, why an outfielder was shaded one way, why a manager was sitting next to a particular person in the dugout."
Throughout his wildly successful yet turbulent managerial career, Showalter's obsession with baseball's minutiae has served his teams well. His 916 career wins place him in the top 10 percent of baseball managers for all time.
Shockingly, in Baltimore his winning percentage improved. For the first time since 1900, a manager who took over a team in August won more games (34) than the team had won in the previous four months combined. And for the first time since Cal Ripken was punishing pitchers (not pitching Comcast), it was fun to be an O's fan again.
Indeed, Showalter's biggest victory may very well have been returning the Orioles to relevancy. Minutes after the first pitch on his September 14 T-shirt Tuesday giveaway, the team ran out of Showalter number 26s. No matter—one fan wore a custom-made shirt declaring "In Buck We Trust." Another sported antlers. The O's won that night, clinching their fourth straight series win, a feat they hadn't pulled off since 2004.
The Buck Effect reverberated beyond the park as well. In August and September, Orioles' broadcasts on MASN averaged 100,000 viewers per night, a 45 percent increase over the previous three-year average for the same months.
On a team long bereft of national stars, Showalter has become the face of the franchise.
But with his trademark small-town twang and humility, he swats away much of the credit for the team's stunning revival.
"I think our guys had got to the point where they were just fed up," he says, noting that his arrival corresponded with the return of key players Brian Roberts and Koji Uehara from the disabled list. "It all kind of came together and snowballed, and I was fortunate to be here at the right time."
His players aren't buying it.
"It's not a coincidence we've turned it around since Buck showed up," pitcher Jeremy Guthrie told reporters in mid-August. "We know what he expects. No magic formula, but maybe just a good shift in gears for us."
Legendary O's pitcher and broadcaster Jim Palmer has his own theory: "[Showalter] made everyone accountable, from the coaches to the players. A young player all of a sudden maybe is going to give a little more attention to detail."
For starters, Showalter-managed teams are among the most prepared in baseball. He's been known to scout umpires, or change his signs mid-inning. Showalter prods his players to be aggressive, think through their individual battles, and, most importantly, he demands that they respect the game.
One fan wore a custom-made shirt declaring "In Buck We Trust." Another sported antlers.
"He's great at in-game decisions," says Yankees slugger Mark Teixeira, a Severna Park native who played for Showalter in Texas. "He can see how the game is unfolding and make adjustments as it goes on."
As Teixeira quickly learned, Showalter treats the baseball field as a temple. When Tex was a rookie in spring training, he strolled out to the plate for batting practice without a helmet. Showalter promptly sent him back to the clubhouse to retrieve it.
"He expects a lot out of his players," Teixeira says. "He expects you to play hard, he expects you to play the game the right way."
Showalter harbors no illusions about the challenge ahead. He resurrected the New York Yankees, who hadn't been to the postseason in more than a decade before he arrived; built the expansion Arizona Diamondbacks from an embryo into 100-game winners; and even managed to make the Rangers more than a footnote deep in the heart of football-crazed Texas.
While Showalter has established himself as a bona fide franchise fixer, he hasn't mastered the art of happy endings. Twice he's been named Manager of the Year, and twice he's been fired. What's more, two of his teams won the World Series the year after he was sent packing.
Rumblings about his need for absolute control continue to linger. Google "Buck Showalter control freak" and more than 2,000 hits appear.
Not that he seems to care.
"There's certain things in my life that I don't dwell on," Showalter says. "You treat people how you want to be treated and live with the consequences. I understand the shelf life of managers. I came in here and told the guys I don't have a lot of time for BS that's not conducive to the Orioles winning."
William Nathanial Showalter III was born on May 23, 1956. Like all of us, he was buck naked.
"Nat," as he was known then, grew up with three sisters in the small Florida Panhandle town of Century, a "Mayberry-ish" place with one hospital, one post office, and one drug store.
"Everybody knows everybody," says Showalter, whose no-nonsense father was his principal at Century High School.
"Thank goodness I had a dad that didn't really care about being my pal; he wanted to be my father," Showalter says. "He had the guts to say no."
Showalter first played organized baseball at the age of five or six. After excelling as a hitter in high school, he starred at Chipola Junior College, where his jersey was retired. In one All-American season at Mississippi State, he hit .459, still a school record.
That was enough to attract the attention of the Yankees, who, in 1977, drafted him in the fifth round, marking the start of a 19-year marriage filled with all the happiness and heartache of any long-term relationship.
His first minor-league manager was Ed Napoleon, a Baltimore-born, Panamanian-raised baseball lifer, who fondly recalls their first meeting.
"He came to me with long hair, he looked like Prince Valiant, the cartoon guy," says Napoleon, who later coached under Showalter with the Yankees. "I saw the intensity and dedication that he had. We became very close. One day, I come into the dressing room in Nashville. He's always got that stern face like you see on TV. He just had a towel draped over him. I said, 'Hey do you have any street clothes? You're always buck naked.'"
Napoleon didn't think "two shakes" about the exchange, he says, but Showalter's teammates certainly did.
"Buck" stuck.
After seven seasons in the Yankees' farm system, it was clear that Showalter could hit, but he lacked power. The team offered him a job as a Single-A hitting coach.
Of course, no kid who's ever broken in a new glove or worn out the leather of an old one has dreamt of falling short of the majors, then becoming a bus-league coach. But Showalter was a realist.
"I've always been able to look at things the way they are as opposed to the way I would like them to be," he says. "I'd just gotten married, I was looking for something a little more stable, at least as stable as you can get in baseball. I said, 'Hey, I'll give it a roll for $12,000.'"
He quickly found gratification in teaching fundamentals to rookies with the same big-league aspirations he once held.
"You live vicariously through the players, their improvements, their successes," he says. "You try to give them shortcuts so they don't trip on their tail. The players are so raw, everything is just like a piece of clay that you can mold."
While Showalter has established himself as a bona fide franchise fixer, he hasn't mastered the art of happy endings.
It's hard to fathom now, but the Yankees haven't always spent money like Charlie Sheen at a strip club. Back when Showalter took over as the team's manager in 1992, the Bronx Bombers hadn't won a pennant in 10 years.
"They gave me a one-year contract, so I was on a one-year plan," says Showalter, whose boss was the famously meddlesome owner George Steinbrenner.
In the circus that is New York, navigating the back-page headlines and surreal celebrity comes with the gig. Showalter appeared on an episode of Seinfeld in which he switches the team's uniforms from polyester to cotton. (George: "Cotton breathes.")
"I didn't know at the time the show was making fun of Mr. Steinbrenner," Showalter says. "When it actually ran, it kind of got communicated to me that I probably don't need to do a sequel."
Steinbrenner grew to embrace the show, but not Showalter. In 1995, Showalter led the team to the postseason, which apparently wasn't enough for the Boss. After a playoff series loss, Steinbrenner demanded Showalter throw a handful of his coaches overboard. Showalter balked, and the two sides went their separate ways.
"Broke my heart because I'd grown up there," Showalter says. "But it's like my dad says, at some point you've got to plant your feet and take a stand, and you'll know when it is. That was one of those moments in my life."
Five minutes after his contract expired, he was on the phone with the expansion Diamondbacks, who hired him to help build the franchise from the ground up. Twelve months later, the Yankees—the only organization Showalter had ever known—won its first World Series crown in 18 seasons.
In Arizona, Showalter scoured the globe for players and offered his opinion on virtually every aspect of the organization's growth. It was a level of micro-involvement that some whispered grew stale after he guided the club to a division title in 1999. A year later, he was fired.
In 2001, the Diamondbacks won the World Series.
As Showalter pursued other managerial jobs, he found the "controlling" label tough to shed.
"Maybe my problem is that I take the responsibility of my job too seriously," Showalter told USA Today in 2002. He had just been passed over by the lowly Kansas City Royals and was working his first stint as an ESPN analyst. "I don't leave any stone unturned. Maybe that makes people uncomfortable."
But later that year, the struggling Texas Rangers took a chance on him. In four years, two rather predictable things occurred: He became the Rangers' third winningest manager. He also was fired again.
For the second time, he headed back to Bristol, CT, and ESPN.
"What I had heard about him never seemed to apply," says Karl Ravech. "He is as entertaining a personality as I've ever worked with. I got a chance to work with him, play golf with him, go to dinner with him, watch games with him. I found him to be incredibly engaging, able to laugh at himself."
Showalter claims that he liked the more easygoing life in front of the camera: "At the end of the day, I folded up my briefcase, went home, and didn't care about who won or lost. I slept a lot better," he says. But his competitive nature was simply too strong to suppress.
So when the Orioles fired Dave Trembley in June, Showalter took note, and when president of Baseball Operations Andy MacPhail contacted him about the opening, Showalter took the call.
Two months later, he was hired.
Some around baseball questioned the fit—for both parties. After all, Showalter was the O's third manager in 2010, the seventh since Davey Johnson took them to the playoffs in 1997. The Orioles change managers more than Larry King changes wives. And it's not like the O's job was exactly considered a prize.
"[Managerial] jobs are few and far between," explains Fox Sports baseball reporter Ken Rosenthal, former O's beat writer for The Sun. "Whatever opportunities arise, even someone with stature has to consider them."
The bigger question, then, may have been whether the Orioles were crazy for hiring Buck, given his reputation.
"His supporters obviously say that it's a bad rap and he only did what he was asked," says Rosenthal. "There are other people that say, yeah, this guy does like control and eventually he will wear out [his welcome]. Maybe that's true, maybe in this particular job he'll be different. That remains to be seen."
From the moment he landed in Baltimore, Showalter made a concerted effort to embrace the Oriole Way.
Before his hiring became public, Showalter called Gloria Oates, the widow of the late Orioles manager, Johnny Oates.
"He said, 'I'd like for you and your children to think about me wearing number 26,'" she recalls.
Oates had worn the number as a rookie manager with the Orioles from 1991-1994. When his managerial career began in 1982 at Double-A Nashville, one of Oates's most trusted players was a serious student of the game they called Buck.
"I was overwhelmed that he would even think to do that," Gloria says. "I called the children, and they were so excited about it. I immediately called him back."
As fate would have it, Oates was scheduled for induction into the Orioles Hall of Fame a few days later.
"He's into it like very few people that I've met in baseball. He's my kind of baseball person."
"We were sitting on the field and I glanced into the dugout," Gloria says. "I couldn't see [Buck's] face but I could see the number 26. It very well could have been Johnny. To see that number on the field again and to know that it's being worn out of love and respect for Johnny is a true blessing."
Showalter soon established a connection with another Oriole legend as well.
"He invited me into his manager's office," says Cal Ripken Jr., who speaks with Showalter "from time to time." "I felt really comfortable sitting in there talking to him, and I hadn't always felt that comfortable. He's into it like very few people that I've met in baseball. He's my kind of baseball person."
Which is to say, a winner. Ripken calls Showalter's 34-23 record with the O's nothing short of "miraculous."
"In many ways it seemed like the Orioles would beat themselves at times," Ripken says. "When Buck took over you could really see an immediate impact. All of a sudden the little things were being taken care of. I think the young team trusts his knowledge. He was able to motivate and get them to believe in themselves."
This approach has resonated with prized catching prospect Matt Wieters, whom Showalter has entrusted to take more of a leadership role. "Anytime your manager has that kind of faith in you, you want to do a great job," Wieters says, noting that Showalter's confidence is infectious. "It's an attitude—[that] the guys in this locker room can play with anyone."
Showalter didn't implement any rigid rules or make any rousing speeches. He kept his eyes and ears open and let it be known that he was doing so.
"I kept my mouth shut, but I had some moments when I came in initially, watched, and thought, 'Hmm, really?'" he says. "You see some challenges, things you file away. The sense of entitlement, the sense that you're owed something is not [acceptable]. It's about competition. These jobs we give out as Orioles players are very precious in my eyes, and you better earn them."
It's an intriguing match—the manager twice left at the altar and a franchise so far from bliss it's just hoping to one day date again.
Showalter's commitment is real. His wife of 28 years, Angela, already found a Baltimore-area home perfect for the couple and their four basset hounds, Opie, Jasper, Crusader, and Webster.
"I love the city," says Showalter. "It's blue collar, there's not a whole lot of pretense. There's a passion, energy, and sincerity about the Orioles with the fans."
On a snowy January day, he's picking out office furniture.
"I appreciate that they asked my input," he says. "[They] asked me about chairs, and I said a chair's a chair. We're tweaking the locker room a little bit, expanding the video room, adding a prep room for advanced scouting, trying to make the locker room a little more functional for the players. It's a great locker room but it's really too big." He chuckles: "We're probably the only team making the locker room a little smaller."
Closer proximity, Showalter believes, leads to more bonding.
"Bottom line is it's got to be important to the players to please each other," he says. "You gotta hold each other accountable. It's got to come from within. If it comes from us [coaches], we've got the wrong players."
But finally, it seems, the right manager.