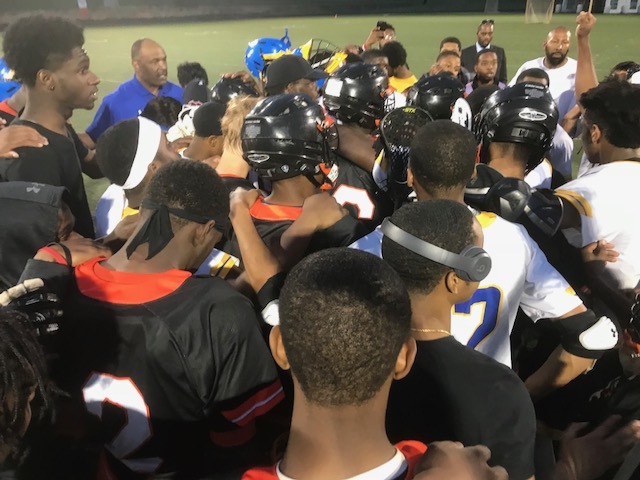 Corey McLaughlin
The P.A. announcer called Ray Glasgow III's name and number during pregame introductions, but his black, orange, and white No. 10 jersey rested over the back of the metal bench at the Poly-Western High instead.  
It was Monday night, almost exactly 48 hours since the 17-year-old City College boys' lacrosse team captain was shot and killed a few miles away in what police are calling a case of mistaken identity. And it was time for the city title game that he'd been looking forward to so much. "He was ready for this championship," teammate and City College sophomore Makai Cummings said. "That's all he ever talked about."
 
He should have been there, leading his teammates with his gregarious personality on the sideline and on the field like he'd done all spring, but around 6 p.m. Saturday an unknown gunman stepped out of what police believe was a white Nissan Altima on the 100 block of S. Eden St. and opened fire with a rifle on four friends sitting inside a parked car.  
An 18-year-old was injured, and Glasgow was killed, the city's 95th murder this year, a week after the well-liked junior football and lacrosse player ("He was the most genuine person you'd ever meet," said senior Malik Hamm) had just attended prom in a light blue suit. He also recently toured historically black Hampton University in Virginia with his father, where he hoped to play lacrosse for Baltimore native and former Morgan State player Lloyd Carter.  
"It's just too much," Mayor Catherine Pugh said. "We spoke to the family and they are grieving. So are the children, and so is this city."
The tears won't stop as a team we always stick together through it all! We lost a great young man last night :broken_heart:(RayGlasgow) you will forever be in our hearts may you rest in peace #RG|||50 pic.twitter.com/QUSPp8Xgh7

— :dagger_knife:CITYFOREVER⚔️ (RIP.RGIII50) (@CityKnightsFB) May 6, 2018
In their grief, Glasgow's teammates decided via group text that they would still play in Monday's championship game against Mervo, whom they'd faced for the title the previous two seasons. "It was hard," Hamm said. "At first, you want to play because you know Ray would have wanted to win this game, but then throughout the game, it gets on a lot of people's minds and they want to do too much."  
City started a symbolic man down on defense, Glasgow's position, the emotion clearly raw, and jumped to a 2-0 lead, but Mervo scored nine of the game's next 12 goals to take a 9-5 lead midway through the fourth quarter. Glasgow's friend Charles Pitt Jr., who switched his own jersey to No. 10 in tribute, scored four times and had two assists, and Mervo won 9-7.  
"It took a lot of guts for you guys just to come out here," City coach Anthony "Merc" Ryan told the 12 distraught players gathered around him afterward, and then began talking to local reporters about gun violence in the city, and another young man gone because of it. Memorial services will be held this weekend.  
"Just his presence," Ryan said of what he missed about Glasgow. "Forget about the fact that this guy is an outstanding lacrosse player. His presence when we're down and need a push and need that leader on the sideline and the field that's going to ignite the team, Ray is that guy."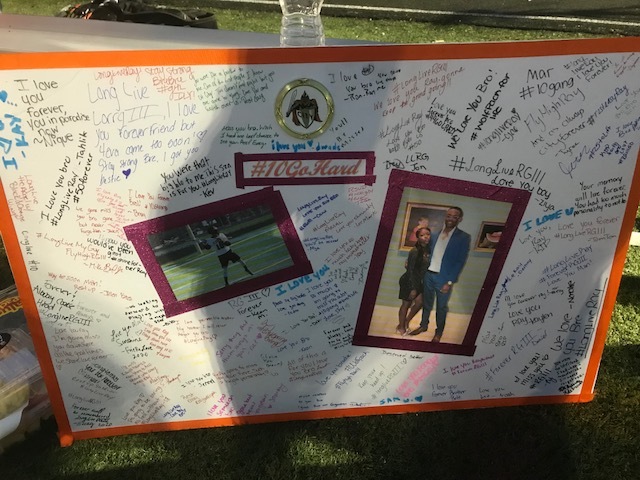 After arriving toward the end of the first quarter, Glasgow's father wore his son's jersey on the sideline, next to his mourning mother and determined yet distracted teammates. A poster present on Monday signed by City College students included messages of love and support with #LongLiveRay and one of his nicknames, "RGIII."    
Earlier in the day, students at City Springs Elementary School, where Glasgow attended and near where he was killed, held a ceremony in his honor that Pugh and police commissioner Darryl De Sousa attended. The pair also spoke to local media at halftime of Monday's game, with the commissioner saying he believed none of the people in the car were intended targets, that detectives found seven .233 rifle casings at the scene, and asked for anyone with information on the shooting to come forward.  
"This is a redball case for us," De Sousa said, which is maybe why City junior defenseman Tim Dunnock said this to a friend before leaving Poly's field for the night: "Stay safe out there."