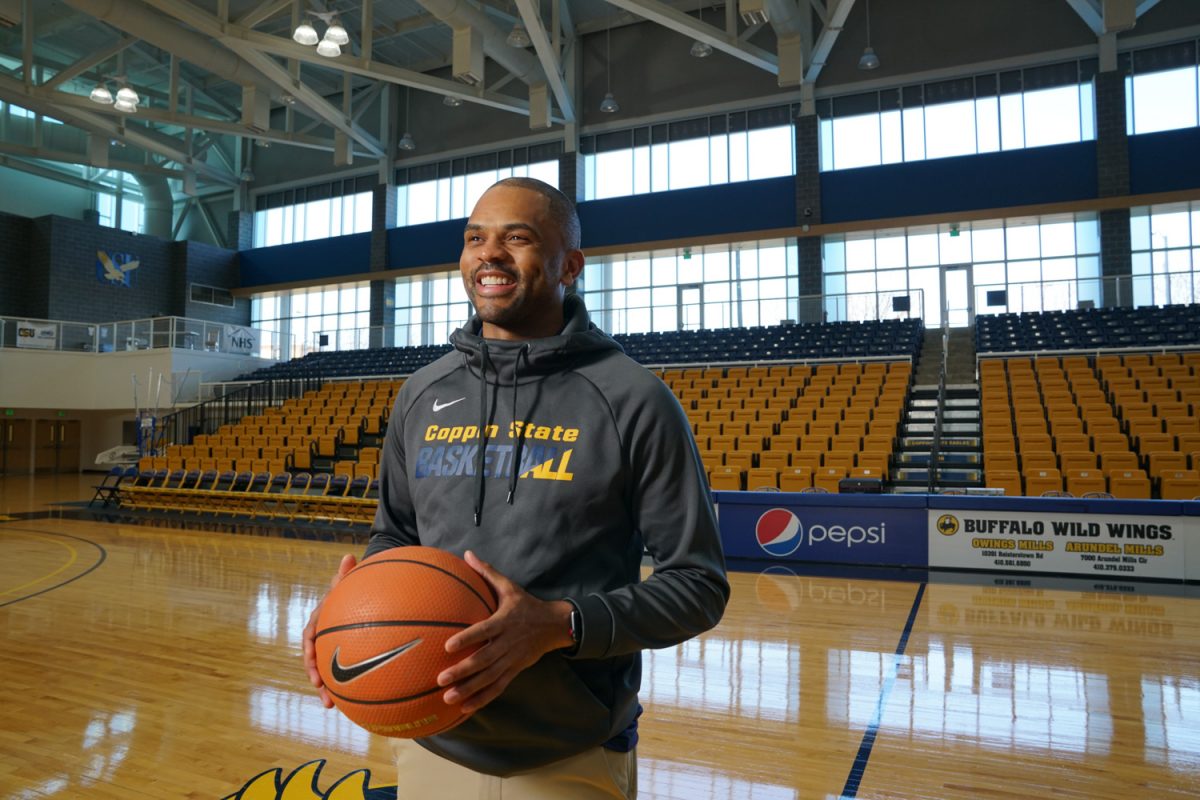 Brian Schneider
Juan Dixon's title nowadays is Coppin State head men's basketball coach, but he will forever be known as "former Maryland star," too. And there was the hero of the Terps' 2002 national championship team on late Monday night, sitting in sweats on a wooden bench in the visiting locker room at Morgan State's Hill Field House, munching on a Subway sandwich and chips, voice a little hoarse from a cold. "I'm not feeling too well," he said, and no doubt the final score from the game that just transpired—Morgan 69, Coppin 56—didn't help the mood either.
But the 39-year-old Dixon, who is in his first season leading the Coppin program, perked up when asked about the atmosphere Monday. More than 4,000 fans in Morgan's gym, many waving inflatable thunder sticks. The band rocked. Students danced in the crowd during every timeout of the 89th match-up between the schools.
"It was a great atmosphere," Dixon told Baltimore. "I loved it. I enjoyed every second of it. I wish our guys would embrace it a little bit more and have fun with it. But it happens. We're a young team. We're getting better. This is mostly everyone's first time experiencing this."
This was a city rivalry game, played about a 20-minute drive away from home (and where Dixon was born and raised)—in front of a crowd, and against a team, that didn't forget what happened last time around on Coppin's West Baltimore campus: an overtime win for Dixon's crew, one of their only five victories this year.
It wasn't as close this time. Morgan senior guard Tiwian Kendley scored 27 points Monday, including 20 in the first half as the Bears (11-17, 7-8 Mid-Eastern Athletic Conference) built a comfortable lead that grew to 63-39 midway through the second half. Senior forward Phillip Carr added 12 points and 14 rebounds. Junior forward Cedric Council led Coppin (5-25, 5-10 MEAC) with 12 points.
"It was a great team win, a great win for the crowd," Kendley said.
And much needed. Two days earlier, Morgan coach Todd Bozeman pulled his team from the floor in a game at Hampton University after the coach and forward David Syfax were ejected after multiple technical fouls, and the Bears forfeited. This was Morgan's first win in two weeks and—heading into its final game of the regular season Thursday at Delaware State and MEAC tournament play, which begins Monday—showed promise for a team that was the conference's preseason favorite.
Coppin will be in Norfolk, Virginia, for the postseason, too, for a last hurrah in a laying-the-groundwork year under its new coach. The Eagles are expected to return four of their top five scorers, including Baltimore CC transfer forward Chad Andrews-Fulton, and lose only three players from this year's roster.
"It's been an up and down season," said Dixon, who played seven years in the NBA. "But I'm excited about the direction we're going. Our guys showed that they got better as the year progressed. We're going to add some pieces next year, bring some guys back, and we look forward to having a much, much better season next year. But we're still focused on this season. We have one more game against Howard [on Thursday] and we're confident going into the tournament."