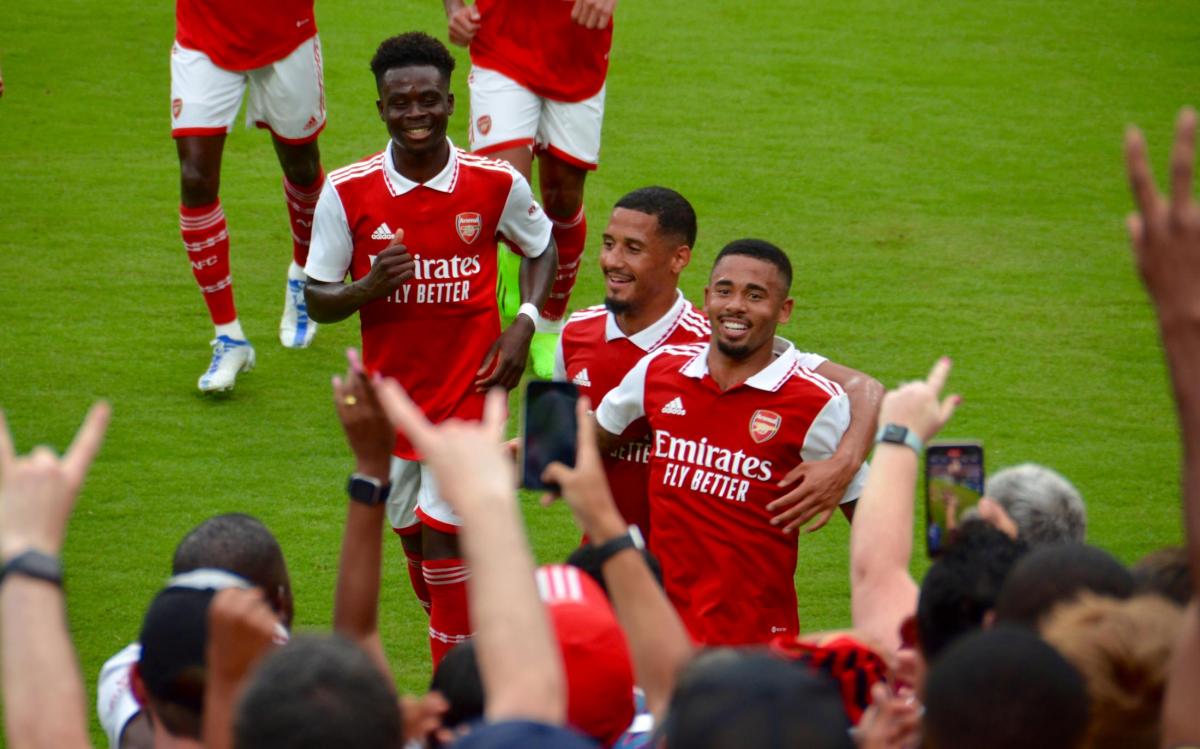 Arsenal won the Charm City Match 2-0 on Saturday. —Photography by Corey McLaughlin
The bartender wearing a navy fire department t-shirt had an announcement to make. "No more Miller Lite," he yelled, holding a white 16-oz. can in each hand as the proof before serving them.
It was 5:27 p.m. on Saturday inside the packed Gameday Firehouse near M&T Bank Stadium, and nobody surrounding the rectangular bar—standing shoulder-to-shoulder and mostly wearing blue Everton Football Club apparel—was disappointed. There were plenty of other $3 cans, and only slightly more pricey drafts, and game time was close enough.
At the same time, over in Federal Hill, around 1,000 red-clad supporters partied in and around Abbey Burger Bistro, where fans of the world-famous Arsenal F.C. have watched games happening across the pond for years. In fact, Abbey's daylong block party shut down Cross Street, much like a Ravens' game day (but with significantly less traffic congestion.) For the several hundred members of Arsenal's local fan club founded in 2009, the Charm City Gooners—a play on the team's official nickname, the Gunners—it was heaven.
And much like an American football Sunday in the fall, the pregame buzz carried into the stadium for what was billed as the Charm City Match—a friendly professional soccer game between Arsenal and Everton, two clubs from the English Premier League, the most widely followed and highest-level pro league in existence.
On a warm overcast night, nearly 40,000 fans chanted and sang, took photos and video, gawked at their favorite stars, and oohed-and-aahed during the two hours of action on the…pitch. Arsenal won, 2-0.
By sound and by look—a strong majority of red, yet white and blue flags, too, filled the purple lower bowl and upper levels at M&T—a bit of European football flavor came to town as part of the clubs' respective U.S. preseason tours.
"It was good, it was crazy," said 26-year-old Everton forward Alex Iwobi, a former Nigerian World Cup player who moved to England when he was four and speaks with an appropriate charming accent. "The atmosphere was proper mad."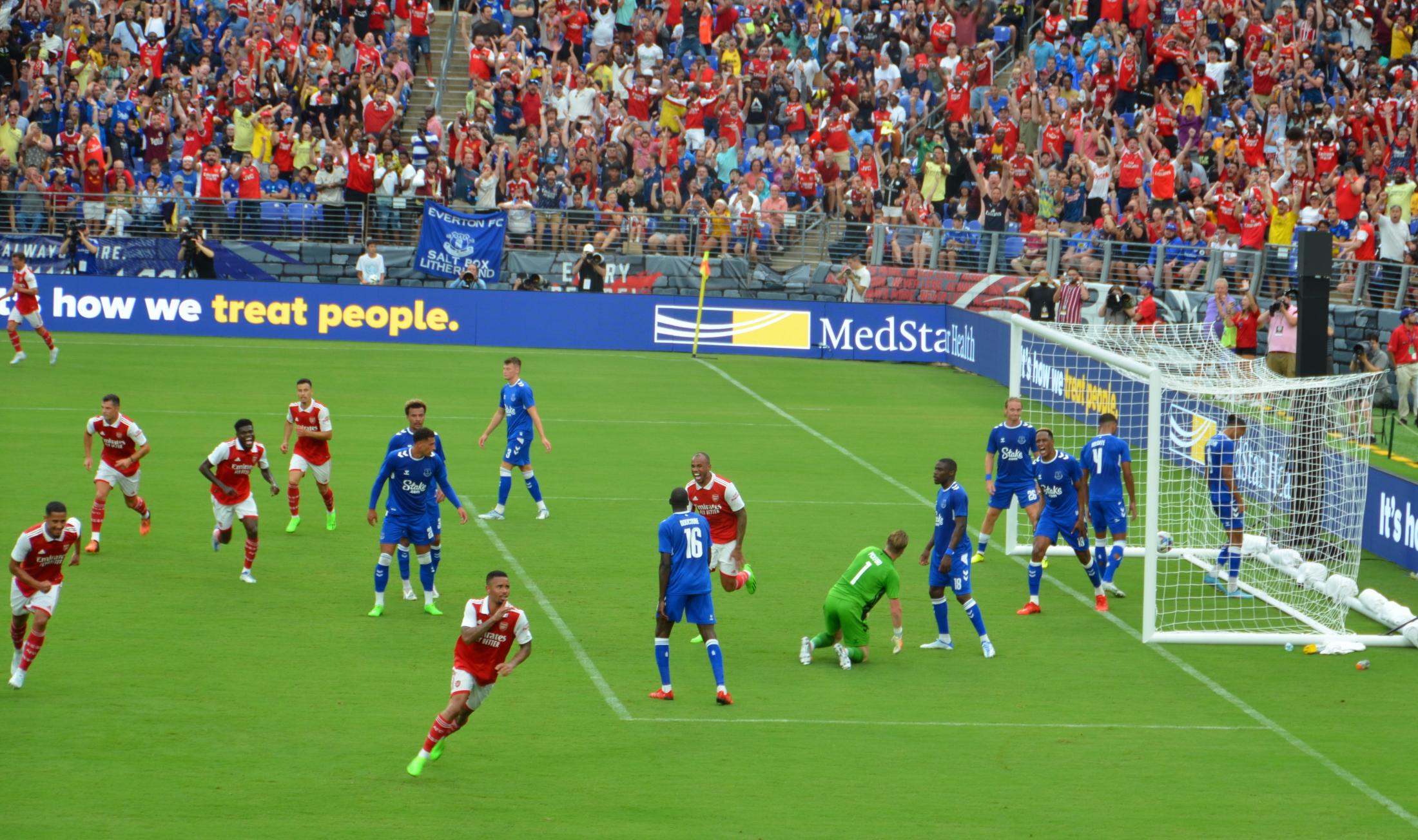 It was also an event envisioned, frankly, as a piece of something more.
The game was organized as part of Baltimore and the state's push to host men's World Cup matches in 2026 in a joint bid with Washington, D.C. World Cup organizers turned it down last month, leaving the region off a list of 16 host venues for the 48-team tournament that will be played in the U.S., Canada, and Mexico. But the scenes downtown Saturday, and in the days prior, suggested it would have been a fine decision.
"We didn't know what to expect, but there were 40,000 supporters here—35,000 Arsenal fans," Arsenal manager Mikel Arteta said of the team's time in Baltimore, which included a multiple-night stay at the Sagamore Pendry in Fells Point. "They have been very passionate. They've been outside the hotel waiting for hours, pretty consistent the last few days."
The announced paid attendance was 39,245. Game officials don't yet have demographic data on the crowd, but anecdotally some fans were from as far away as the teams' home in the United Kingdom; states like Minnesota; and drivable cities like Washington, D.C., Philadelphia, and New York.
Of course, many were from much closer in Baltimore. What sounded like half the stadium gave Ravens kicker (and former high school soccer player) Justin Tucker a loud ovation when he went to midfield as an honorary captain for the pregame coin toss. (A strong "O!" during the national anthem was also a good indicator of the local flavor.)
"Anytime you bring English Premier League teams to town, you're going to see a diverse fan base," said Terry Hasseltine, executive director of the Maryland Sports Commission, who led the push to bring World Cup games to Baltimore. "The players of the global game come from all over the world. Their fans travel to see them. And Baltimore and Maryland have such a tremendous soccer fan base."
Indeed, Baltimore was ranked the 10th best market in the United States for Premier League soccer viewership this past season. And when Arsenal's Gabriel Jesus and Bukayo Saka scored a pair of goals three minutes apart in the first half to give their side the edge, the crowd went wild—as if they'd waited forever to see the action in person. Red smoke emanated from one corner of the stadium in celebration. Before the game, chants of "Ar-senal! Ar-senal!" were distinct, as were singalongs to some of Everton's pregame traditions (like this 1980s remake which I can't get out of my head).
It was clearly a showing that could justify Baltimore hosting more games like it—not to mention the region's strong soccer footprint. It was also arguably the most diverse crowd I've ever seen at a pro sporting event, emblematic of the global game. If you walked the concourse or sat in the stands, you would have heard and seen a rich blend of various languages and ethnicities. Outside the stadium, fans in jerseys debated their teams' offseason roster moves. A line for drinks on the patio at Gameday Firehouse extended into the alleyway behind the building off West Street.
🇺🇸 USA Tour Diary: 𝗠𝗮𝘁𝗰𝗵𝗱𝗮𝘆 𝘀𝗽𝗲𝗰𝗶𝗮𝗹

📺 We're back with another update from Baltimore... and this time it's matchday! 👇

— Arsenal (@Arsenal) July 17, 2022
This was the first match of its kind in the city since Liverpool faced Tottenham in 2012. And while Baltimore won't host any World Cup games in a few years when the tournament comes to North America, Hasseltine told us yesterday the city may serve as a training and meeting location for teams before and during the 2026 World Cup tournament. "Overall I think the night was a huge success for the football community," Hasseltine said.
The game was also a vehicle for a few initiatives from policymakers, such as bringing more people downtown (on a weekend that tragically included at least five more murders in the city), expanding youth sports programs like the Football for Peace Baltimore-D.C. chapter announced as part of the match, and amplifying the recent news that a premier soccer academy is considering Port Covington as a site for its next location—which could also mean a 10,000-seat stadium that Mayor Brandon Scott has asked the Maryland Stadium Authority to evaluate.
"I feel for the DMV missing out on a World Cup bid," said New Jersey-born Arsenal goalie Matt Turner, the lone American in Saturday's match who is also Team USA's possible starting goalie in the next World Cup in November. "Seeing the turnout tonight and the energy and how into it the fans were, it had a real game atmosphere…People really showed up."