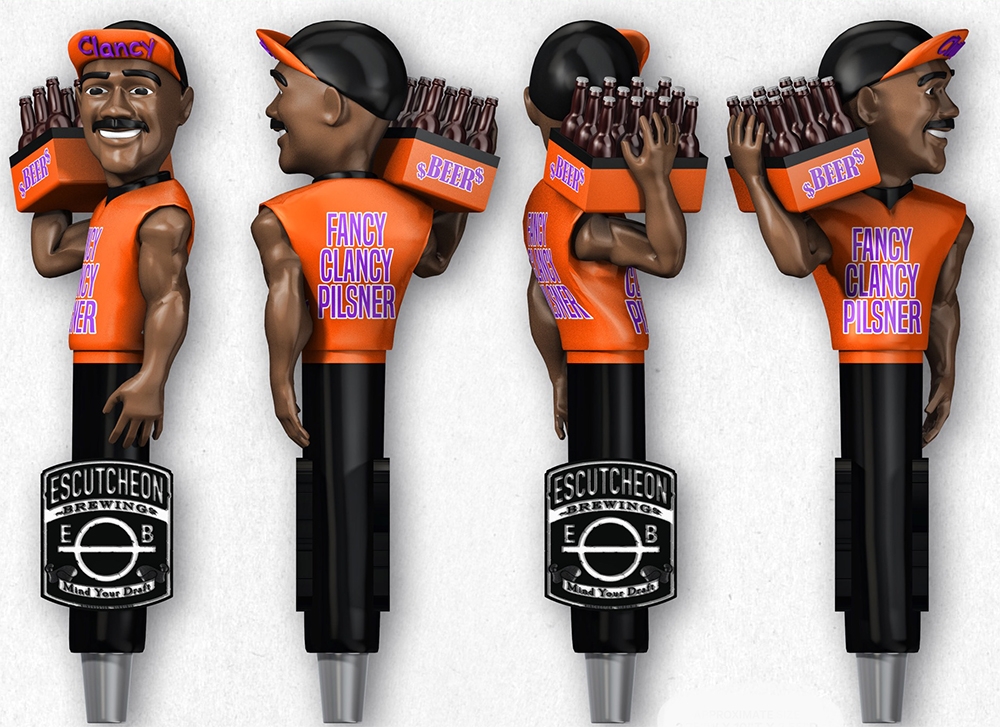 Alison Group
You know when certain genius ideas come along and you wonder, "How did nobody think of this sooner?" Well brewing a beer for the king of all Orioles beer sales is definitely one of those ideas.
Clancy Haskett, or Fancy Clancy as he's lovingly called, has been a Baltimore Orioles vendor for the past 45 years—starting out selling sodas at Memorial Stadium when he was just 15. Now he's best known for slinging suds in his first-base section and has befriended a lot of his customers.
One of them is Art Major, who's been a partial-season ticket holder for the past decade and makes the trip up from Winchester, Virginia, to Camden Yards nearly 30 times a season. He also happens to own Escutcheon Brewing.
"Clancy isn't just your beer vendor, he's also your friend," Major says. "Sliders is my favorite place in the world and we were all there one night when I thought why don't we brew a beer for him. I can make it, they can sell it, and Clancy can be on it. Who wouldn't want to drink that?"
Haskett, who often frequents Sliders Bar & Grille since co-owner Mark Sheubrooks is an old classmate of his from Lansdowne High School, remembers it a little differently.
"I was saying, 'Man, nobody is gonna buy my beer,'" he says with a laugh. "People know me on the first-base side, but I don't know how many people care about me beyond that point. But when we brought the idea to Mark and [his daughter] Rachel, they were like, 'Hell yes, let's try it.'"
For the past year, Major has been tinkering with the recipe, as well as working with Miami-based design firm the Alison Group on the perfect tap handle.
"I had a very, very specific idea of what I wanted the tap handles to look like," Major says. "I wanted Clancy with his beer tray, sleeveless shirt, his arms bulging out. We gave him a little more muscle." (Haskett says he's very appreciative and should probably "hit the gym a little extra" before the season starts.)
As for the beer style, Major knew he wanted to play off what is most commonly drank at sports games, the American pilsner, and felt that something more crafty like an IPA just wouldn't work as well. Haskett agreed.
"Nowadays, the IPA types of beer are real popular and I sell a lot of those," he says. "But the best is when you get that beer right in the middle—not too heavy, not too light. I tasted this one a couple of weeks ago and it's a really good beer."
Fancy Clancy Pilsner will be released at a party on March 30 at Slider's during the Orioles away game against the Yankees. Of course, you can also try it down at Escutcheon Brewing.
"This is going to be something pretty epic," says Slider's owner Rachel. "Clancy is so popular, so kind, and obviously has a great work ethic. He's just the kind of character that loves to brand himself."
With that in mind, Haskett has big plans for the Fancy Clancy Pilsner. He'd like to see it end up in cans at the stadium, a real full-circle moment for the long-time vendor.
"As you get older, you think about what you've done in the past," Haskett says. "After 45 years, this makes you feel appreciated—people are really giving me a little respect. If this beer takes off, hey look out."