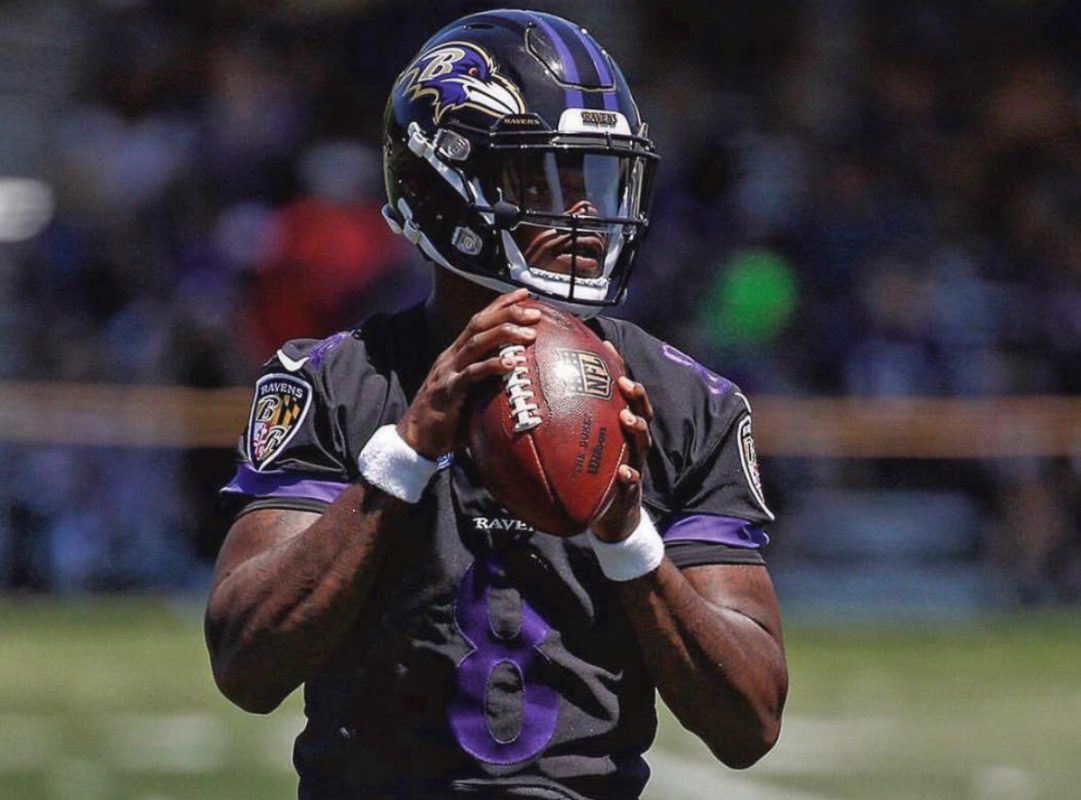 Lamar Jackson
Draft day in the NFL is just as big an event as the Super Bowl. It's where college athletes' dreams come true and fans of all 32 teams wait anxiously—and oftentimes impatiently—to see how the team's roster will shift for the upcoming season.
Last night, the Baltimore Ravens made two grade-A picks in the first round—according to sports analysts—after trading down twice for the first time in the first round since 2012. With the 25th overall pick, Baltimore selected South Carolina tight end Hayden Hurst and Louisville quarterback Lamar Jackson with the 32nd overall pick.
Like many die-hard Ravens fans, we immediately started our Google searches to find out about our newest recruits and we've compiled some facts for you here.
Lamar Jackson is the anti-Joe Flacco.
The 2016 Heisman Trophy-winner is known for his athleticism and ability to move in the pocket unlike Flacco, who is a traditional pocket passer with an insanely strong arm. Jackson has been compared to QB Michael Vick in his prime, but even the man himself thinks Jackson is "five times better" than he was in college.
John Harbaugh says that Flacco isn't going anywhere.
Speculations have begun that this may be Flacco's last year in Baltimore due to the recent signing of RGIII and now Lamar Jackson. The Ravens head coach wants to make it very clear that Joe isn't going anywhere just yet.
"[Jackson's] a great quarterback. But Joe Flacco is our quarterback," he said in an interview. "That's the thing we got to remember. Lamar is going to have a great chance to develop. When you get to this stage in a quarterback's career, you've seen done in New England and you've seen done in a lot of places. This doesn't really change things in a sense that we're going to go with Joe and he's going to roll."
Hayden Hurst was the top tight end in the 2018 draft class.
At 6-foot-5, 250 pounds he has the athleticism to put up big stats in the NFL, Hurst is just the tight end the Ravens need. He's a force on the field with his blocking and catching. In his last two seasons at South Carolina, he caught 92 passes for 1,175 yards and three touchdowns. Hurst will be able to fill the void the Ravens have with Nick Boyle and Maxx Williams, who are both better at blocking.
Hurst has a history in major league drafts.
He was selected in the 2012 MLB draft by the Pittsburgh Pirates and spent two years as a pitcher and one year as a first baseman in the Gulf Coast League. Hurst went back to football in the summer of 2015 and was an immediate starter. He credits his background in baseball for his exceptional hand-eye coordination and maturity playing professional sports.
"I feel like tracking a baseball is a little bit harder than tracking a football," Hurst said. "I think that's the biggest thing that I carry over from baseball is just the maturity. I've experienced some things that some guys haven't with failure."
Ozzie Newsome was able to work magic with those two trades.
First the Ravens traded out of the No. 16 pick, giving the Buffalo Bills its first- and fifth-round picks (No. 154). In return, the Ravens are getting the Bills' first-rounder (No. 22) and third-rounder (No. 65).
Then, Baltimore traded back for the second time with Tennessee getting the Titans' first-round (No. 25) and fourth-round picks (No. 125). Ravens gave Tennessee the No. 22 spot they just got from Buffalo and a sixth-rounder (No. 215).
Newsome called is "masterful" how he was able to trade down twice and still manage to get two great picks in the first round.