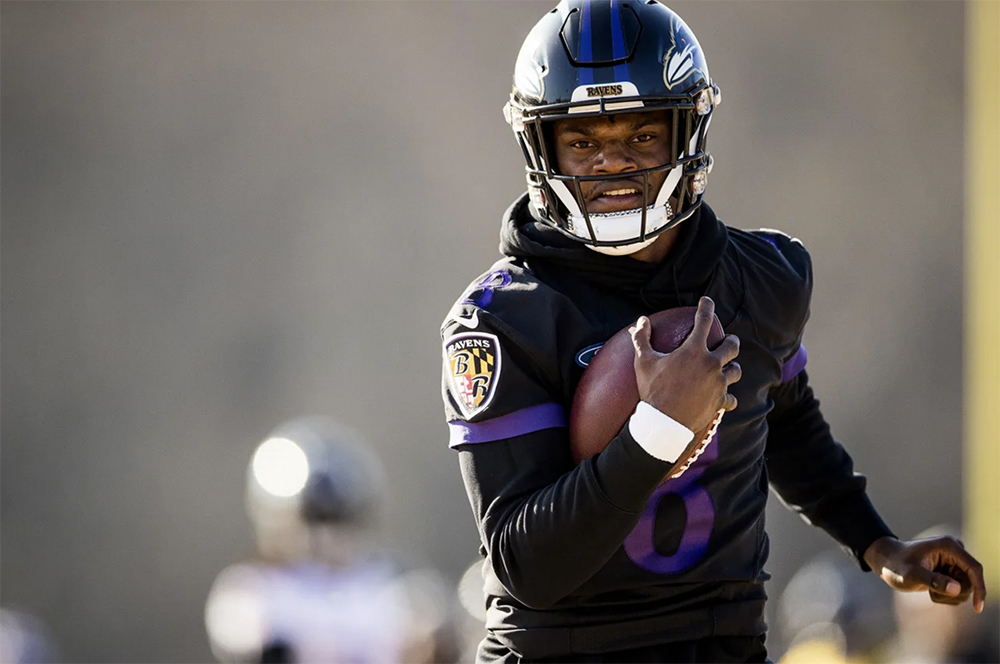 Shawn Hubbard / Baltimore Ravens
Well, it all comes down to this.
As wild a regular season as they come—complete with a changing of the guard at quarterback, a frisky head coach on the hot seat, and a turnaround from a three-game losing streak to a playoff run—comes to an end on Sunday, when the Ravens host the Cleveland Browns.
It's the biggest game at M&T Bank Stadium since, um, this time last year when the Ravens also had a chance to make the playoffs. And while pockets of empty seats were visible that day and on many days this season, players are hoping for a packed stadium Sunday, with so much riding on the game's result.
All I want for Christmas is a full house at M&T this Sunday

— Matthew Judon (@man_dammn) December 24, 2018
The idea, of course, is for the Ravens to keep playing in the playoffs, something they haven't done in three years. With a win, they will. With a loss, things can get crazy and the Ravens could miss the playoffs altogether. With that, here are five things to know before you watch Sunday's game.
Win and in. Lose and who knows.
There are 96 different possible playoff scenarios (yes, 96!) in play for the Ravens, including being ranked as a high as No. 2 in the AFC, getting a bye and hosting a playoff game, to sitting at home and watching the playoffs next week like you and me.
The simple one is if the Ravens win they play again, but there's also one where the Steelers win the division instead, and keep the Ravens out of the postseason. This video about it all would make John Urschel proud.
This could be Joe Flacco's last home game as a Raven.
With a loss, or even a win in a less-than-ideal scenario, this might be the last time to see Joe Flacco in a purple No. 5 jersey, even if it's merely on the sideline or for a ceremonial goodbye towards the end of the game. Unless of course the Ravens think he's worth $23 million per year to be a backup QB, or they renegotiate his contract this offseason. Otherwise, odds are Flacco plays elsewhere next season, like . . . the Redskins.
What's the deal with Hot Seat Harbaugh?
In the middle of the season, head coach John Harbaugh was reportedly on his way out of town. (And we wrote about enjoying the testy public tone of Hot Seat Harbaugh around this time.) But then Lamar Jackson took over at quarterback, and the Ravens' fortunes turned around. That brought us to last Friday, when the Ravens released a one-sentence statement at 7 p.m., the night before their game against the Chargers, saying that the team will work with Harbaugh to negotiate a new contract, which expires after 2019. It's the type of end-of-week media release usually sent when someone is getting fired, not supported.
"I think it's a non-story," Harbaugh said this week. "We're just trying to win football games. We've kept it simple, kept it about football. Everybody is on a one-year deal. You're on a one-week deal, as far as I'm concerned, in this league, players and coaches."
Reading between the lines, this all looks like negotiating tactics. The Ravens either want Harbaugh back, or least want it to look like they do, and want to work out a new contract with the coach before he heads into a lame-duck year next year. The question is, does Harbaugh want to do the same thing? Not many NFL head coaches survive big-time quarterback changes but to his credit, Harbaugh has fully embraced the change from Flacco to Jackson, so he's in a great position to do whatever he wants to do.
Moral of the story: Oftentimes everyone is always looking for the "next thing," the next coach, or the next QB, without enjoying the present. This is a week to enjoy the present.
With a win, Eric Weddle is buying us all "Victory Breakfast."
Speaking of contracts, Eric Weddle's is pretty great. With a playoff appearance, combined with a Pro Bowl selection, which the veteran safety has already earned, Weddle will get an extra $1 million sent to his bank account.
That's more than enough to buy a few "Victory Breakfasts," as he's enjoyed the last few weeks. Extra Reese's, please.
Nothing like victory ice cream.... Chocolate chip cookie dough ice cream, reeses puffs cereal, oreos, birthday cake teddy grahams, white chocolate reeses butter cups and caramel. Yes yes yes!!!!! pic.twitter.com/qvxrSpO8qZ

— Eric Weddle (@weddlesbeard) December 24, 2018
Anything is better than last year.
In case you forgot what happened last New Year's Eve . . .