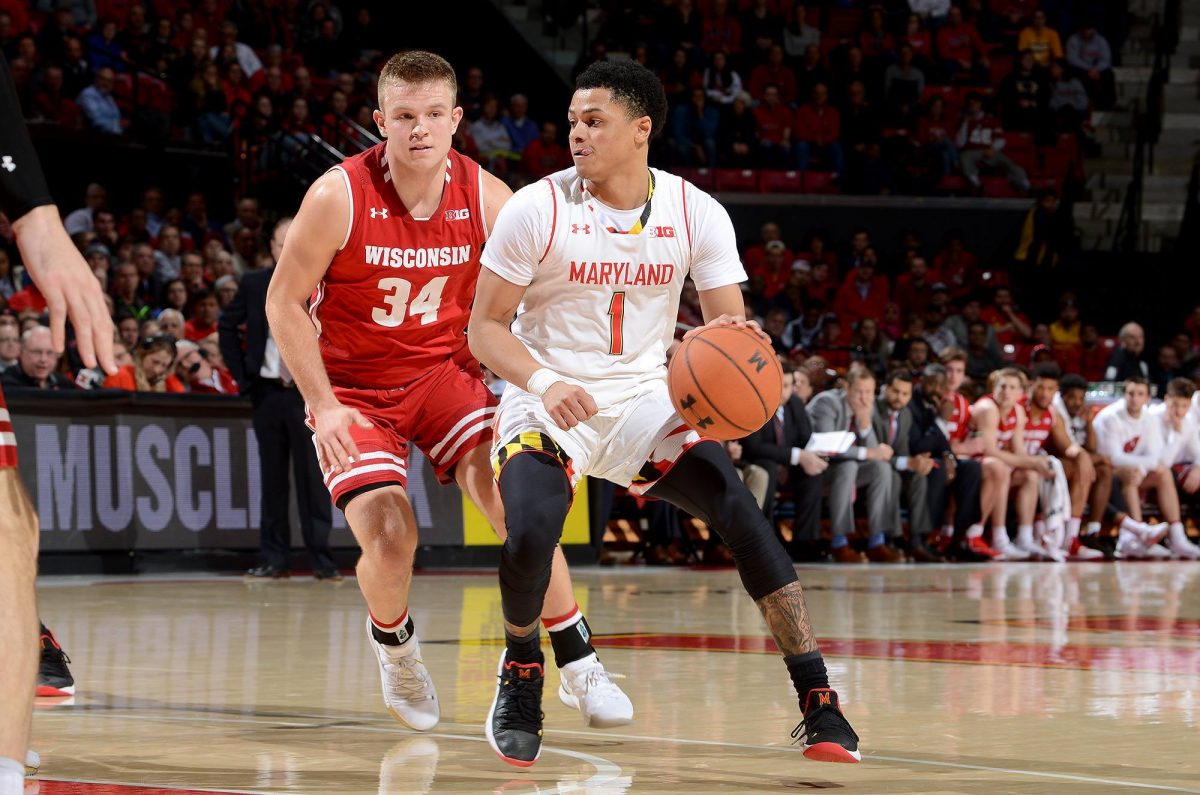 University of Maryland
They haven't lost since before Christmas.
A few weeks might not seem like a long time in the grand scheme of things, but consider that the University of Maryland men's basketball team has played and won six games since December 22, when they last lost, by four points to Seton Hall. Coach Mark Turgeon's bunch has won 15 games this season and lost just three, beaten four projected NCAA tournament teams this month, and could jump into second place in the Big Ten conference standings this weekend.
"This team is doing amazing things," Turgeon said after the latest win, a 74-70 thriller over Wisconsin on Monday night. And that was a few hours after the Terps entered the latest Associated Press national Top 25 poll, with a ranking of No. 19, their highest of the season.
So, in short, it's time to start paying attention to the basketball happening in College Park. Their next game is at 6:30 tonight at Ohio State, available to watch on Fox Sports 1, followed by a bigger one Monday night at No. 6 Michigan State.
There's the Big Three.
One goes by Bruno, and the others are freshman forward and Mount Saint Joseph's alum Jalen Smith, and junior guard Anthony Cowan, Jr., from Bowie. In basketball, it often beneficial to have a Big Three, to make it that much harder for opponents to defend you, and Maryland has a talented trio.
Angola native and 6-foot-10, 240-pound sophomore Bruno Fernando is the reigning national player of the week and is averaging 14.6 points and 9.9 rebounds. He also seems to have a good head on his big shoulders for a college kid, tweeting things about integrity, being blessed, and great team wins.
Meanwhile, the 6-foot-10, 215-pound Smith, the two-time Maryland Gatorade Player of the Year as a junior and senior at Mt. St. Joe, has made an instant impact in his first year, averaging 12 points and seven rebounds.
And the guy with the hottest hand of late is Cowan, the Terps' leading scorer with almost 18 points per game. He's got Gary Williams' seal of approval. Cowan has scored at least 20 in the last three games, and isn't afraid of taking the big shot. His winner on Monday night was Melo Trimble 2.0. We could watch this four-second clip from 105.7 The Fan's Joe Schiller all day long:
Free tickets for government employees was a great call.
The Maryland athletic department recently offered free tickets to federal government employees affected by the current government shutdown, and 747 people took them up on the deal by attending either the Terps' women's game last Saturday or the men's game Monday. "This was a great chance to have a family outing, relieve some stress, and watch a great basketball game," Therman Hawkins Jr., who attended Monday with his wife and 14-year-old son, told Maryland's athletics website.
The way negotiations in D.C. are going (in the last two days Baltimore native Nancy Pelosi called for the postponement of the State of the Union address; the president, in turn, cancelled her trip to the Middle East to visit U.S. troops), Maryland might need to re-up the ticket offer for their next home game in eight days.
Bracket projections have UMD in the NCAA tournament.
When it comes time to fill out an office bracket for March Madness, oftentimes you'll do just as well by picking teams whose uniforms you like rather than doing any serious research. In any case, it's usually easier, and more fun, to pick a school that you've at least heard of. Need say we say more than UMBC, 2018?
Current bracket projections (yes, there are already these things) have the Terps as high as a No. 4 seed, meaning prognosticators think they're one of the top 16 teams in the nation. Keep this up and Maryland alums will have a reason to call out sick to work in a few months to watch the Terps' first-round tournament game.
To paraphrase Will Ferrell's zany character in Zoolander (Are we dating ourselves? No one on the current team has probably ever seen the movie), the Terps are so hot right now. Jump on the bandwagon before it's too late, and it looks like you're simply a fair-weather fan in March.