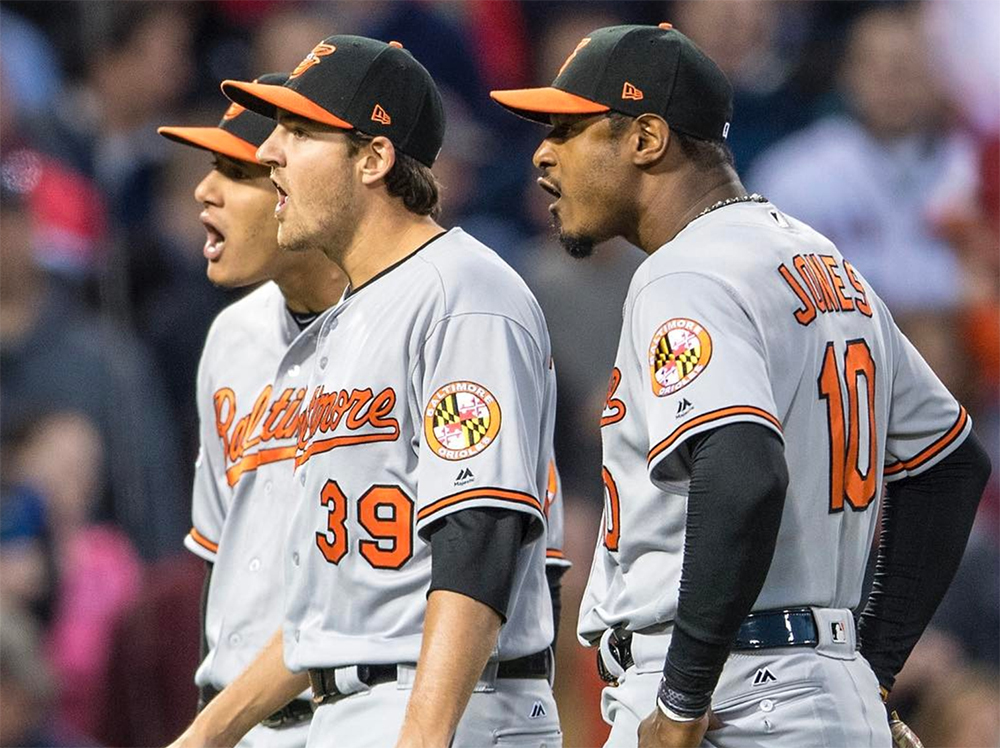 MASN
Red Sox series ends, thankfully.
Orioles catcher Caleb Joseph summarized the week quite well, and on Wednesday night, with still one game left to be played in the O's contentious series with the Red Sox. "I'm the most excited person to get the hell out of Boston," Joseph told reporters.
Seriously.
What the heck was that?!
We wrote a good amount about the heated first two days of the four-game series, including the disgusting and racially motivated words Adam Jones said were tossed at him from the centerfield bleachers at Fenway Park, and the latest (fifth) intentionally thrown fastball by a Red Sox pitcher at our beloved Manny Machado.
That afternoon, the O's and Red Sox essentially got called into the principal's office. Major League Baseball commissioner Rob Manfred held a special conference call with representatives from both sides, telling them to knock off the childish, unwritten-rules-of-baseball feud that's stretched back almost two weeks when the Sox took offense to a high Machado slide into second base.
On Wednesday night, quick-triggered home plate umpire Sam Holbrook ejected O's starting pitcher Kevin Gausman in the second inning when he hit a batter with a 76 mile-per-hour hanging curveball. It wasn't the type of pitch you'd typically intentionally hit someone with if you wanted to get your money's worth. The 98 mile-per-hour fastball Chris Sale buzzed by Machado the night before was. "It's malarkey," Joseph said. (We need to talk more with this guy!) Then Jones got ejected later in the game for arguing balls and strikes.
Last night's series-ending game, an 8-3 win, was less dramatic, and more sweet and orderly for the O's. Machado launched a 466-foot moonshot home run that landed on the street outside Fenway – his third cathartic HR in the four games – and boos rained down as he circled the bases, as they did before every one of his at-bats on the road trip. Manny, after his epic rant against the Red Sox organization, is a serious villain in Boston. With the way some fans there behaved this week, we don't mind being on this (right) side. "This is my team. I play for Baltimore," Manny said last night. "I bleed for this team. I'm going to die out there, I'm going to do whatever I've got to do to keep this team going."
Ravens tight end Ben Watson seems like one heck of a guy. 
The 36-year-old veteran hasn't played a regular season game with the Ravens yet (he tore an Achilles' tendon last preseason), but he's already doing things worth noting. How often can you write this sentence? Not only did he recently spend three days in Lebanon, helping Christian humanitarian charity World Vision assist refugees near the country's border with Syria, but the father of five also this week released a new book, The New Dad's Playbook: Gearing Up For the Biggest Game of Your Life. Waston, who signed with the Ravens last offseason and won a Super Bowl title with the Patriots, is obviously a Renaissance Man. Back in 2004, when he was rookie coming out of Georgia, he scored a 48 – the third-highest score ever – on the NFL's Wonderlic test, used to evaluate the learning and problem-solving ability of prospects. Sounds like he and mathematician lineman John Urschel have their own section of the locker room.

So is former Ravens tight end Todd Heap. 
Former Ravens tight end Todd Heap and wife, Ashley, are going through every parent's worst nightmare: the unthinkable death of a child. A few weeks ago, Heap tragically and accidentally hit and killed his 3-year-old daughter, Holly, while moving his truck in the driveway of the family home in Arizona. Absolutely heart-breaking. On Wednesday, on what would have been the fourth birthday of their daughter, the Heaps asked the world to wear pink and hand out #HugsFromHolly in her memory. Twenty-five of the NFL's 32 teams shared support on social media.

Welcome a 330-pound London native and rugby player to town. 
Jermaine Eluemunor, the Ravens fifth-round draft pick, selected last weekend, doesn't exactly carry the usual NFL rookie profile. Aside from being typically large, as required for offensive lineman (he weighed 300 pounds when he was 14 years old and is now 6-foot-4, 330 pounds), Eluemunor sounds like he's from London (because he is), and has only played one full season of football as a starter. He has more experience playing rugby. In any case, he's in town with the Ravens now, who hope he'll blossom into a bonafide NFL lineman, and he'll get to visit his home country this season when they play the Jacksonville Jaguars Sept. 26 at London's Wembley Stadium.
And say goodbye to an old Ravens fan favorite.
His stay in Baltimore wasn't very long, but Justin Forsett's retirement this week is notable because of how beloved he became in just two seasons with the team. He originally signed a one-year deal with the Ravens in 2014, expecting to be a third-string running back, but became the starter after Ray Rice's suspension and release, and injuries to Bernard Pierce. Forsett, not the biggest or fastest guy, which he noted in his retirement announcement, helped during a difficult time, and had the best season of nine-year career, racking up 1,266 yards. "Congrats to Justin Forsett on his outstanding football career," John Harbaugh said in a statement. "A Pro Bowl player and a Pro Bowl person. We were honored to have this outstanding and blessed man as a Raven. His success will continue, no doubt."
Forsett wrote more about his retirement here:

Brigade's home opener is Sunday afternoon. 
One more football note: The first-year Baltimore Brigade of the Arena Football League host their home opener at Royal Farms Arena at 1 p.m. Sunday. Here's a glimpse of what you can expect to see, from the field, at least: