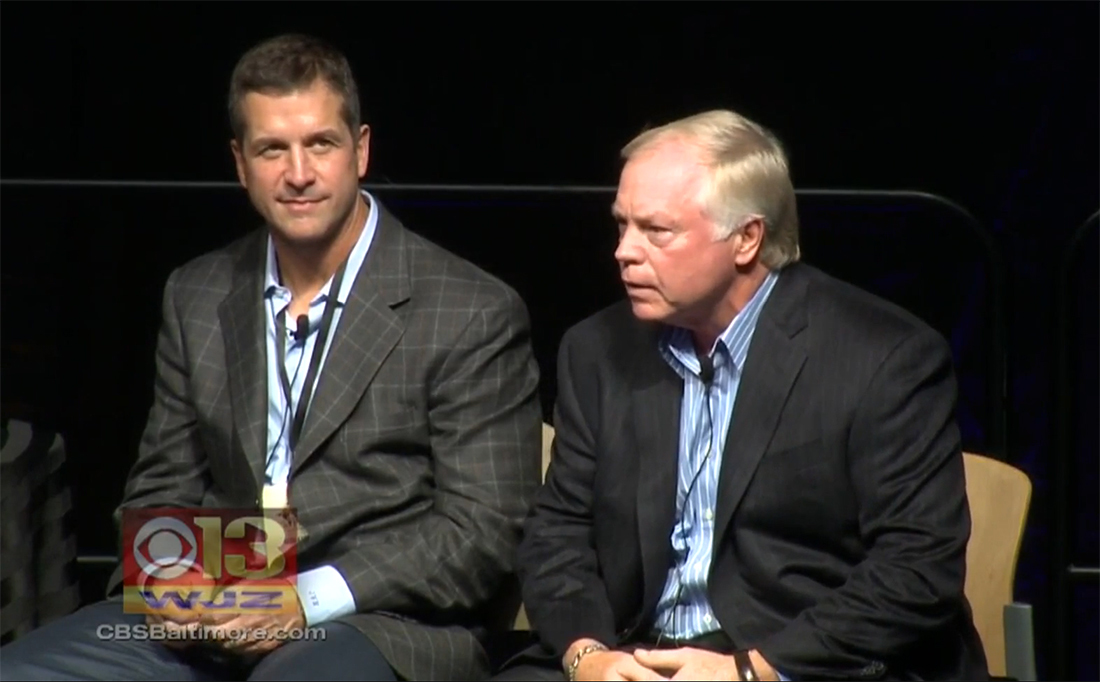 Courtesy of CBS Baltimore
1. Buck Showalter and John Harbaugh bond over disappointing seasons.
Orioles manager Buck Showalter isn't afraid to get candid on the mic, and such was the case on Wednesday at a Pathfinders for Autism event at SECU Arena at Towson University. Showalter and Ravens coach John Harbaugh took part in a discussion moderated by CBS sportscaster Mark Viviano. "Let's not throw pats on the back at a .500 season. John and I are up here, and we ain't happy, OK? I ain't happy. It ain't happening. It's not good enough," Showalter said. "There's people that depend on that—for us to deliver—and I know John, and I know what's going to go on between now and April. So get your stuff ready." The Ravens coach smiled and agreed. "What Buck said is so true because in terms of creating an atmosphere where we're building on the principles, what we believe in how we play, but you did it differently," said Harbaugh. The two continued to shares their stories and lessons on leadership. You can listen to the entire discussion via WBAL 1090.



2. Orioles offer Yoenis Cespedes $90 million, continuing Chris Davis poker game.
On Thursday, the Baltimore Orioles made an offer to free-agent outfielder Yoenis Cespedes, which according to ESPN, is between $75-90 million for five years. Sources close to the team said that the Orioles have grown "increasingly frustrated" with the back-and-forth saga with Chris Davis, who was offered a seven-year deal worth $150 million that was turned down in the off-season. Like something out of the World Series of Poker, the $90 million might be a giant bluff—not convincing enough for the Gold Glove, All-Star Cespedes to sign, but motivation for Davis (and his agent Scott Boras) to finally make a decision. On the flipside, if Cespedes accepts the offer from Baltimore, then Davis will have lost his most interested party (though reporters have identified the Tigers and Angels as possible contenders). Either way, it's about time for everyone to show their cards and end this poker game once and for all. In the meantime, the Orioles have also been linked to trade talks with the Colorado Rockies for their plethora of outfielders, like Carlos González or Corey Dickerson.
3. Ed Reed hired as an assistant coach for the Bills.
On Wednesday night, the Buffalo Bills announced that they hired Ed Reed as their assistant defensive backs coach. The former safety has made it very clear that he saw coaching in his future and working under his longtime coach Rex Ryan seems like a good fit. "Ed Reed is going to be such a great asset to our team," Ryan said in a statement. "Obviously, he's played in this system and has been an MVP-caliber guy in this system. He's a real student of the game as well and he's going to be a phenomenal coach." Of course, Ryan and Reed have already established a good working relationship, after sharing six years on the Ravens and one year on the New York Jets. "Having spent time with Ed in Baltimore and then New York—I can attest to the incredibly high level of professionalism he is going to bring with him to Buffalo," Ryan said. "He's going to teach guys how he studies film, bring the guys along, and add so much in that way." We just only wish he was helping the Ravens' secondary along. Judging by Reed's Twitter, he is excited to take the leap.
Sitting on the cliff of life watching others soar by, JUMP! Awesome word! Ephesians 3:20 https://t.co/AHowWjYw1a
— 20 reed (@TwentyER) January 15, 2016
4. Melo Trimble on short list for Wooden Award.
Okay, so the Terps aren't totally invincible. After Saturday's nearly buzzer-beater win against Wisconsin, Maryland basketball fans were riding high, but Tuesday's 70-67 loss against Michigan brought us back down to earth. Though that wasn't Melo Trimble's best performance, the sophomore point guard has helped lead the Terps to their best start in school history, averaging 14.1 points, 5.5 assists, and 1.4 steals per game. Not to mention his 87-percent free-throw percentage. This all helps build the case for Trimble's placement on the Wooden Award Midseason Top 25 list on Wednesday. The 40th annual award will be give out during ESPN College Basketball Awards Show on the weekend of April 7-9. Past winners have included Michael Jordan, Larry Bird, Tim Duncan, and Kevin Durant.
5. Justin Forsett and Sonja Sohn to be MLK Parade grand marshals.
Every year, Baltimore Office of Promotion and the Arts (BOPA) selects a grand marshal to lead the Martin Luther King Jr. Day Parade through the streets of Baltimore. And this Monday, we'll be lucky enough to have two. BOPA has appointed Ravens running back (and our "Best Raven") Justin Forsett and actress Sonja Sohn, aka Det. Kima Gregg's on HBO's The Wire. Sohn is also known for her work as CEO and founder of nonprofit ReWired for Change, as well as being a consistent activist for underserved communities in Baltimore. The parade begins at noon on Monday at the fitting intersection of Martin Luther King Jr. Boulevard and Eutaw Street. Check out our full list of MLK Day events.