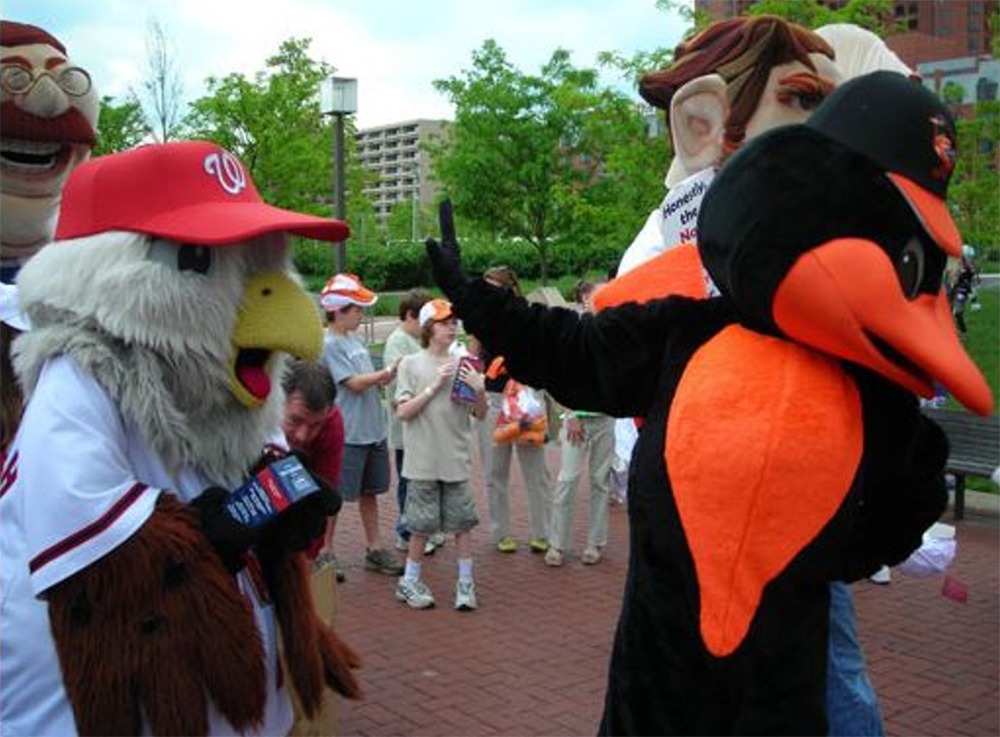 Eutaw Street Report
Despite shade from D.C., Orioles win series against Nats.
We're a pretty positive bunch here at Baltimore magazine. It takes a lot to ruffle our feathers. But when people start talking smack about our city, we want to snap a bat over our leg Chris Davis style.
Earlier this week, The Washington Post reported that 106.7 The Fan, the flagship radio station of the Nationals, was airing a 45-second promo spot with some aggressive shade thrown Baltimore's way:
This week two of the hottest teams in baseball meet in the Beltway Series. First, the Nats travel to Baltimore to face Manny Machado and the Orioles. Side note: Natty Boh is brewed in Georgia, and 50 percent of crabs served in Maryland are actually from Japan. Then, Baltimore brings its massive inferiority complex to D.C., a city with more jobs, a lower crime rate and a better baseball team. Hear it all on your flagship home of the Washington Nationals, Sports Radio 106.7 The Fan.
First of all, the harsh tone seems odd for a radio ad, especially for two teams in different leagues and who have had a fairly friendly relationship since the Nats sauntered down form Canada in 2005. Were they feeling left out of all of the Orioles-Red Sox press?
Secondly, we agree about Natty Boh. It's not a local beer. But don't act like that is all we drink here in Baltimore. Just like D.C., we have an awesome and ever-growing craft beer scene with a ton of (actually) local beer options in Camden Yards. Also, that crab stat is just totally bogus. If you can read, it's extremely easy to find domestic crab options in season. We at the magazine happen to do it every July.
Then things take a really ugly turn when they bring up our alleged "massive inferiority complex" (an ironic mid-rant jab), crime rate, and job market. Talk about low blows.
But then it all comes to a head in the ad's concluding point when they just flat out state an alternative fact—looks like the White House is rubbing off. Better baseball team? The Orioles have a 2017 record of 22-12 (a 66.7 winning percentage) while the Nats have a record 22-11 (64.7). What's more, the O's have won the season series going back six years now and have a 19-8 record during that span—thanks in part to the two out of three that Baltimore took from D.C. in this week's abbreviated series.
So, yeah, you may have Wieters, but your insult game is weak.
Plus, Metallica likes us!
Legendary metal band Metallica kicked off its World Wired tour at M&T Bank Stadium on Wednesday night and, from all accounts, it seemed like an awesome show. Before they headed out of town, though, they put together a nice tourism package for the city of Baltimore. We'll take it!

Horses begin to arrive at Preakness.
Though Metallica's video heavily focused on our sports teams and stadiums, they didn't happen to mention another Baltimore bragging right. We host the middle jewel of horse racing's Triple Crown, and preparations for the 142nd Preakness Stakes are well underway.
Kentucky Derby winner Always Dreaming arrived at Pimlico Race Course on Thursday morning and took an early 6 a.m. gallop. "It was kind of what we were looking for—a tranquil, quiet setting," trainer Todd Pletcher told The Sun. "Also, I don't have much else to do. I can't sleep, so we've got to get going." 
Pletcher has had a storied horse-racing career, but Preakness is the only Triple Crown leg he hasn't yet won. He admits he's going into the May 20 race more hopeful than ever. "Our confidence level was probably the highest it has ever been in any single horse we brought to it," he said. "I think just by his physical makeup, he's a horse that can continue to get better than he already is."
Ray Lewis' son transferring to Maryland.
Utah State wide receiver Rayshad Lewis, who happens to have a fairly famous Baltimore dad, announced on Monday that he is transferring to Maryland.
"I just felt at home and very comfortable with the coaching staff, the offense, and how I would fit in," Lewis told the Orlando Sentinel. In his freshman year at Utah State, he earned 40 receptions and two touchdowns for 476 yards, and should only add to the already talented Terps football team. Due to NCAA rules, Lewis will sit out the 2017 season, play in 2018, and have three years of eligibility.
Though Lewis is a Florida native, there's obviously a hometown familiarity with his dad, Ray, spending 17 seasons with the Baltimore Ravens and his brother, Keon Lattimore, playing for the Maryland in the mid-2000s.

Melvin Mora becomes a U.S. citizen.
On Wednesday, along with 59 other new Americans, longtime Orioles infielder Melvin Mora became a U.S. citizen. Originally from Venezuela, Mora played for the O's for nine years and still holds the team's single-season highest batting average (.340). But becoming a U.S. citizen with his wife, Gisel, in front of their six children (including five quintuplets!) was a lifelong dream. 
"This is the time to do it. It's the right time," Mora said, according to Press Box. "I was busy with the season. I should have done it a long time ago. My kids were always fighting with me to try and do it."
Mora became emotional when three of his children led the room in the Pledge of Allegiance and credited his children with helping him study for the citizenship test.
"I was like, 'What am I doing?' I've been playing in front of all those fans, and now I'm shaking," he said. "This is something different."