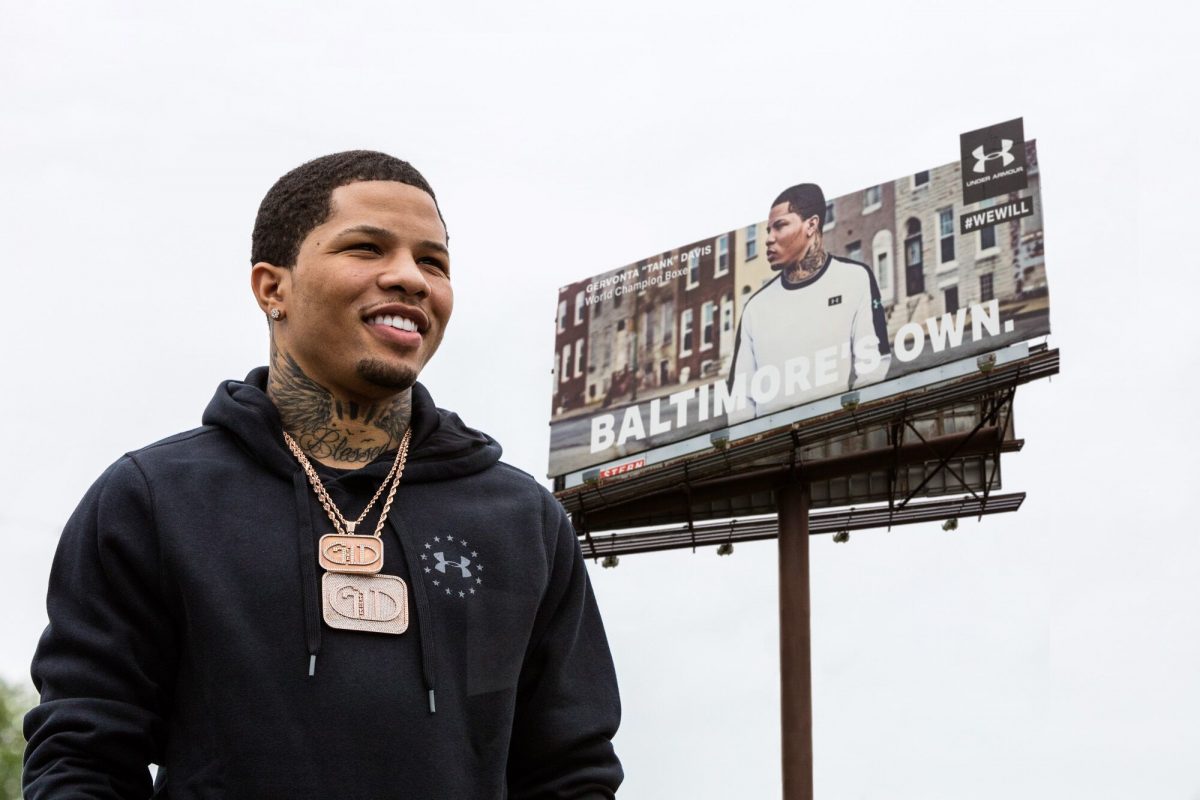 Under Armour
Gervonta "Tank" Davis Signs Deal with Under Armour
This is cool. World IBF junior lightweight champion Gervonta Davis, who just defended his title in convincing fashion Monday with a third-round TKO of Britain's Liam Walsh, has inked a deal with Under Armour. To announce the partnership, Under Armour unveiled a billboard of Davis on I-95. It's a particularly cool billboard, because Davis isn't in the ring or even crouched with his fists up in a classic boxer's pose. Instead, he's standing in West Baltimore, looking contemplative but determined, row homes behind him, his elaborate neck tattoo in full view. The billboard reads: "Gervonta 'Tank' Davis: Baltimore's Own."
Dennis Pitta hosts The Bachelorette viewing party.
This is the greatest thing we've ever seen. We're not sure what our favorite part is, Justin Tucker admitting he's the Whaboom guy ("I would hope that I'm not the Whaboom guy, but I think I might be the Whaboom guy"); Joe Flacco doubling over in laughter as a be-aproned Dennis Pitta brings out his freshly made cinnamon buns; or Pitta proving that real men can love reality TV dating shows when he says, "A lot of football players wants to act like they're too cool and tough to watch shows like this. Not us." This is pure gold.

Jones breaks Camden Yards home run record
It hasn't been a particularly great few weeks for the Orioles (understatement alert), but there is at least one reason to celebrate: Adam Jones, team captain, center fielder, Twitter foodie, and all-around awesome dude has broken the home run record at Camden Yards. He hit his 125th Camden Yards dinger on Monday, a no-doubt-about-it blast to left field against the Twins. (The Orioles went on to lose the game in frustrating fashion, but let's focus on the positive.) Congrats, Adam!
 Justin Jackson is back
You can exhale now, Terps fans. Forward Justin Jackson, arguably the strongest member of a trio of superb freshmen who helped lead the Terps to the NCAA tournament last season, has removed his name from draft consideration and will be returning to the team next season. Whew!
Michael Phelps teasing us again?
Is it weird that we don't want Michael Phelps in the 2020 Olympics? It's not that we don't love the guy—we do. We just don't want to mess with the perfection of what he's already accomplished. That being said, dude keeps "joking" about a 2020 run. First, on April Fool's he tweeted. "Some goals/dreams you just can't get rid of…been doing a lot of thinking n I've decided that I'm going 2 make another comeback! #tokyo2020." Okay, that was funny. But then, just this week he posted a photo of himself and fellow Olympiad Grant Hackett to Instagram, with the caption, "Just two old dudes getting back in the pool…2020?" Then he followed that up with a Tweet that linked to the 'Gram post and added, "A little rusty . . . nah, still got it!" One joke is funny. Two jokes are intriguing. But three jokes? We're just saying.