University of Maryland
1. Terps hold packed "Magic" Maryland Madness kick-off.
When a town falls on tough times, as Baltimore certainly has this year, it often turns to its sports teams to lift it up. The Orioles showed some flashes of greatness this year, but were never quite able to sustain their winning ways. Right as the O's season was grinding to a close, people began saying: "At least we have the Ravens! They never let us down!" So much for the best laid plans. Yes, the Ravens have sputtered to a shocking 1-5 start, the team's worst ever. Not that fans have totally given up on the Purple and Black, but let's just say we need another local team (or teams) to lift our spirits. Enter the Maryland Terps basketball program. Of course, Brenda Frese's Lady Terps are a perennial Final Four threat (they'll be going for their third straight Final Four this year) but, for the first time in a while, the men's team is expected to be equally good. Indeed, on the strength of freshman Diamond Stone, transfer Robert Carter Jr., senior Jake Layman, and sophomore guard Melo Trimble, whom some consider the best guard in college hoops, the Terps are ranked 3rd nationally and predicted to win the Big 10. Fittingly, Saturday's Maryland Madness kick-off was a packed and raucous affair, with particularly loud cheers for Frese, men's coach Mark Turgeon, Trimble, and Stone. But the biggest cheers of the night? Those reportedly were reserved for assistant coach Juan Dixon, the two-guard on Maryland's 2002 NCAA-winning squad. Inspiration for the young men and women on the court: This is a town that loves (and could really use) a winner.
2. Ray Lewis makes controversial remarks in his new book.
There's a lot of inspiration contained in the pages of Ray Lewis's new memoir, I Feel Like Going On: Life, Game, and Glory: He discusses his stellar career at the University of Miami, his two Super Bowls with the Ravens, his faith and family, and his numerous on and off-field accolades. But, of course, any book about Lewis has to touch upon the night of January 31, 2000, in Atlanta that resulted in the death of two men and almost permanently derailed Lewis's promising life and career. After taking a plea bargain in exchange for his testimony, Lewis was ultimately only found guilty of obstruction of justice, but the events of that night hang over him. Which is perhaps why it wasn't totally wise for Lewis to suggest that he was too well-dressed that evening to have been involved in a murder. (He was wearing a suit, a long mink coat, a Piaget watch, a bold lock chain, and earrings.) "The nicer you're dressed, the less inclined you are to get in a fight," he writes. (This remark is particularly head-scratching when you consider that the white suit Lewis was wearing that night was never found.) Needless to say, Lewis's excuse briefly made him a trending topic on Twitter, and not in the most flattering light.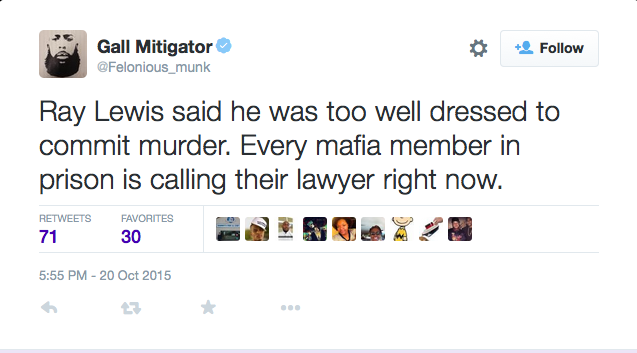 Of course, it will take a lot more than a few impolitic remarks to turn Baltimoreans against their beloved linebacker. Yesterday's book-signing at the Inner Harbor Barnes & Noble was attended by thousands.
3. Dennis pitta practices.
Remember Dennis Pitta, the sure-handed, but injury-plagued tight-end who is also Joe Flacco's BFF? After he appeared in just seven games since 2012, Ravens fans were beginning to see Pitta as little more than a handsome sideline mascot, but something miraculous happened this week: Pitta practiced. On the field. With other Ravens. No, don't expect Pitta to suit up this Monday against the Cardinals, but this is a promising sign. The team has just three weeks to either activate Pitta or put him on the PUP (physically unable to perform) list. The tight end knows that if he doesn't return this season, his future with the Ravens—and in the NFL—will be in jeopardy. Say it with us: We Pitta the fools who vote against him.
4. Terps football brings its budding rivalry with Penn State to town.
Now that the Terps have moved over to the Big 10, it's not quite clear who their true "rivals" are. One obvious candidate? Nearby Penn State, a storied football program with the bonus of being in the same home state as the dreaded Steelers. The Terps have had a bummer of a season that resulted in the firing of head coach Randy Edsall. But hey, any given Saturday, right? Go cheer on the Terps this Saturday at 3:30 p.m. at M&T Bank Stadium and see if the rivalry takes.
5. Orioles fans feel the Cubs pain.
Watching the Cubs get swept by the Mets brought back some painful memories for O's fans this week. Like the Cubs, the 2014 O's were seen as a team of destiny, riding a wave of feel-good enthusiasm and optimism into the post season. And like the Cubs, their hopes were crushed by a "wha-wha-what just happened?" sucker punch of a four-game sweep in the league championship series. So yeah, Cubs fans, after being bulldozed by the Royals last year, we feel your pain. Then again, our last World Series win was 1983 and yours was 1908. Okay, maybe not quite as much pain.