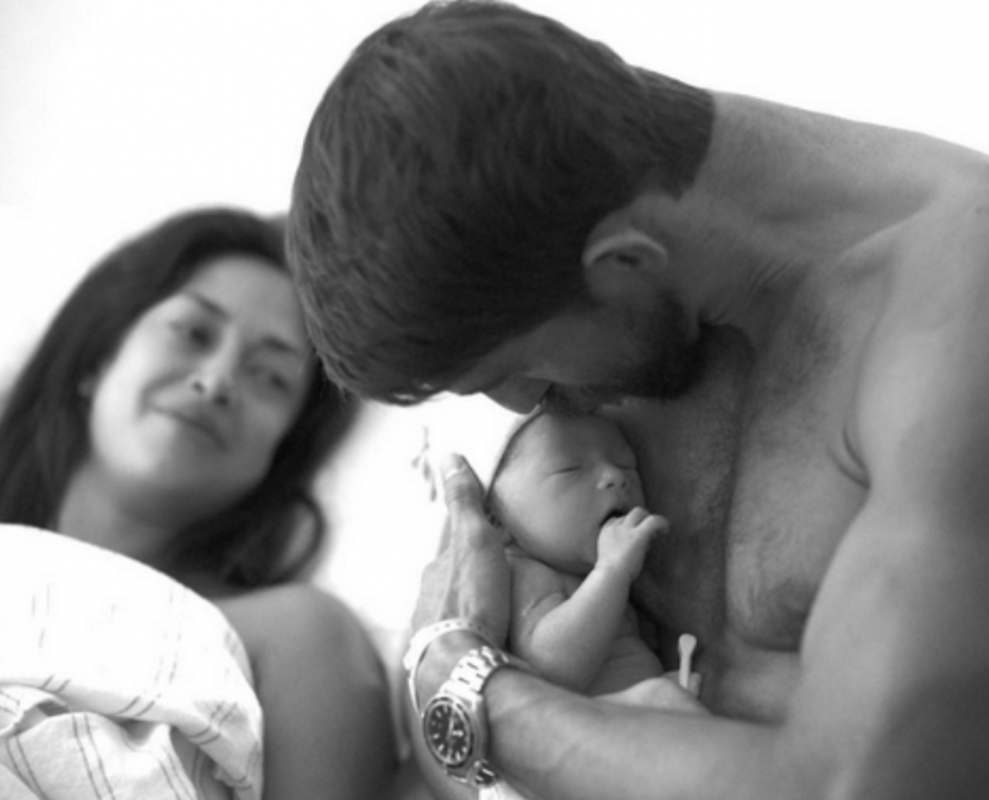 Courtesy of Michael Phelps / Instagram
Michael Phelps becomes a dad.
Michael Phelps is now the proud father of the world's youngest Baby Boomer. To clarify, his fiancée Nicole Johnson gave birth to a baby boy, Boomer Robert Phelps, last Thursday. On Instagram, Phelps wrote: "Welcome Boomer Robert Phelps into the world!!! Born 5-5-2016 at 7:21 pm !!! Healthy and happy!!! Best feeling I have ever felt in my life!!!"
With a name like Boomer—and a dad like Phelps—the kid will clearly end up as either quarterback for the Ravens or a power-hitting centerfielder for the Os. There are no other options.
Here is a bonus photo of the cuteness.
Orioles lead the AL in home runs.
On Wednesday's 9 to 2 win against the Twins, the Orioles clobbered four homers, two back-to-back, and two by Mark Trumbo. On Tuesday's 5-3 win over the Twins, Manny Machado and Adam Jones homered back-to-back. On Sunday's 11-3 win over the Athletics, Machado hit two home runs—and was joined in the home run column by Jonathan Schoop, Pedro Alvarez, Trumbo, and even Joey Rickard, no one's idea of a power hitter. And did I mention that the Alvarez and Schoop homers were—say it with me—back to back? That made three consecutive games with back-to-back homers, a club record. Fun! The larger point is this: The Orioles are hitting a whole lot of home runs right now. In fact, their 49 homers in 33 games leads the American League. Of course, the Orioles were expected to have a lot of power—just look at that lineup. But they weren't expected to have that much power this soon (generally homers fly out of the park in hot, humid weather, not the kind of cool, rainy weather we've been having in Baltimore.) All we can say is, watch out American League East—it's not even June!
Ray Lewis out as ESPN analyst.
On Monday, it was announced that Ray Lewis is out as an analyst at ESPN, and Randy Moss is in. Lewis should take some comfort in the fact that network is also parting ways with Chris Carter and Ray's old Ravens teammate, Trent Dilfer. No reason was given for the dismissal. We can only assume that someone in ESPN's front office was a fan of the 2000 Giants.
Adam Jones and Baltimore featured in National Boys & Girls club PSA.
Growing up in San Diego, Adam Jones was a member of the Encanto chapter of the Boys & Girls Club of America. And since joining the big leagues, he has donated both his money and time to the organization. The Orioles have gotten in on the act, too, helping Jones raise $190,000 for local Boys & Girls clubs over the last three years. So it's no wonder that the charity—which provides a safe and fun after-school space for youngsters—chose Jones to be featured in their latest PSA, set at O'Malley Boys & Girls Club right here in Baltimore. "It's quite humbling," Jones told The Sun, of being chosen for the spot. Check out the clip below.
Re: Lax
The NCAA lacrosse tourneys are just getting underway—with both MD squads as No. 1 seeds and the Lady Terps shooting for a 3rd straight title! On Wednesday, the Towson men hammered Hobart 18-5 in the play-in game, setting a school record with 15 wins. They take on 2 seed Denver next. Also of local note in the Division 1 tourneys: Navy, Hopkins, and Loyola (on the men's side) and Hopkins, Loyola, Towson (on the women's). Pfft, and they say jousting is the state sport.