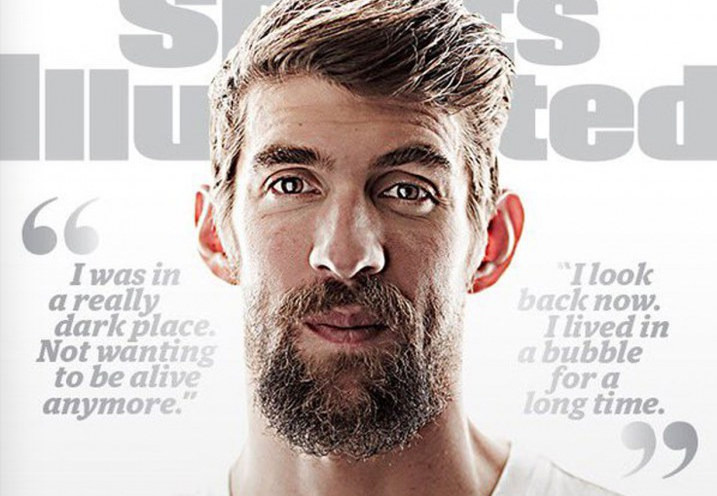 Courtesy of Sports Illustrated
1. Michael Phelps opens up about depression, drinking.
Even the cover of Sport Illustrated's latest issue shows us a different Michael Phelps. No longer is he the clean-cut jock we're used to seeing, but a bearded, almost solemn, and determined looking man. And in the accompanying article—where he discusses his arrest for drunk driving, his relationship with his father, and his own personal demons—Phelps opens up like he never has before.
A few highlights:
After the drunk-driving arrest he didn't leave his house for four days.
"I was in a really dark place," Phelps says. "Not wanting to be alive anymore."
Friends and family, including Ray Lewis, whom Phelps describes as "like a brother to me," convinced him to go to rehab. "I gave him some harsh reality," Lewis says in the article. "I said, 'Bro, what are you doing with your life?' Phelps's recollection of that conversation? "He tore me a new one."
Going to rehab was "probably the most afraid I've ever felt in my life."
But the rehab—and in particular the group therapy—worked. Before that, "I saw myself as the athlete that I was, but not as a human being." After, he began to value himself as a person.
Since going to rehab, Phelps has reconciled with his estranged father, Fred Phelps.
The article also notes that, since becoming happier and sober, Phelps has also stepped up his training and will even be the favorite to win the gold medal at several events next year in Rio de Janeiro. But the fact that Phelps is feeling better outside the pool is truly the best news of all.
2. Manny Machado wins the Gold Glove.
On November 10, 23-year-old Manny Machado was awarded his second Gold Glove. As usual, his stellar play at third base (including a gaudy .961 fielding percentage) featured some eye-popping "how on earth did he just do that?" moments. He joins another Oriole you may have heard of—Brooks Robinson—as the only O's third basemen to have won multiple Gold Gloves. One thing that's important to remember about Machado: He didn't even come up through the O's system as a third baseman. He was a shortstop—so this position is actually new to him! Imagine once the guy gets the hang of things.
3. Dennis Pitta done for the season . . . but is he calling it a career?
When we found out that Dennis Pitta had resumed practicing with the team a few weeks back, we had high hopes. Our hopes were further buoyed when we heard reports that he was looking like his old self on the field. On Wednesday, those hopes were dashed, when it was announced that the tight end would not be returning this season. Doctors advised Pitta that playing this year could permanently damage his hip and, although the choice ultimately lay with him, Pitta wisely chose to sit out the year. The Ravens have officially placed him on injured reserve. But Pitta is not ready to give up the gridiron just yet. "There are no plans to retire at this time," he announced.
4. Local player joins Ravens practice squad, is stoked.
Running back Terrance West, who was raised in Baltimore and played for Towson University, has joined the Ravens practice squad. He had been cut by Cleveland and Tennessee. West probably could've signed with the main squad of another team, but his lifelong dream has been to don the purple and black. "This is where I belong right here," West said. "I always wanted to be a Raven and this is my home."
5. Under Armour signs local Paralympic athlete.
Fittingly, on Veteran's Day, Under Armour signed wounded vet and Paralympic athlete U.S. Navy Lt. Brad Snyder. Snyder, who lives in Canton, is a graduate of the Naval Academy, where he was captain of the swim team. In 2011, he was blinded by an IED (improved explosive device) in Afghanistan. In 2012, he competed in seven Paralympic swimming events in London, earning two gold and one Silver medal.
"I struggle with toothpaste on the end of my toothbrush sometimes," Snyder told The Sun in 2013. "…But the pool wasn't anything that I necessarily had to adapt to. I'm very familiar with the pool—I knew where I was, and I knew how to get back and forth without hurting myself." In a statement, Under Armour said that Snyder and fellow Under Armour signee U.S. Army First Lt. Melissa Stockwell—a paratriathlete— would be "outfitted head-to-toe in Under Armour as they train and compete to represent the United States at the 2016 Paralympic Games in Rio de Janeiro. Additionally, they will both serve as Under Armour brand ambassadors."
A movie about Snyder's life is currently in the works.
Bonus coverage!
Okay, so this isn't totally sports. But have you heard that the latest installment of Bravo's Real Housewives series is going to be in Potomac, MD? There are two local connections. One of the housewives is Gizelle Bryant, who was married to famed local pastor Jamal Bryant of the Empowerment Temple AME Church. Another one is Robyn Dixon, who was married to Terps hero (and Baltimore native) Juan Dixon. And get this: Robyn and Juan, now a special assistant basketball coach at U of Maryland, are still close and live together with their two sons in Potomac! Intriguing! The preview, which doesn't show Juan Dixon, promises lots of gossip, back-biting, and fabulousness. What more could you ask for?