fansided.com
1. O's win No. 5,000, pitch a shutout doubleheader, and move into first-place.
This is what's known as hitting the trifecta. Ubaldo Jimenez continued his impressive first half of the season by pitching eight scoreless innings in Game 1 of Sunday's doubleheader against Cleveland while picking up the franchise's 5,000 victory. The O's staff then posted a second goose egg in Game 2, ultimately helping push the O's to the top of American League East standings, where they still sit as of today. Ain't the beer cold?
2. U.S. women's soccer team advances to the World Cup finals.
Not a super strong Maryland connection here, but a couple of small ones. Head coach Jill Ellis previously served as an assistant coach at the University of Maryland for three seasons. And two players, defender Ali Krieger and backup keeper Ashlyn Harris, are members of the Washington Spirit of the National Women's Soccer League, which plays their home matches at the Maryland Soccerplex in Boyds.
The U.S. women will meet Japan in the finals Sunday evening at 7 p.m. and we're really looking forward to that match. We think it's a good omen that it falls on the Fourth of July weekend.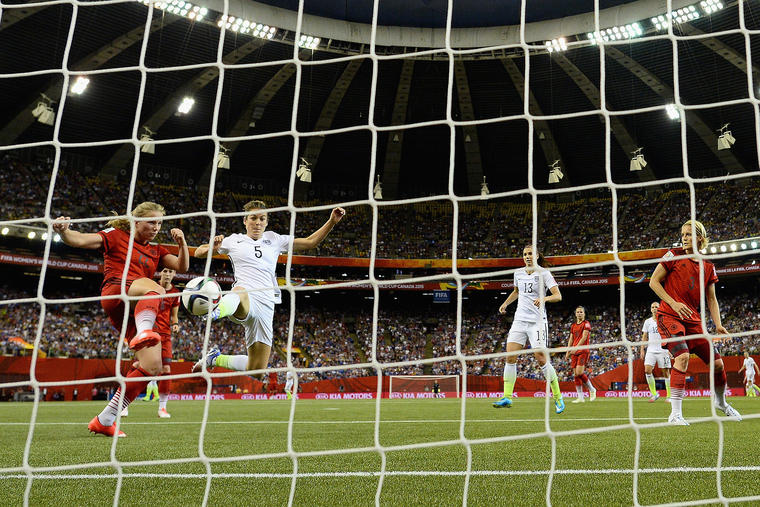 3. Under Armour All-America lacrosse games at Towson University.
This is both a replay and a preview. First, congrats to the six Baltimore-area boys and 10 Baltimore-area girls recently named to their respective Under Armour All-America South squads. Second, there's still time to go watch the girls' match tonight at 5:30 p.m. at Johnny Unitas Stadium and the boys' game at 8 p.m. You can also catch the boys' game live on ESPNU, although that won't be as much fun.
4. Manny Machado remains en fuego.
The 22-year-old simply has been the O's best player this season. Batting leadoff, he's hitting .303 and boasts the best on-base percentage among the regulars. He leads the team in hits, runs scored, stolen bases, and doubles, and his 16 homers and 44 RBIs are second only to Chris Davis' totals. But he's also been especially sizzling over the past 30 games, hammering out line drives at a .365 clip. And yeah, he can flash the leather, as we know. Check these highlights against Texas—each spectacular defensive play different from the next.
5. Steve Harvey flags Terrell Suggs.
Representing the Ravens in an AFC-NFC Celebrity Family Feud match to raise money for Players Assistance Foundation, Terrell Suggs did what he does. He hit it hard. The buzzer, we mean. Suggs and host Steve Harvey produced the funniest moment of the show when the linebacker beat 49ers tight end Vernon Davis to the buzzer to answer the question, "Something a man might name after himself?"
Suggs didn't hesitate, sending a quick, vicious blow to the buzzer that caused Harvey to interrupt the game and basically admonish the All-Pro that although he was in a competitive environment—the studio wasn't a football field. "Listen man, when y'all leave, we still got to use this," Harvey said, gesturing to the buzzer. Suggs, by the way, nailed the question, too, scoring the top answer with "His son." We think he's probably anxious for spring training to start.