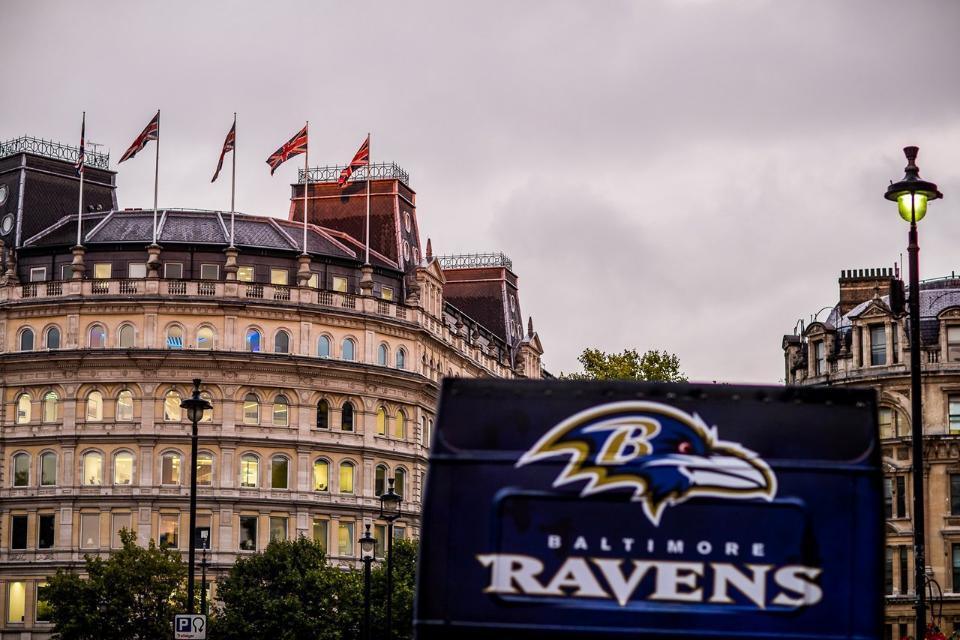 Baltimore Ravens
The Ravens cross the Atlantic to face the Jaguars.
This is the first time Baltimore has played overseas as a part of the NFL international series. This is the 11th consecutive year the league has hosted regular season games at Wembley Stadium, part of an agreement that runs until 2020. Although the Ravens are entering this game as the underdog—this will be Jacksonville's fifth game played at Wembley—the streets of London are engulfed in a purple haze with Ravens double-decker buses, crazed fans, and former Ravens players (We see you Reed, Smith, Ogden, and Lewis).
Kick-off is at 9:30 a.m. our time—we know, it's early—but there are still ways fulfill those game day rituals. WJZ-TV will broadcast the game for the Baltimore area but fans can also live stream on Yahoo and BaltimoreRavens.com.
If going to the bar with your best buds is the usual move, there are a few that will be opening early to accommodate the early kick-off like Lee's Pint & Shell at 8:30 a.m. for $3 mimosas and $1 oysters. Or grab breakfast at any of The Greene Turtle locations at 9 a.m. for $6.99.
Fans at OPACY get a surprise.
Inspired "Hide a Book Day" and Goodreads, a social media network for book lovers, MASN broadcaster and avid reader Gary Thorne signed and hid some of his favorite books for unsuspecting fans to Monday's game against the Boston Red Sox.
Manny Machado saves the day again.
Third baseman Manny Machado has rescued the Orioles offense time and time again this season and last night's win over Tampa Bay was no exception. Despite fighting the flu, Machado came ready to play knocking out a two-run homer—his 33rd of the season—in the first inning.
Gabriel Ynoa also pitched a career-high eight innings of one-run baseball game in the 3-1 win over the Rays. Although the Orioles are out of the race, they are still fighting hard to avoid their first losing season since 2011. 
National Lacrosse Hall of Fame Inducts New Members.
Tomorrow, the National Lacrosse Hall of Fame will be inducting nine new members and longtime Johns Hopkins and UMBC coach Don Zimmerman will be among the honorees. Zimmerman will be honored for his coaching achievements that span over five decades from 1978-2016.
During his seven seasons as head coach at Hopkins, he amassed a winning record of 73-15, and another 164 wins as head coach at UMBC. He has already been inducted to three other halls of fame, so adding one more should be a cakewalk for the legendary coach.