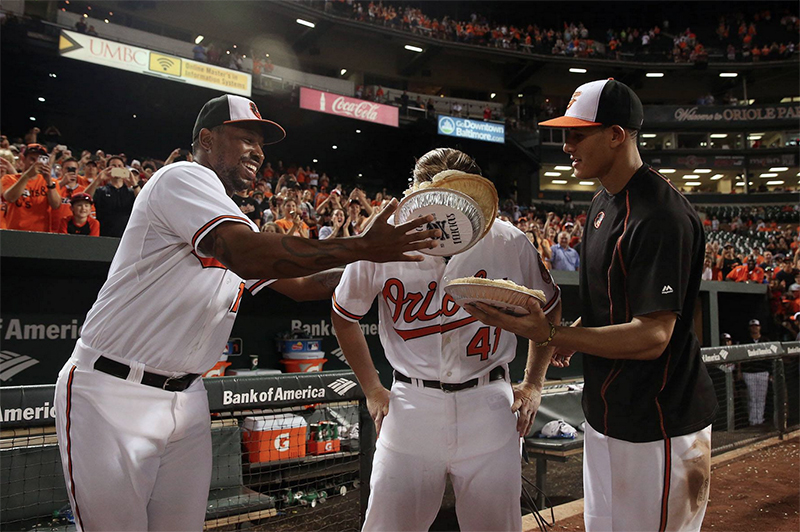 Courtesy of the Baltimore Orioles
Things are starting to heat up sports-wise in this town. The Orioles are on a major tear and the Ravens just started mini-camps this week. So we thought it would be good timing to debut our new sports column "Friday Replay," where we review the week's five most notable Baltimore sports moments.
They can be anything from a hilarious meme to a baseball blooper or a record-breaking feat to a national award. Here's what caught our eye this week, but feel free to let us know what else is out there by tweeting @Baltimoremag and #FridayReplay.
1. The Orioles completely manhandle the Phillies.
Tuesday's 19-3 win over the Phillies was bonkers for a lot of reasons. The Orioles broke a franchise record by hitting eight home runs in one game. Also, Chris Parmelee, in his freakin' Orioles debut, hit two of them (which apparently equates to three pies). Finally, the implosion of the last-place Phillies was pretty epic—the club's starting pitcher only lasted two outs (and they leaned on outfielder Jeff Francouer at the mound) and the madness came to a head when the Phillies bullpen coach left the phone off the hook, so manager Ryne Sandberg had to wave a towel to get his attention. Talk about a symbolic moment.
Ump, don't you see the Phillies surrendering? #FoilPhilly pic.twitter.com/hHf3BMo9M9
— Orioles on MASN (@masnOrioles) June 17, 2015
2. Ravens minicamps begin; Tucker goes long.
This was the first week of Ravens minicamp and veterans returned for practice. In one of the more entertaining moments, during a two-minute drill on Tuesday, Tucker kicked a 67-yard field goal with room to spare. Interesting to note that both owner Steve Bisciotti and general manager Ozzie Newsome were in attendance, since Tucker is hoping to get a long-term deal. After the ball made it through the uprights, wide receiver Steve Smith looked up to Bisciotti and Newsome and flashed them the money sign with his fingers.
3. Manny Machado wins AL player of the week.
Even before he smashed three home runs, MLB awarded third baseman Manny Machado AL player of the week. To date, Machado has hit 13 home runs and 33 RBIs—more than his season total from his injury plagued last year. And, as long as he can keep that temper under control, he is showing no signs of slowing down.
4. The Royals continue to be super annoying.
Okay, maybe we're biased since the Royals were our arch nemeses last year, but we hate that Kansas City fans have been stuffing the All-Star ballot box. If voting ended today, the entire American League lineup would be Royals players, which is unprecedented. While this may not seem like a big deal on the surface, the Royals aren't that good and would replace definitive All-Stars like Angels' Mike Trout, Tigers' Miguel Cabrera, Blue Jays' Josh Donaldson, Mariners' Nelson Cruz, and (ahem) O's centerfielder Adam Jones. If the AL loses, our league won't have home-field advantage in the World Series. Then you'll have a lot of pissed off people. PS: #VoteOrange
5. Golden State wins NBA playoffs, much to Under Armour's delight.
Golden State Warrior's star point guard Stephen Curry, already the league MVP, is now an NBA champion, which is music to the ears of Curry's sponsor Under Armour. CEO Kevin Plank was quoted recently on Curry, saying, "We're looking and saying, 'We had a . . . $100 million basketball business . . . Let's go build a billion-dollar basketball business." Seems like they're well on their way.
New chapter. Write it well.
@StephenCurry30's Journey continues on. #ChargedByBelief #2015NBAChampion pic.twitter.com/BCZciHWV97
— Under Armour (@UnderArmour) June 17, 2015