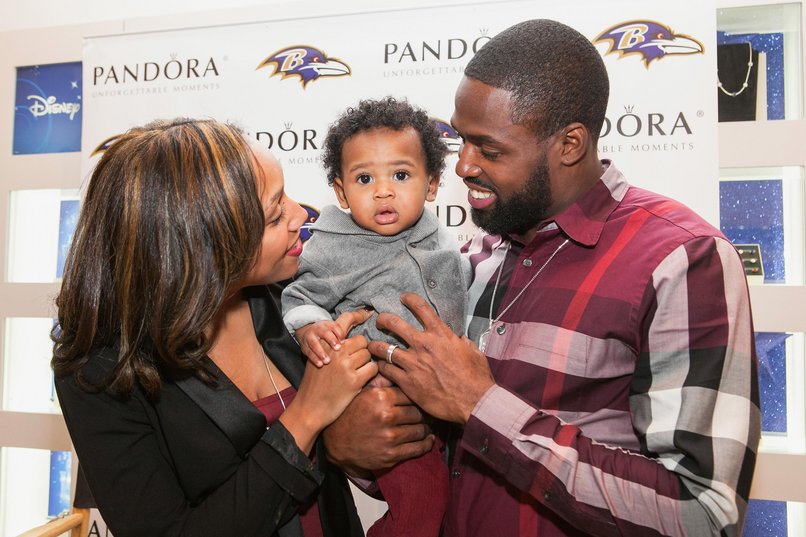 Photography by Teresa Kroeger/Getty Images
1. Torrey Smith's baby goes viral.
We know, we know. Torrey Smith is technically a 49er now, but he'll always be a Raven to us. Considering he spends a majority of his time in Baltimore and his foundation is based here (which recently set up a reading room at Gardenville Elementary), we're claiming him. Therefore, we were so excited when the world realized what we already knew: TJ Smith is one adorable little boy. On Sunday, Torrey posted a video of his son playing with toys when he suddenly drops everything to rock out to Silentó's "Watch Me (Whip / Nae Nae)." His dance moves are nothing short of amazing, and his smile and dedication assure us that the apple doesn't fall far. The video currently has 5.3 million views.
2. Manny Machado holds his own at All-Star Game.
We were pretty excited, if not a tad bit surprised, when O's third baseman Manny Machado was selected to participate in the All-Star Home Run Derby. It was a fun derby to watch, partially because the ball can get out in a hurry in the Great American Ball Park, and because Machado knows how to lighten the mood. In between rounds, he and Adam Jones took a break to munch on Machado's very own salsa. During the action, Machado held his own, jacking 12 homers in his round with bonus time. But it wasn't enough to overcome rookie Joc Pederson of the Dodgers, who hit 13 in under three minutes. Though we'd like to point out that, if Machado went up against either Blue Jay Josh Donaldson or Cub Anthony Rizzo, he would have advanced. Plus, he had an RBI double the next night to help cement the AL lead.
Mickey Tettleton : Froot Loops :: Manny Machado : His own salsa http://t.co/d2Jo1jTea3 pic.twitter.com/wbsWD4vxxl
— Eutaw St. Report (@EutawStReport) July 14, 2015
3. Paralympic swimmer Becca Meyers wins ESPY.
Timonium native paralympic swimmer Becca Meyers won an ESPY Award for the Best Female Athlete with a Disability on Wednesday night. The swimmer and NDP alum just recently broke her own world record in the women's 200-meter individual medley S13 at the International Paralympic Committee World Championships. Winning the ESPY Award, she beat out four other nominees, including Howard County native Tatyanna McFadden, a remarkable athlete in her own right. Meyers, 20, was born deaf and was diagnosed with Usher syndrome, a disorder that leads to balance and vision loss. "It's amazing how being nominated and winning for Paralympics brings a lot of awareness to the sport," Meyers told The Sun. "If you asked me five years ago, I wouldn't have believed I'd be in this position. It's a roller coaster and I'm just on the ride enjoying it."
4. Gold Cup quarterfinals come to M&T Bank Stadium on Saturday.
Taking place every two years, the Gold Cup is the official soccer championship of North and Central America. And this Saturday, the quarterfinal action comes to M&T Bank Stadium as the U.S. team faces off against Cuba at 5 p.m. and Haiti and Jamaica battle it out at 9 p.m. The Americans are facing the Cubans for the first time since diplomatic relations between the two countries were restored in December. And keep a special eye out for U.S. goalkeeper coach Russell Payne, a Columbia native who, as a player, led University of Maryland to its first ACC championship in 1997 and, as an assistant coach, helped the Terps win the NCAA championship in 2005 and 2008.
5. Forbes ranks the Ravens 24th most valuable sports team in the world.
In an annual list of the World's Most Valuable Sports Teams, Forbes ranked the Ravens 24th at $1.5 billion. The list is formulated from enterprise values based on current stadium deals for the NFL, NHL, NBA, MLB, F1, soccer, and Nascar. Out of the list's 51 teams, 20 of them are NFL franchises and the Ravens rank 10th among those. Under an image of Justin Forsett, Forbes wrote: "The Ravens' $100 average ticket price ranks eighth in the NFL, despite the team playing in the 21st biggest market. Six playoff appearances in seven seasons keeps ticket demand high."
…And just one more time for good measure: