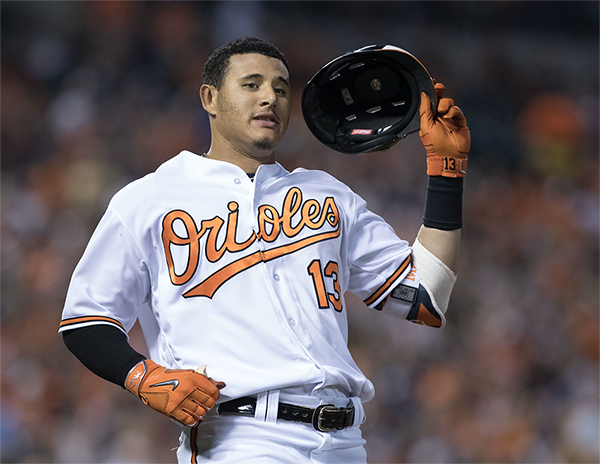 Keith Allison / Flickr
According to multiple sources, O's executive VP Dan Duquette acknowledges that he's fielding offers for third-baseman Manny Machado.
 
What our hearts say:
Manny is an Oriole and should be one for life. Quite simply, he's one of the two or three best young players in the league. He's just 25, the best third baseman since Brooks, and he can hit for power and average. Additionally, he has a well-documented bromance with second baseman Jonathan Schoop and their friendly rivalry has elevated both of their games. Baseball is meant to be entertainment and Manny's flair for the dramatic, slick moves in the field and at the plate, and fiery personality are thrilling to watch. Seeing Manny in any uniform other than the orange and black would be downright painful.  
What our heads say:
That thing about Manny being one of the best young players in the game? Players like that don't come cheap. In fact, it's safe to assume that when Manny is signed to a multi-year contract (his Orioles contract runs out at the end of next year), it'll be among the richest in the game. So what kind of money are we talking about? Well, in 2014, Dodgers pitcher Clayton Kershaw signed a seven-year, $215 million deal. That kind of money for Manny doesn't seem unreasonable. And that's the kind of money that can severely hamstring a midmarket team like the Orioles for years to come. The Orioles have already signed some hefty heart-over-head deals for players that didn't quite pan out—*cough * Chris Davis. They can't afford to get sentimental.  
The catch: 
Whomever trades for Manny right now has to be pretty confident that they will be able to sign him to a multi-year deal when his contract expires next year. You don't want to give up the farm system to rent a guy for a year. That basically means only the wealthiest teams in the biggest markets are true contenders.  
So who are we talking about?
Well, there's the dreaded Yankees, of course—always the dreaded Yankees. They have a farm system loaded with great arms and the money to sign him.
But although Duquette has made it clear that the Os would trade with a division rival, it seems highly unlikely that the Orioles will let their best player land in pinstripes, especially now that the Marlin's CEO Derek Jeter conveniently allowed his ex team to trade for NL MVP Giancarlo Stanton. A young lineup of Aaron Judge, Machado, and Stanton would be a murderer's row for years to come. Duquette wouldn't let that happen. Would he??  
Apparently, the Chicago White Sox have already made an appealing offer, although we don't know the details. This Michael Kopech kid, who struck out 155 in 119 1/3 innings to go with a 2.88 ERA at Double-A Birmingham and Triple-A Charlotte, is the real deal—so unless he's part of the offer, fughetaboutit.  
Other interested teams? The Philadelphia Phillies and the St. Louis Cardinals, both of whom have the money and prospects to make an exciting deal. And of course, lots of other teams—including the Cleveland Indians and the San Francisco Giants—are interested, but that doesn't mean they have the goods to make a deal.  
So is this definitely happening?

Not so fast. The Orioles have made it clear that they want top-tier pitching prospects or nothing. For now at least they're in the driver's seat. "At some point, you have to decide if you're going to fish or cut bait," Duquette told The Sun. "So that's a little ways down the track." For now, Machado remains an Orioles.
In closing, DON'T LEAAAAAVE US, MANNY! (Sorry, our hearts took over for a second there.)