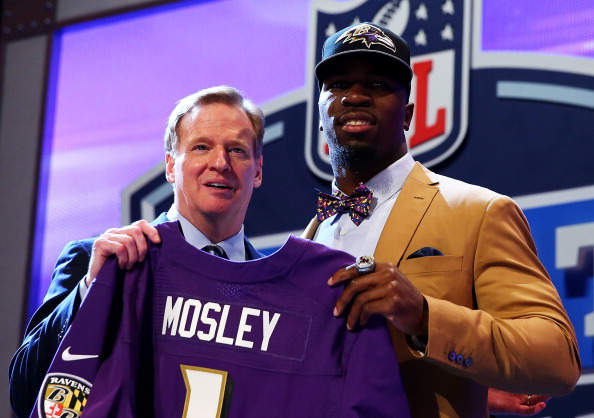 First, we like the draft night bow tie. It's a bold move and not a look everyone can pull off.
Now we hope Alabama's C.J. Mosley—the first inside linebacker selected by the Ravens in the first round since 1996—plays as good as he looks because he does have big shoes to fill. The Ravens are putting up a statue of the guy they selected that year, Ray Lewis, of course, outside M&T Bank Stadium next season.
For his part, Ray gushed over Mosley and his fit for Baltimore last night on ESPN's draft coverage: "I think this is a great pick for Ozzie Newsome and the Baltimore Ravens," Lewis said. "This is a leader at the position of linebacker. I left there a couple years ago, but when you watch this kid play football, his instinct is what impresses me the most. He's very patient with his feet, he stays in the pocket and when he gets there. … He's a read-it-and-react guy."
Like Lewis, Mosley is fast, but considered a bit undersized coming out of college for an inside linebacker. But he is a team leader—a two-time captain for the Crimson Tide—and he won the Butkus Award as the nation's top college linebacker.
The concern about Mosley is his health. He dislocated his hip and elbow several years ago at Alabama and also underwent shoulder surgery. Time will tell if general manager Ozzie Newsome did the right thing going back to his alma mater with his top pick. Next year, at least, Mosley is expected to compete with veteran Daryl Smith and last year's second round pick at inside linebacker, Arthur Brown, for playing time.
Fans can also participate in a Google Hangout at 1:45 p.m. today with Mosley before he's officially introduced as a Baltimore Raven today at 2 p.m.
And stayed tuned this weekend: Ozzie and his team will pick seven new Ravens tonight and tomorrow as the draft continues.