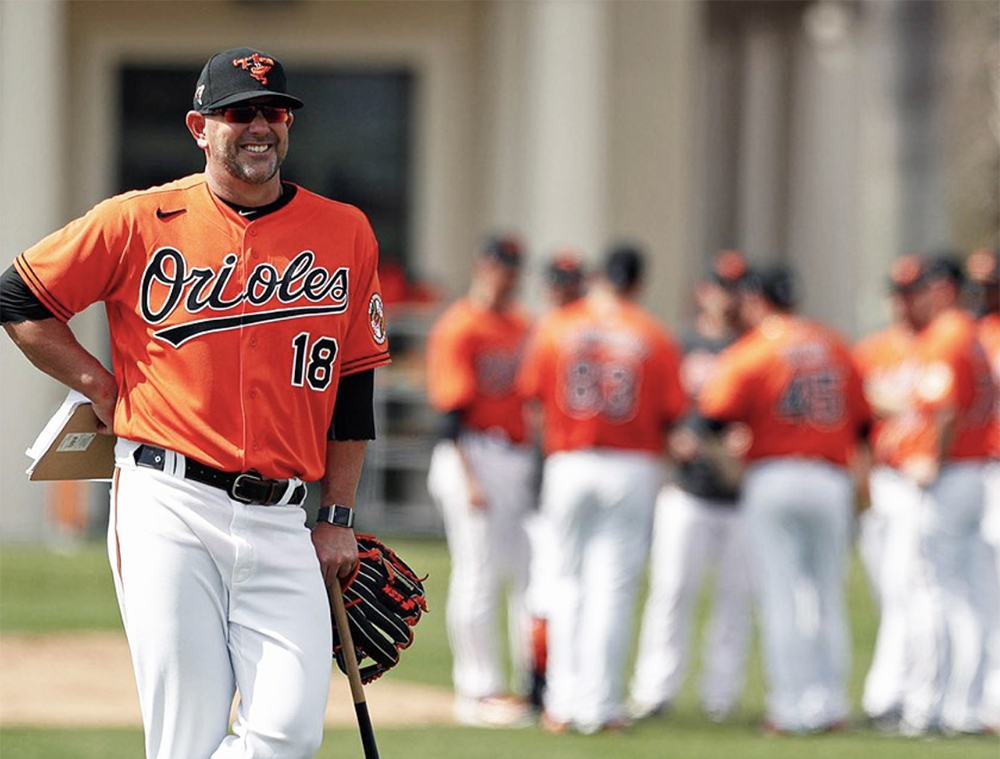 A few weeks ago, Orioles manager Brandon Hyde spoke to us by phone from his home in Illinois (where he used to work for the Chicago Cubs) and—especially considering the snow falling outside his door—he said he was already picturing the images of spring training.
Ah, sunny Florida. Baseball all day on beautifully manicured fields. The crack of wooden bats. Technology like motion-capture video cameras capturing pitchers' every throw. And, generally speaking, all of the things that will go into year two of the Orioles' ballyhooed rebuilding project.
"After the first of the year, your mind always starts racing," said Hyde, 46, who has been coaching in major league organizations since 2005 and is now in his second season as O's manager. "You start thinking about spring training and the season a lot. So I'm definitely ready."
There's a lot to think about this year, as hope springs anew.
A generous group of 66 players has been invited to the team's preseason facility in Sarasota this year. The new front-office regime, led by former Houston Astros scouting director Mike Elias and director of decision sciences (real job title) Sig Mejdal, now have a full season behind them—one with 108 losses. They're just now really putting their stamp on the organization.
The big picture includes stocking the Orioles' minor league rosters with talent. Catcher Adley Rutschman, last year's No. 1 overall draft pick, is the most notable.
And it means building for the future, like when this offseason Elias traded second baseman Jonathan Villar and pitcher Dylan Bundy, who had been one of the longest-tenured O's, for pitching prospects.
Rebuilding also means figuring out what to do with the second overall pick in this summer's draft, as well as investing in an analytics operation and international scouting efforts in places like Venezuela—which were behind the times under previous front-office leadership.
And doing all that while, hopefully, putting a respectable team together on the field in the present.
"We're looking at this season through a player development lens," Elias said during a recent interview for a story slated for an upcoming issue of Baltimore, "but we also want to have a good atmosphere at the major league level."
In the meantime, before we start thinking about deep playoff runs and reliving the glory days of 2014, there's a lot of games to be played. To be precise, 162 a season plus nearly two months of spring training games and practices—which are just kicking off. Pitchers and catchers, and a few other position players like the team's most established and visible figure, Trey Mancini, arrived in Sarasota this week.
Other names are likely off the casual fans' radar, but some may crack the lineup at some point this season—particularly infielder Ryan Mountcastle, left-handed pitcher Keegan Akin, and California native pitcher Dean Kremer, who was part of the trade that sent Manny Machado to the Los Angeles Dodgers in 2018.
"I think you're going to start seeing some of our farm guys break through to the big leagues," Hyde said.
And there's others who got seasoning at the top level last year and are back for more, like outfielders Austin Hays, Anthony Santander (subject of the U.K. Boy Scouts' fan club), and infielder Hanser Alberto.
There's plenty of big questions, too. Most notably, who will be the team's starting catcher, how will the O's pitching hold up, and what does Chris Davis look like this year? (Please don't boo him on Opening Day, people.)
As for the highest-profile of prospects, that's Rutschman, who this time last year was in college at Oregon State. But he's already becoming a visible face of the O's rebuild. In roughly a month last summer, the O's promoted him twice up the minor league system, and he impressed with the Aberdeen IronBirds and Delmarva Shorebirds. Over the last week, he was part of the O's preseason caravan across the Baltimore area, engaging with fans and even serving drinks, to the best of his ability…
Rutschman recently got the TMZ treatment (he looked slightly peeved, do these guys even introduce themselves?) at Reagan Airport in Washington, D.C., and told the paparazzi he wants to play in Camden Yards as soon as possible. Elias said he's been very impressed with Rutschman, and is looking forward to having him at spring training.
"I think it will be nice for the big league staff to get a look at him, but also it will be good experience for a young guy like him," Elias said. "He still has the entire minor league career ahead of him. There's ups and downs and every pick is different, but we're excited to have him. He's got a great head on his shoulders."
Elias has done this before, being part of build-by-numbers and scouting projects with Houston and the St. Louis Cardinals. His previous employer, the Astros, of course, have become the subject of scrutiny and attention—even beyond baseball—for a sign-stealing scandal during their 2017 World Series-winning season and the early part of 2018.
Elias and Mejdal were both part of the organization at the time. But as we reported a few weeks ago, neither were mentioned in major league baseball's report that punished the Astros' general manager, Jeff Luhnow, and manager A.J. Hinch, and set off a media firestorm that seems to only be intensifying as the preseason begins.
Asked if he knew about the situation when he was in Houston, Elias told us, "My work and focus was with the Astros' was the minor leagues, the international scouting department, the domestic scouting department, and I'll leave it at that," he said. "It's an issue that I'm glad baseball is rectifying."