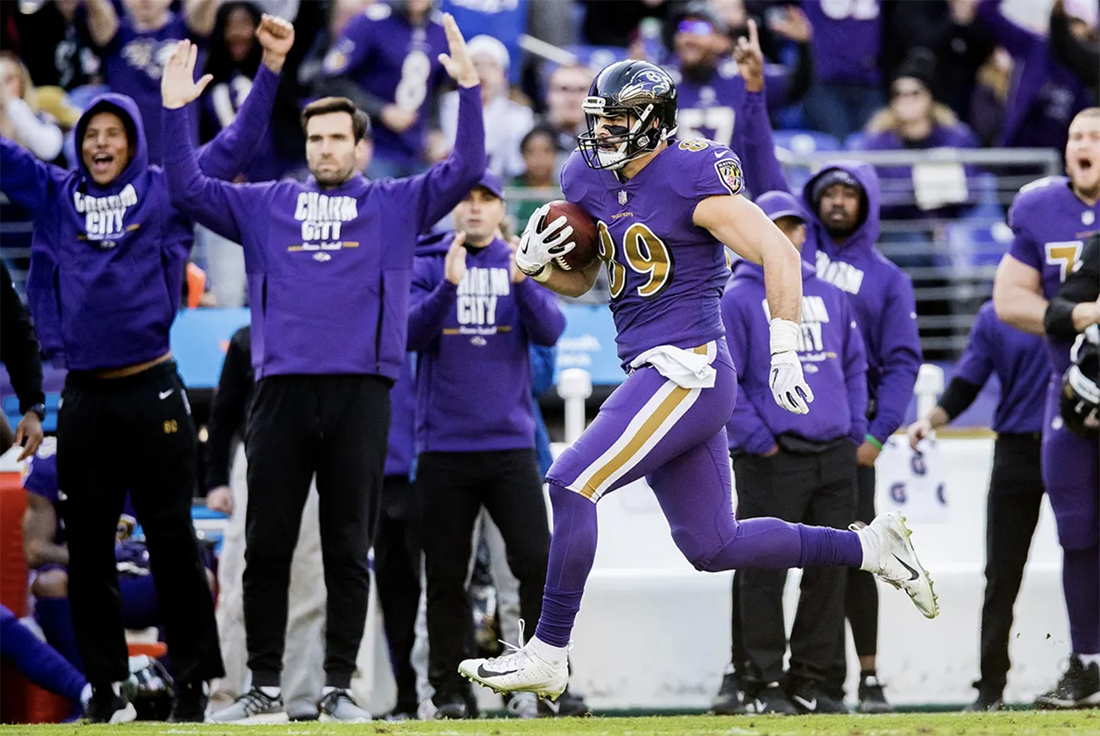 Shawn Hubbard / Baltimore Ravens
If you ever lose a coveted job you've held for 11 years to somebody just out of college, in part because of an illness or injury, then have to explain how it feels to the world, make sure to remember what Joe Flacco said on Wednesday, December 12, 2018, surrounded by reporters at the Ravens practice facility.
It was a few minutes after coach John Harbaugh announced that rookie Lamar Jackson would continue as the team's starting quarterback, even as the franchise's former Super Bowl-winning QB is now back healthy after dealing with a right hip injury for more than a month.
"It's out of my hands," Flacco said of the decision, in his first public comments since he was injured November 3 against the Steelers. "I got hurt. They drafted Lamar in the first round. At some point, something was going to happen between the two of us.
"I've obviously had five weeks to think about it and prepare myself for this situation and the possibility of it. Yes, I'm disappointed that I can't be in that locker room in the same capacity that I've always been. But this is my situation right now, and I'm going to do my best to handle it the right way."
That's never an easy thing to do, to accept: "It's part of the game, man." To support: "[Lamar is] playing well, so we just need to keep getting some wins and see what happens." To keep your dignity while being honest: "It's different. I want to play football. It's going to take some getting used to, but you have to be professional."
The writing had been on the wall for a few weeks—indeed we recently wrote "Is the Joe Cool Era Over?"—but when Harbaugh texted Flacco on Tuesday morning to come into his office and made the change official, it had to be difficult news for Flacco to stomach, though you won't hear him say it.
"I don't know if it was the hardest conversation because, I think in both of our minds, we probably knew that the talk was coming at some point," Flacco said.
Since Flacco went out with an injury, with the Ravens then on a three-game losing streak, Jackson has injected new energy into the team. The Ravens are 3-1 with him as the starter, beginning with three wins before an overtime loss to one of the league's best teams in Kansas City last Sunday. Baltimore could make the playoffs for the first time in three years, and that's, really, what the point of the season is.
The way Jackson plays—running, running, and running some more—is exciting and different. But it also makes him particularly susceptible to injury. Jackson hurt his ankle just last week. Plus, scenarios could present themselves when Flacco's arm could be useful, like late in last Sunday's game when the Ravens needed to score quickly. Instead, Flacco stood on the frigid sideline in a winter hat and jacket, consoling Jackson after his end-of-game fumble and predicting that the Chiefs kicker was going to miss a field goal. (He did.)
So, this might not be a no-going-back, changing-of-the-starting-QB guard, anyway. Flacco could very well see the field sometime soon, maybe even on Sunday against Tampa Bay. We'll save the potential goodbye for the final regular season home game of the season at the end of this month.
Beyond that? The sticking point really is, the $25 million that Flacco is owed next year is an exorbitant amount for a team to pay for a backup quarterback—even a Super Bowl winning one that's handling things professionally.
If Jackson continues to prove his mettle the last three games of the season and helps the Ravens to the postseason, and it's clear that Flacco would not start next season, in a perfect world, he and the Ravens would negotiate a new lower-paying contract and the team would continue to have one of the better quarterback situations in the league. A promising young QB and a seasoned elder statesman closing out his career as a backup is a valuable combination in the injury-riddled world of professional football.
If that doesn't happen, though, the Ravens could simply cut Joe Cool, or try to trade him. Does he end up in Washington? Or New York? Those are teams who could use a quarterback, even for a year or two. Or maybe Flacco, at age 33 with a wife and five kids, and having endured debilitating injuries the last two years, will just retire.
It's hard to imagine Flacco in different-colored uniform, or that he'd want to stray very far from Baltimore. He's lived in relative close proximity his entire life, from growing up in southern New Jersey, heading to college in Pittsburgh, transferring to Delaware, then being drafted by the Ravens and marrying and raising a family here. Heck, his brother is now the quarterback at Towson.
Uprooting from all of that isn't easy, even for someone with a multi-million dollar net worth. Which, let's not fool ourselves, cushions the blow of a job loss, too. But that still doesn't mean it's easy to step aside with grace.
"The season goes on," he said. "Just because I'm not playing doesn't mean the season comes to a halt and ends. There are times that I may feel like that, but everything keeps going. It may move on in a little bit of a different way, but it moves on without you. At some point, you realize that."