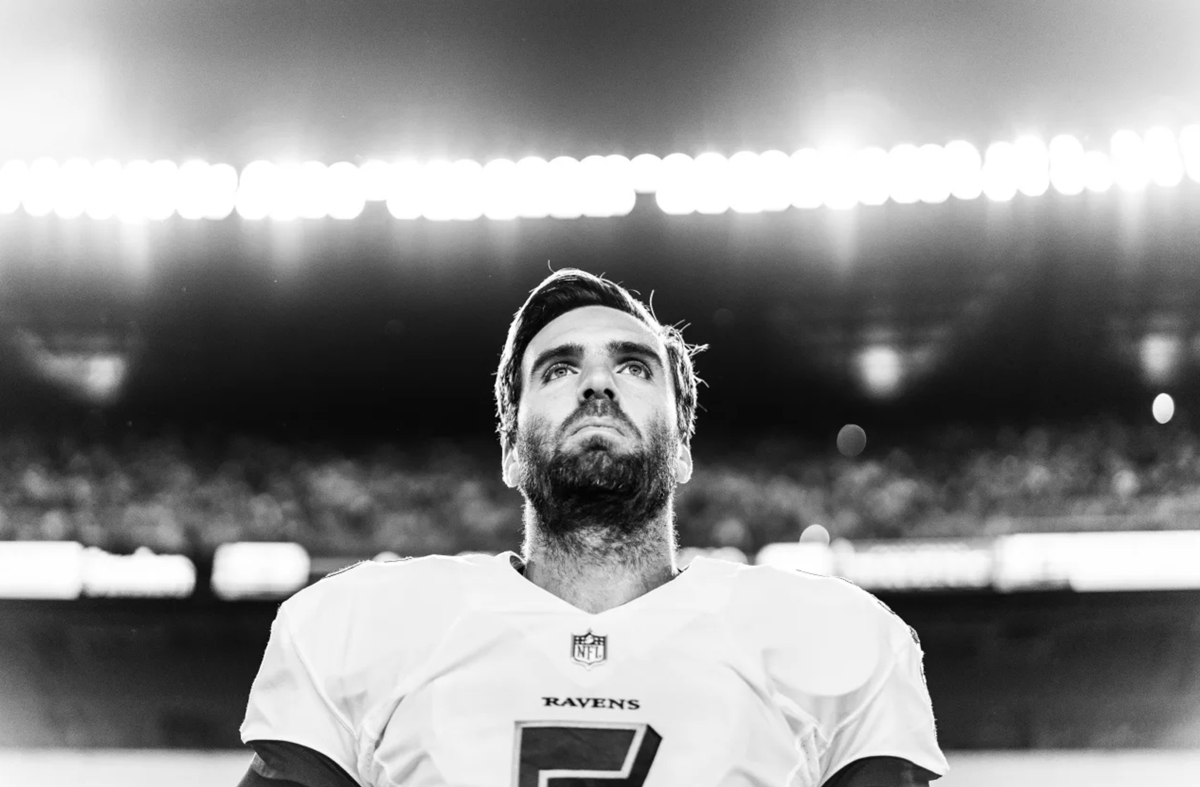 Shawn Hubbard/ Baltimore Ravens
It doesn't seem like Ravens coach John Harbaugh is a fan of the old sports adage that a player shouldn't lose his or her job because of injury. "We're going to go back to junior high clichés, now?" Harbaugh said this week, when asked if he subscribes to that theory. "We'll do what gives us the best chance to win, period, end of conversation."
Ah, but when we're talking about Joe Flacco—and the Ravens coach was, as the question was asked about the quarterback—it's really just the start of the conversation.
Is the Joe Cool Era over?
Even when he's been healthy (which Flacco is not right now, missing the last two games with a hip injury and likely to miss another this weekend), even when he was piloting the offense of an eventual Super Bowl championship team in 2012 (which he's not—the Ravens haven't made the playoffs the last three seasons), and pretty much every week during the fall and early winter the last 11 years, Flacco's play, his contract, his sideline demeanor, his commercials, press conferences, everything, has been analyzed, scrutinized, and debated. Each nuance led to this main thought: Is Flacco the right quarterback for the Ravens? It comes with the territory of having the job in the first place.
Now that the former Super Bowl MVP hasn't played since Nov. 4 against the Steelers, which was then the Ravens' third straight loss, the volume has been raised on the hottest of hot-button sports-talk topics around these parts the last decade.
Flacco is 33 years old, relatively young in life standards, but getting up there in the pro sports world, and we know what he brings to the table. Meanwhile, 21-year-old rookie Lamar Jackson is something new. His running ability is exciting. His 190 rushing yards are the most for a rookie QB in his first two games. He makes plays we haven't seen in a while, earning high praise.
"It's the Lamar show," said veteran wide receiver Michael Crabtree. "You just have to sit back and watch, because he's electrifying."
Jackson's passing skill has been questioned. But, about that . . .
While Jackson has only started two games against suspect opponents, he's won them both. That's still nothing compared to Flacco's body of work, but it suddenly looks like Jackson, the former Heisman Trophy winner at the University of Louisville, might be part of a core of young players that new general manager Eric DeCosta could build around once he fully takes over from the retiring Ozzie Newsome after this season. Teams don't draft quarterbacks in the first round of the NFL draft, as the Ravens did with Jackson, to not play them.
There's also the unavoidable awkwardness of the Ravens coaches wanting to get the fast and elusive Jackson on the field, even when Flacco's on it, pushing the incumbent starting quarterback off to the side as a decoy wide receiver, or vice versa. And there's also the fact that Harbaugh said in a post-game press conference a few weeks ago that he'd like to get Jackson on the field more.
And then there's the money. The Ravens could cut Flacco after this season (he's due $25 million next year) without taking as big a salary-cap hit as they would in years past.
Of course, the idea of this quarterback transition happening so soon could all be a moot point and a huge overreaction.
Maybe the Ravens lose on Sunday with Jackson making his first road start in Atlanta, drop back to a 6-6 record and never fully recover. Maybe Jackson gets hurt while running like a madman around the field, or not going out of bounds to protect himself. Maybe Flacco is healthy next week and starts anyway. Or maybe Jackson plays so well this week that you can't bench him with the Ravens riding a three-game winning streak and in line for a playoff spot.
There's a lot of maybes. Ultimately, Harbaugh, who has worked in unison with Flacco since Harbaugh took the job as Ravens coach in 2008, when Flacco was a rookie, says he'll decide who to play if Flacco's health allows him to return.
"I don't think there's anybody in a better position than the head coach," he said. "I feel very, very confident that I have a good handle on it, understand the team and what we need to do when the time comes—which is not here yet. I don't think you start making these decisions until you get to the bridge. I'm not crossing the bridge until we get to it. I think that's a pretty good cliché, pretty apt."
Here's one certainty, though: If it does become clear that this is Flacco's last year wearing the purple and black—if he does lose his job because of injury—he deserves a proper send off, like Adam Jones received with the Orioles this year. Joe's been Cool for more than a decade. He won a Super Bowl championship with a streak of playoff performances that will go down in Baltimore history so long as we're talking about sports. That shouldn't be forgotten just because of what might be next.