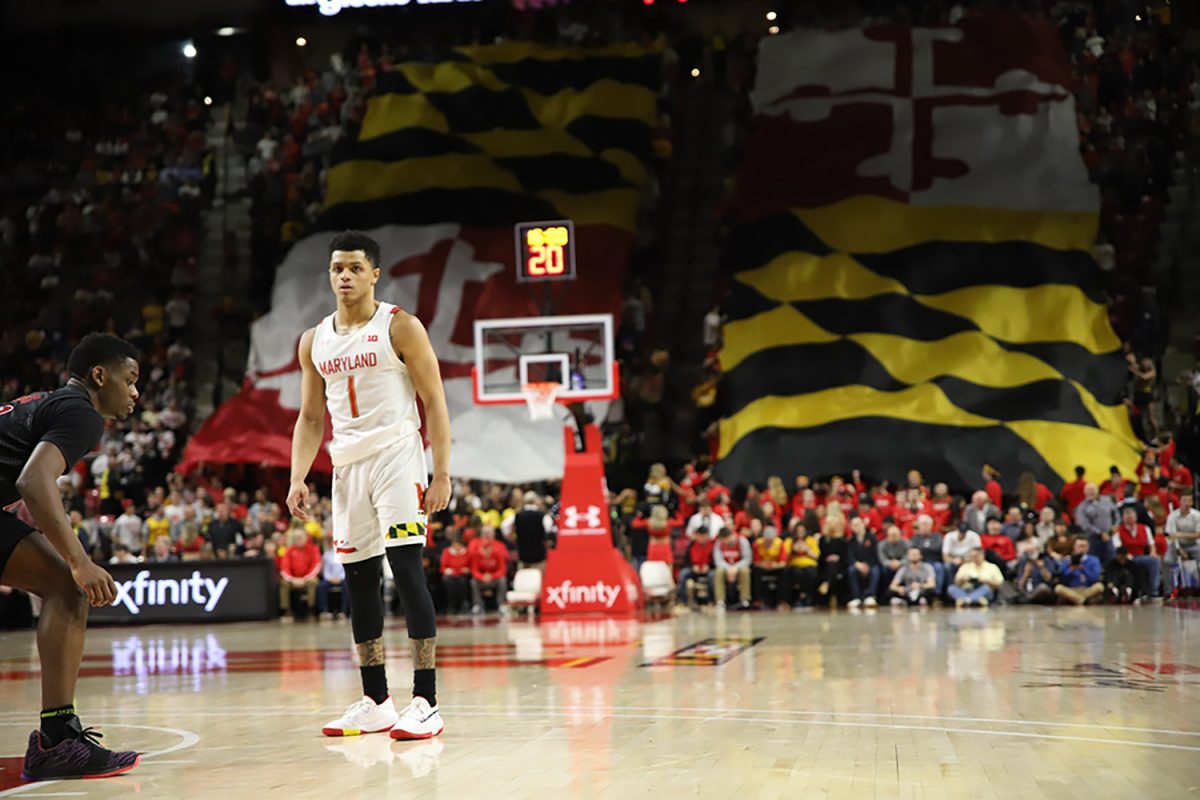 Maryland Terrapin men's hoops fans, like fans of most powerhouse basketball teams, are a pessimistic, doomsaying bunch. And with some good reason.
The Terps have a habit of doing well in the regular season and then flaming out in the Big 10 Tournament or the NCAA tournament. Or worse still, sometimes we start strong, finish poorly and don't make the "Big Dance" at all.
(A note on the "we" I just used. First of all, I support using the royal "we" when discussing one's favorite sports teams. We're fans. Relating to our teams on a deep, cellular level is what we do. Secondly, no I did not attend the University of Maryland. I went to artsy-fartsy Bennington where we had, like, the intramural wind dance squad. I adopted the Terps as my own back in the Keith Booth days and have been a die-hard ever since.)
In my opinion, this year feels different. In case you haven't been paying attention, the Terps are sitting on top of the Big Ten standings—two games above Penn State. Here are five reasons why it's time for Terps fans to table the doom and gloom and hop aboard the Testudo Train.
1. Anthony Cowan, Anthony Cowan, Anthony Cowan.
Just six feet tall, Anthony Cowan Jr. may never play in the NBA (although he deserves to at least get a shot), but he is, in some ways, the perfect college basketball player. The Terps point guard is a savvy senior and natural leader with an off-the-charts basketball IQ. Dude has amazing court vision and almost always seems to make the right play. He's fiercely competitive in such a way that he takes losing personally. When the Terps are down, he elevates his own game and carries the team on his shoulders, making clutch play after clutch play. (See the final four minutes of our game against Michigan State.) Look at Anthony Cowan's eyes late in a close game. There's a fire there. He knows this is his last shot at a NCAA ring, and he's going to do everything in his power to get us there. In Cowan I trust.
2. The Terps have Baltimore swagger and grit.
Two of the team's starting five players are from Baltimore (both went to Mount Saint Joseph High School). Power forward Jalen "Stix" Smith is a dazzling superstar, a can't miss NBA prospect, who can dunk, shoot, and defend the rim like a pro. He and Cowan make for a formidable—dare I say, unstoppable?—big man/guard combo.
Guard/forward Darryl Morsell is the glue guy—quite simply, the kind of kid you need on any championship team. A shut down defender who is usually tasked with guarding the other team's best player, he can also use his athleticism to drive to the hoop or make a three, especially when he's needed the most. Like Cowan, he has an extremely high basketball IQ. And like Cowan, he's tough as nails.
3. They win in a variety of ways.

Coming from behind, eking out close games, blowing leads and winning anyway—the Terps have done it all. At this point, there's nothing they haven't seen. This is good, because they won't panic if things don't initially go their way in the tourney.
4. They are road tested.
Have you heard the Terps barking after a victory on the road? That's because they consider themselves "road dawgs," a point of pride and a designation that will serve them well in both the Big Ten and NCAA tournaments. It's extremely hard to win on the road, especially in the Big Ten where large arenas are filled with loud, enthusiastic, and relentless fans, who try to distract you on the free throw line, taunt you when you miss a shot, and do everything in their power to will their own team to victory. The Terps won in a jam-packed Illinois arena, and then to back up that win, they won on the road against the most storied program in the Big Ten: Tom Izzo's Michigan State.
5. They have Mark Turgeon. (Yes, Mark Turgeon.)
In some ways, the affable Terps head coach is the anti-Gary Williams. While Williams sweated through his suit, screamed at anyone within the sound of his voice, and generally went apoplectic on the bench, Turgeon is much more laid back. It's not to say he doesn't get fired up, but compared to the legendary Williams, he's a Buddha.
This is one of the reasons why Terps fans have been a bit skeptical of Turgeon. There's also the legitimate criticism that, in his nine years as head coach, he hasn't taken the team deep into the tournament. (His best showing was the Sweet 16 in 2017.) There's a feeling that his teams have underachieved or don't step up in the big games. I generally think that once a program wins it all—as the Terps did in 2002—the fans get a little spoiled and expect to go deep in the tourney every single year. It doesn't work that way. There are lots of other great programs in Division 1 basketball—and they're all trying as hard as we are.
That being said, I think Turgeon has something special with his squad this year. Senior leadership, clutch play, unselfish play, and a camaraderie among the players that's evident on the court. He certainly has the coaching skills to draw up the right plays—particularly on defense—and motivate his guys, who seem to adore him. The rest is up to them. After all, coaches don't make plays, players do. This year, I think Turgeon has a squad well equipped to go deep in the tournament and silence the naysayers once and for all. Fear the Turtle!