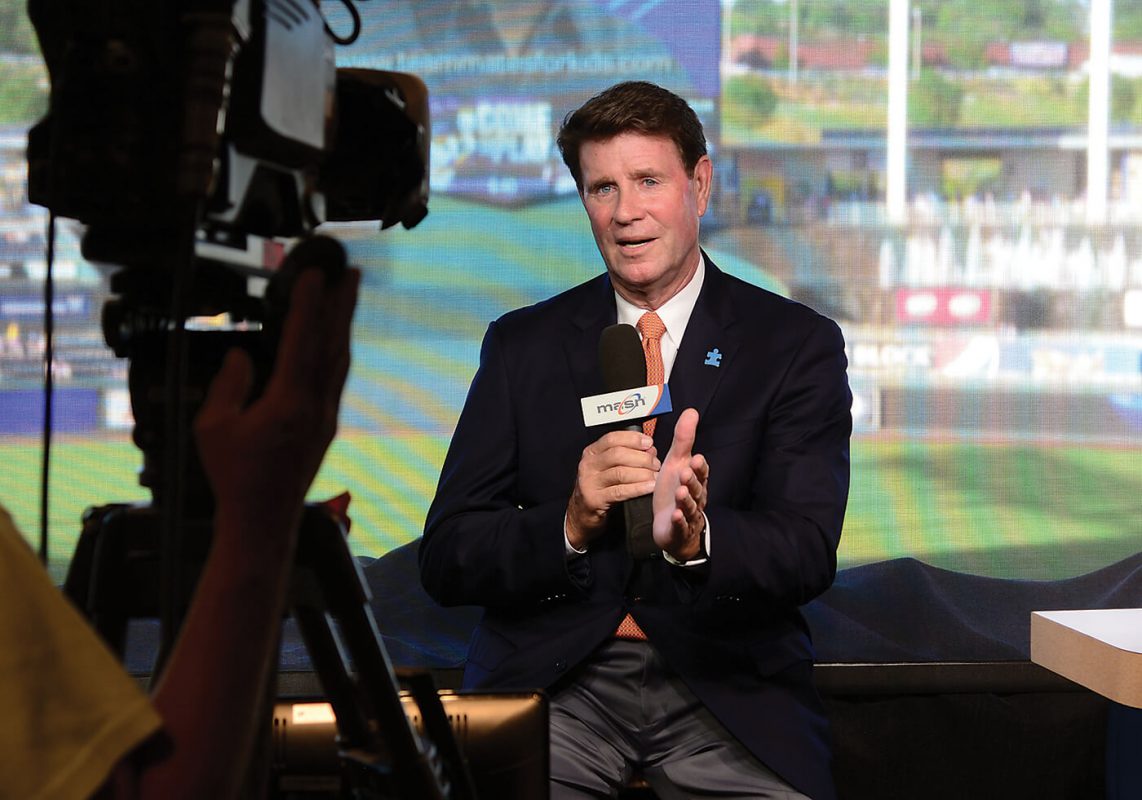 Courtesy of the Baltimore Orioles
Orioles Hall of Fame pitcher Jim Palmer co-authored a new book, Nine Innings to Success, in which he takes readers inside the clubhouse, broadcast booth, and corporate world to tell the story of his career, in hopes to inspire others to succeed in the workplace. We got a chance to talk with Palmer about anecdotes from the book, squabbling with Earl Waver, his broadcast career, and his idea of a fantasy Orioles dream team.
First, about this season. Completely defying expectations, the O's pitching staff into early June ranked ahead of its batting. Can you explain?
As we get deeper into the season, I think we're starting to see more of what we expected. The pitching staff is giving up a lot of runs, but the hitting has picked up. The Orioles have done very well for a team that was picked to finish fifth in the American League East.
Last year marked your 50th with the club. Did that prompt the book or something else?
That was part of it. When you reach a certain age, you start to reflect on your life and career. I played for an Orioles organization that had the best winning percentage in baseball during my career. We were successful for a reason. My upbringing and my later work as a broadcaster and corporate spokesman further helped me understand and appreciate what makes a unit successful. It felt like the right time to put that all down in a book.
You mention Cal Ripken Sr. and the impact he had on young ballplayers in the minors, creating essentially what became known as The Oriole Way. One of Cal Sr.'s rules was to have fun, but outwardly, he projected kind of a drill sergeant demeanor. Was he more fun to be around than the casual fan might have realized?
Cal used to always say that your baseball uniform was your work uniform. At the ballpark, it was always about work ethic, practice, and avoiding shortcuts. But at the end of the day, organizations that enjoy success are going to foster a fun environment. Cal had a good sense of humor, especially when we were winning. Fortunately, we did that a lot.
You've always been forthright in discussing losing your adopted father as a boy and then later, gaining a great stepdad when your mother remarried. Do people ever share their similar childhood stories with you?
I've had a fair number of people talk to me about their experiences with adoption. Interestingly, I've heard from a lot of people who adopted children themselves. Some adoptive parents think there's a stigma attached to having an adopted child. When they see somebody like me who had loving parents and enjoyed success in life, it gives them peace of mind.
In your words, you and Earl Weaver squabbled "like an old married couple." What have you learned since Earl's passing about yourself?
I think I started to understand Earl better the moment he retired. It was then that I realized that he didn't want me—or any other player for that matter—to like him. We had a lot of battles during our years together, but what made our relationship survive and thrive was the underlying trust we had in each other. I look back now and realize how fortunate I was to wear an Orioles uniform in the era that I did.
In preparing for your first game as broadcaster, a playoff game for ABC, you said that you pictured yourself in the corner of the dugout, talking baseball and game situations with Dave McNally and Mike Cuellar. Is that still your approach at MASN? It feels very conversational with Gary Thorne.
That's still my approach. When you're doing a three-hour baseball broadcast, it has to be conversational. The great thing about working with Gary on MASN is I know he's done his homework and is totally prepared every night.
At the end of the book, you talk about taking things one batter at a time, one game at a time, not letting things in the workplace—petty disagreements with teammates, reporters, or the manager, for example—take your mind off the task at hand. If you focus on the work, the rest will take care of itself—is that the message?
That's one of the messages of the book. With any organization, you have to look at how you can best achieve your goals. If you get the right people on the bus, so to speak, you can pretty much go anywhere you want to go. Baseball is like a lot of workplaces. There are individual performances within a team environment and an overriding common goal.
Two more quick baseball questions. Two outs, 9th inning, Game 7 of the World Series, O's have the tying run at first base. What Oriole—current or former, living or dead—do you want to see stepping into the batter's box?
In the '60s, Frank or Brooks Robinson. Take your pick. In the '70s, Eddie Murray. In the '80s, Cal Ripken Jr.
Who is your favorite pitcher of all-time? The guy you'd buy a ticket to see start?
Two different answers. I grew up in New York wanting to play for the Yankees . . . which proves I'm not perfect. My favorite pitcher back then was Whitey Ford. The guy I'd buy a ticket to see start would have been Sandy Koufax, because he was so dominant.