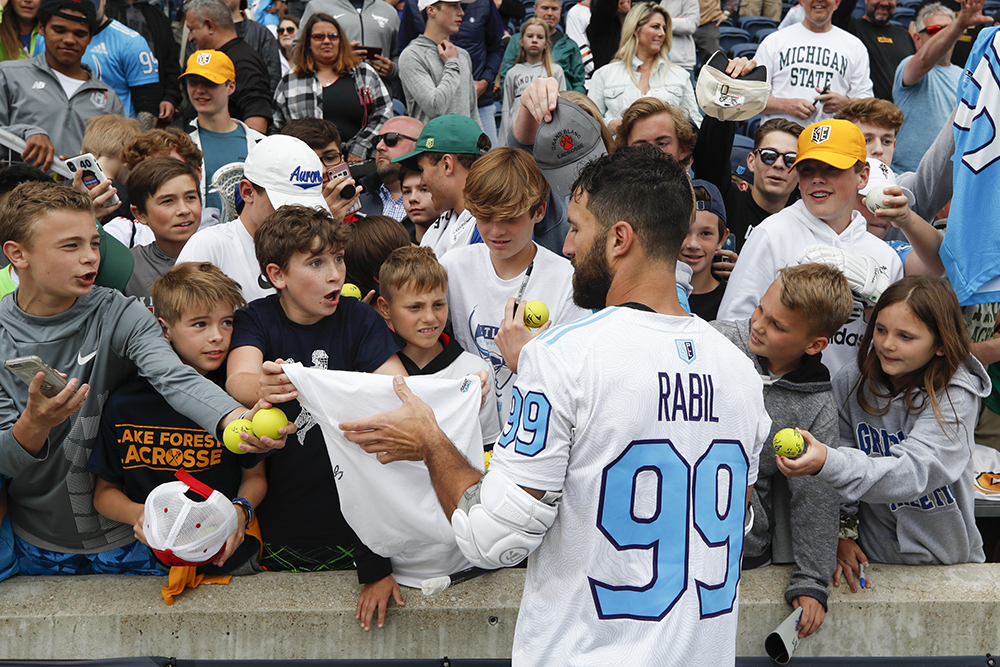 Jeff Haynes/AP Images for Premier Lacrosse League
The height of Paul Rabil's college lacrosse career just happened to coincide with the greatest attendance numbers the NCAA men's lacrosse tournament has ever seen. In 2007, a record 48,443 fans packed M&T Bank Stadium on Memorial Day to watch Rabil, the brute Johns Hopkins' All-American midfielder, and the hometown Blue Jays compete for a national title against Duke, the team a year removed from the alleged rape scandal that captured the nation's attention.
The result, a 12-11 Hopkins win and Rabil's starring role with one goal and a career-high five assists, catapulted the college junior, a 6-foot-3, 225-pound swim-dodging dynamo into face-of-the-game status. And he parlayed the buzz, and a twenty-something's early understanding of a thing called social media, into a full-fledged adult lacrosse life. That meant, for the last decade, playing part-time in the sport's outdoor and indoor pro leagues, promoting himself and his associated brands, crossing the country to teach youth camps and clinics, and suiting up for Team USA.
It was a career, one which landed Rabil the label of "Lacrosse's Million-Dollar Man," given his cumulative endorsement deals at age 27, unmatched by anyone else in the growing yet still niche sport. But the glitz and glamour and big contracts of the NBA, MLB, or NFL this was not.
Major League Lacrosse, or MLL—the outdoor pro league that started in 2000 and in which Rabil became a two-time MVP—paid most players less than a typical entry-level job salary, not enough to live on. And, over the last few years, the league gradually received less exposure from major television broadcasters, a trend that didn't sit well with the media-savvy Rabil, who boasted his own self-made internet footprint.
He's got a YouTube channel and a podcast ("Suiting Up") that's featured guests like lacrosse aficionado Bill Belichick, tennis legend Venus Williams, investor and media executive Gary Vaynerchuk, and even Tony Robbins. Frustrated, Rabil and his older brother, Mike, an entrepreneur who's started several successful businesses, sought to buy the existing outdoor pro league, but couldn't reach a deal. (It would have been almost the equivalent of Johnny Unitas buying the NFL as a young man.)
And so here we are, all these years later, right back home where it all began—but with one big twist. This weekend Rabil, now 33, brings to town—and specifically to Johns Hopkins' historic Homewood Field—his own professional lacrosse league. Yes, he's the co-founder, along with his brother, of the nascent Premier Lacrosse League, a pioneering first-year outfit unlike anything the sport has seen before. Rabil's former college teammate, Kyle Harrison, whom we profiled in Baltimore earlier this year, was also a key figure in the formation of the league.
In a dynamic reminiscent of the USFL's competition with the NFL in the mid-1980s, the Rabils raised capital and wooed players to their league with higher salaries (players are paid a reported average of $28,000), health benefits, and, unconventionally, an equity stake in the league. Investors include people like billionaire Joe Tsai, the founder of e-commerce giant Alibaba (the Chinese equivalent of Amazon) and a former lacrosse player at Yale.
The games are broadcast across NBC's family of networks, and the league is breaking team sports ground with its tour-based model, meaning rosters aren't rooted to a specific city and instead travel like a roadshow (or like the pro tennis and golf tours) and play in places like New York, Chicago, Washington, D.C., Denver, and Atlanta.
Saturday marks the league's first stop in Baltimore, and the first pro men's lacrosse game in the city since the MLL's Bayhawks moved in 2006 to Washington, D.C. (and eventually to Annapolis). Johns Hopkins will host three men's games and two pro women's games this weekend, with the main event coming at 7:30 p.m. Saturday.
Under the lights, Rabil and the Blue Jays-themed Atlas Lacrosse Club (featuring seven Hopkins alums on the roster) will face off against the University of Maryland-heavy (as in 20 Terps on the team) Whipsnakes Lacrosse Club in a rekindling of sorts of college lacrosse's most epic rivalry, dating to 1895. "Now that we're out of college," says former Johns Hopkins and Calvert Hall attackman Ryan Brown, Rabil's Atlas teammate, "we still hate them, and they still hate us."
Also notable is the amount of access the league has provided NBC during game broadcasts. Sideline interviews? That's old hat. How about interviews with players on the field during the game? That new idea, and the execution, has grabbed national attention . . . (Skip ahead to the 35-second mark of this video to hear another Baltimore guy, Gilman alum and NBC analyst Ryan Boyle, ask a live question of a player who just scored a goal.)
This is to say that if you're not going to make it to Homewood Field to watch in person this weekend, at least tune in on the television or your smartphone, even if you're somewhere on the beach. If, for nothing else, to see at least one guy live out a dream, on the same field where the seeds were planted for it as a college kid.
"Homewood Field is not only the most historic venue in lacrosse, home to 44 national championships, first-team All-Americans and Hall-of-Famers, but it's where I learned how to play the game at the highest level," Rabil says. "My four years at Hopkins will continue to guide me over the next 40 years of my life. And I couldn't be more excited to rewind this Saturday and play on the 'Wood again."