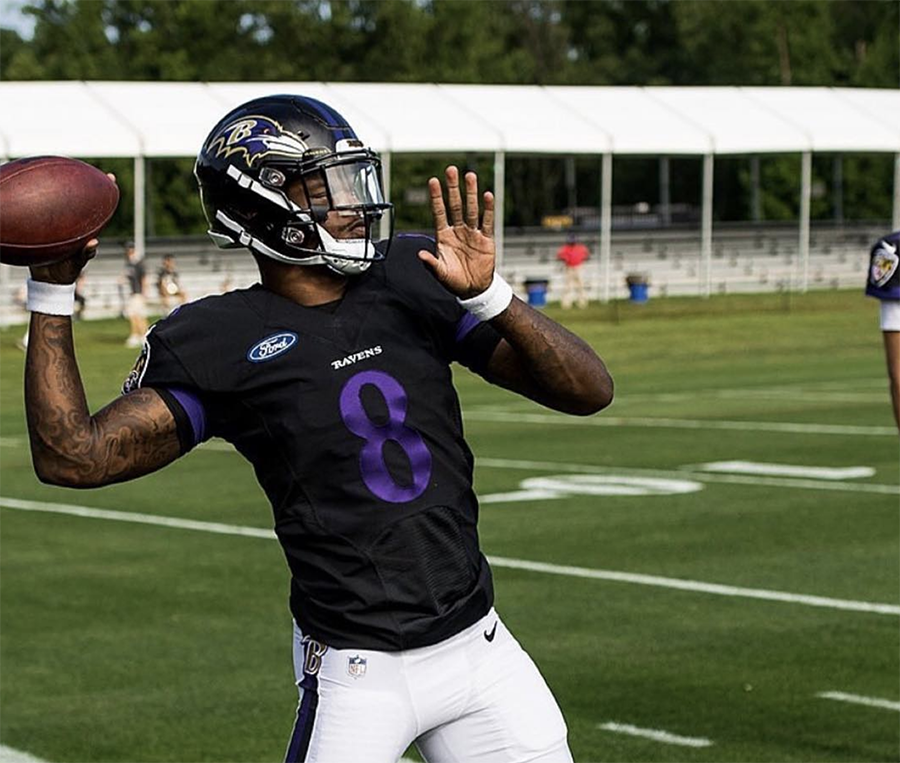 Courtesy of Lamar Jackson
This highlight is the primary takeaway from the Ravens' second preseason game last night:
That's rookie quarterback Lamar Jackson, dipping and dodging his way into the end zone in the first quarter of his M&T Bank Stadium debut.
"I thought he was tackled twice—and he wasn't," Ravens coach John Harbaugh said of the shifty Jackson, who won the 2016 Heisman Trophy winner as college football's top player. "You always appreciate that when he's on your team."
Even Joe Flacco was impressed, laughing when asked about the play in his post-game press conference: "He obviously got a lot of reactions for it, and he should."
But before we get too far ahead and anoint the 21-year-old Jackson as Baltimore's next great sports icon, let's mention this plainly: Flacco, as oft-maligned as a Super Bowl-winner can be, is still the Ravens' starting quarterback.
If evidence were needed, the one series Flacco played to start the game, before he took the night off, was a touchdown pass to fullback and converted defensive lineman Patrick Ricard.
"That's really all we needed from Joe," Harbaugh said. "That was enough."
And so, as is customary in the NFL's preseason, the spotlight shined on unseasoned players and potential future stars, such as a backup quarterback like Jackson, for much of the rest of the Ravens' 33-7 win over the visiting Los Angeles Rams, who didn't even play their starters, so don't make too much of the score.
That's not to say Jackson's ankle-breaking nine-yard touchdown run, or his 119 passing yards and 21 rushing yards over much of the first half and including the first drive of the third quarter, were not important. They were. They showed exactly why the Ravens drafted him at the end of the first round of April's rookie draft, even after the team signed free-agent quarterback Robert Griffin III to a contract in the offseason.
"He does seem poised for a rookie," Harbaugh said of Jackson, who decided to leave the University of Louisville after his junior year. "Even on the sideline, he may not know everything [and make a mistake], but he comes off the field and knows exactly what he did. He's going to continue to blossom."
Jackson might be the Ravens' future quarterback, but, somehow, he's already leading the team out of the tunnel when they run on the field. He did it during last week's Hall of Fame game against the Chicago Bears, in which he threw his first touchdown pass. "I'm trying to score every drive," Jackson said last night, by the way—and he was the first one out on the field again Thursday night in his Baltimore debut, though he needed some directions to the sideline.
"I was kind of lost," Jackson told a small group of reporters in the locker room after the game as Flacco left to hold his larger press-conference in the team's media room. "I don't want to go out there and mess up everything with our routine. I was asking the vets, 'Where do I go when we go out of this tunnel?' It was pretty cool, though."
So long as he finds his way to the end zone, like he did last night, Jackson can keep asking questions. We'll see how it goes from here.