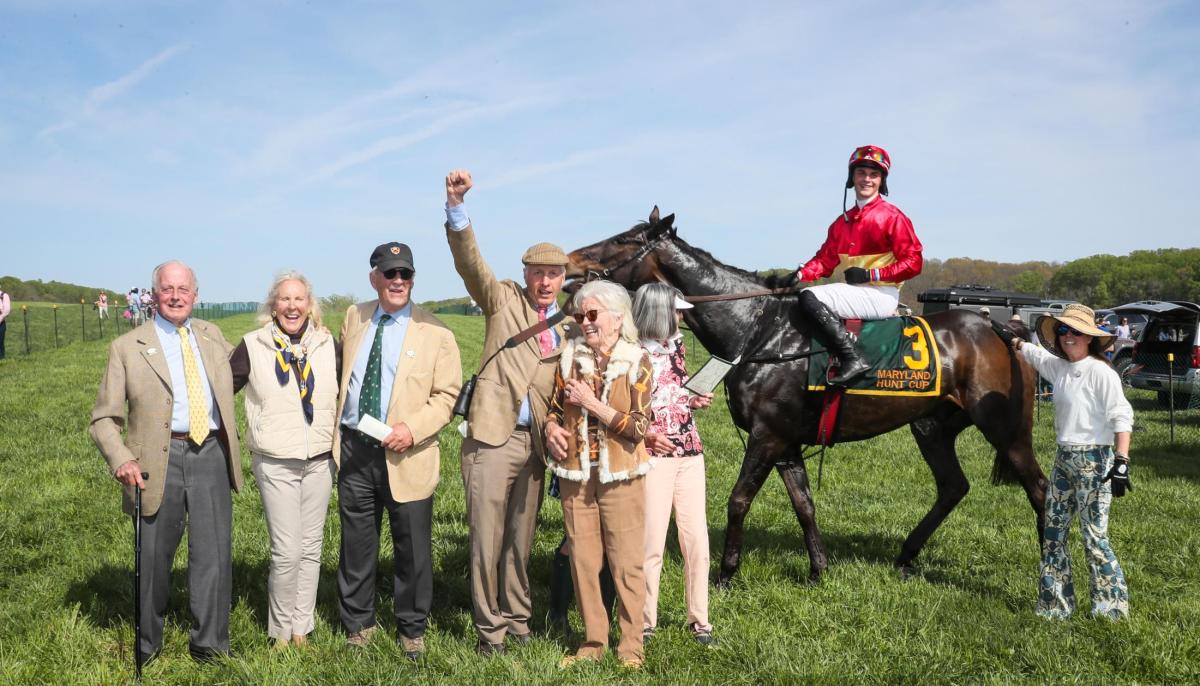 Davies, right, atop thoroughbred Vintage Vinnie, surrounded by his family of trainers and hunt masters. —Photography by Robert Keller
In American steeplechase horse racing, the timber jumping season may be shorter than the more natural hurdle season that follows each spring and summer, but the obstacles are not. For one, traversing the Maryland Hunt Cup's four miles of 22 stout hardwood fences—which reach as high as 4-foot-9 inches—is no small task.
Conquering the course in a record 8 minutes, 15 seconds in last spring's historic 125th running of America's most famous equestrian jump race is now Teddy Davies' unique legacy. Repeating as champion, again atop thoroughbred Vintage Vinnie, will be his quest when one of the world's toughest steeplechase events—and the sport's Super Bowl in this country—returns April 29 to Worthington Farms in Glyndon.
Entwined with foxhunting, the Hunt Cup, which was first held on May 26, 1894, originated as a contest between two Maryland hunt clubs, Elkridge and Green Spring. Curious over who might have the best horse, members initiated the now long-standing challenge among skilled amateurs. The purse has grown to $100,000.
"At first, it didn't feel like anything when I won [last year,]" Davies says. "It didn't feel real. I had no emotions, really. Then, a couple months later, one day, alone, I thought, 'Damn.' And I thought if I won it again I'd be more excited because I had a better understanding of how badly I wanted to feel that rush again."
It's a thrill his family knows well. Davies—the athletic, brown-haired, 140-pound Boys Latin School alum who turned 19 in February—holds a proud pedigree. His father, Joe, won the Hunt Cup three times as a rider in 1998, 2000, and 2005. In 2011, his mother, Blythe Miller Davies, was the Cup's winning jockey. From Dunmore Farm, the family's timber racing operation in Monkton, the Davies have trained the last six consecutive Hunt Cup champions, an unprecedented accomplishment.
"It's unheard of," says White Hall's Liz McKnight, the race's co-chairman who won the Cup in 1986, as did her husband, H. Turney McKnight, in 1982. "And [a record-pace] eight minutes [the last two years for Vintage Vinnie] isn't the norm. It's crazy unreal. He's not a normal horse."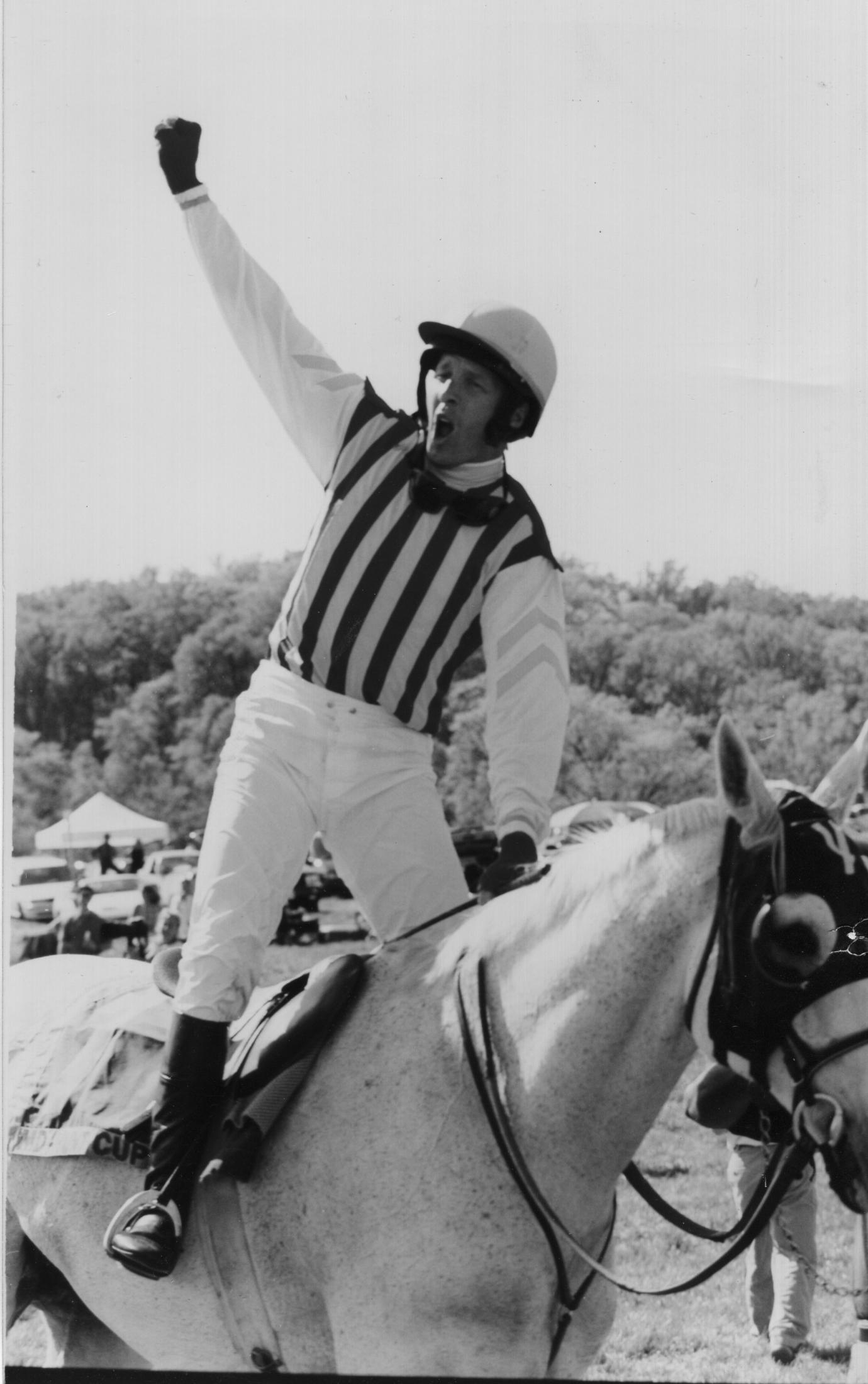 The Davies' success also isn't typical. "Riding is hereditary—it's certainly hereditary in our family," says Blythe, the first woman to top the National Steeplechase Association (NSA) rider chart while winning more than 300 of her 1,000 races on the flat and over fences between 1978 and 2002. "We've been fortunate, and it's wonderful we can share it."
As a jockey, Joe won more than 100 of his 500 races from 1979 to 2005, which included 13 Hunt Cup starts. "It's a real family operation," he agrees.
Blythe's father, Teddy's pop-pop, R. Bruce Miller, a legendary trainer for 60 years, produced 3,700 starters, more than 560 winners and in excess of $10 million in earnings. He made his mark most notably with Hall of Fame horse Lonesome Glory, a five-time Eclipse Award winner in the 1990s. Teddy's grandma, Joe's mom, was a longtime hunt master, as was Bruce. One of Teddy's great-grandfathers was a lifelong huntsman, and another owned Laurel Racecourse and created the historic Washington, D.C. Invitational, the world's first international stakes race.
Teddy, who began racing at 16, takes it in stride: "Riding horses is one thing you might say we have some pride and joy in," he says.
Vintage Vinnie, a sturdy, speedy black thoroughbred, has been the Cup's winning and record-setting horse the last two years—with Irish jockey Dan Nevin in 2021. Lightning could strike twice for Teddy, though it's unusual for a horse to repeat twice, let alone a third time. Last year, Teddy tamed Vintage Vinnie's kamikaze instincts in a near-flawless, clean ride.
"A front runner, he doesn't settle, but he settled with Teddy," McKnight says. "He seemed happier and more content. There was no struggle of pace, which is why he jumped so well for Teddy. But that horse is a fluke. I'd say he has a good chance again."
Owned by Perry Bolton of Lutherville and Ben Griswold IV of Butler— collectively Armata Stables—if Vintage Vinnie threepeats, as per tradition, the pair will earn permanent possession of the Hunt Cup trophy, known as the Challenge Cup. The last of nine horses to win three Hunt Cups and retire the trophy, timber racing's crown jewel, was Senior Senator (2016, 2018, 2019) owned by Potomac's Irvin L Crawford II. No horse has ever won four times.
The Hunt Cup-focused Teddy and Vinnie will ride in My Lady's Manor Steeplechase April 15 in Monkton, skip the Grand National April 22 in Butler, and then take on the Hunt Cup. "Our little Triple Crown," McKnight says of the trio of early NSA races in Maryland. 
One thing's certain: Teddy now gets the first nod to ride Vinnie. "I have first call on him now," he says. "We're hoping for the best. He looks good. Dad's doing a good job."
J.F. Pirro is a freelance writer for Baltimore. For 40-plus years, he's written in nearly every journalistic genre. He's been published in 75-plus national and regional magazines, as well as dozens of daily and weekly alternative city newspapers.