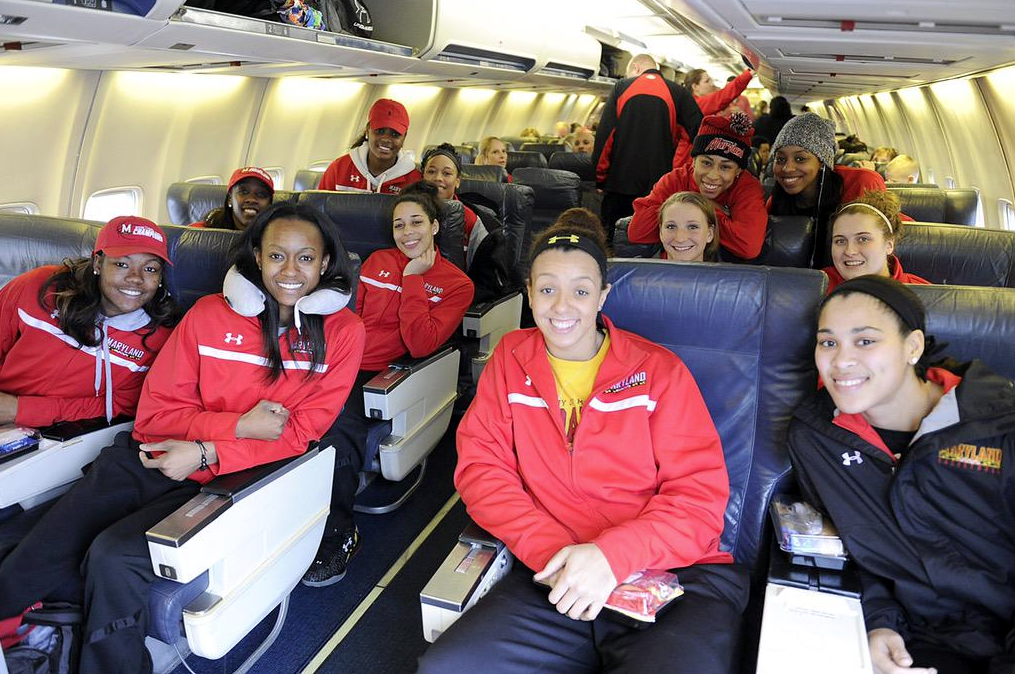 Courtesy of University of Maryland
Despite the men's basketball team's heartbreaking loss to West Virginia, there has been a consistent bright light in Terrapin nation: the nearly perfect women's team under the helm of Big 10 Coach of the Year Brenda Frese.
The team went virtually undefeated during the regular season, won the Big 10 Championship, and just beat the untouched Princeton Tigers on Monday to advance to the Sweet 16.
The thrilling matchup was a close back-and-forth in the first half, but the Terps exploded at the beginning of the second, going on a triumphant 17-2 run and, in the end, winning by 85-70, missing just one three-point attempt in the second half.
"Just a tremendous game, a really fun game," Frese told reporters after the defeat. "This is what you see come this time of year."
What should also be noted was the passionate crowd of almost 8,000 representing both sides at Xfinity Center Monday night. Absent from the audience was President Obama whose niece, Leslie Robinson, plays for the Tigers. The President did attend the Tigers' first-round game.
However, the Terps did have a little fun with the executive office connection after the game, slipping a Maryland jersey on a cardboard cutout of the President:
For the record, we ❤️ our President! We gave him a new jersey to wear!
@ESPN_WomenHoop @espnW @SportsCenter pic.twitter.com/iJttJ5W0yI
— Maryland WBB (@umdwbb)
March 24, 2015

The excitement and antics will continue Saturday night as the Terps travel to Spokane, WA, to take on a familiar ex-rival in the Duke Blue Devils, a fourth seed in the region.
Though no longer apart of the ACC, Maryland has a long history against Duke and, since Frese came to Maryland, the Terps are 8-22 against the team. The game should be particularly interesting for senior Laurin Mincy, who has faced the Blue Devils five times.
"Obviously, it's going to be a little redemption there, but Duke, they're just another opponent in our way," Mincy told The Washington Times. "So we're going to have to do anything in our power to get that win."
For Saturday's game, that means relying on players like Mincy and Lexie Brown who scored 27 and 23 points, respectively, in Monday night's matchup. Hopefully that results in Maryland's first victory over Duke since 2012.
As a Maryland alum, that hatchet-faced, cobalt logo (and the recent 30 for 30 about Christian Laettner) still incite rage. There will always be something incredibly satisfying about a Blue Devils defeat.
Catch the Sweet 16 game on Saturday, March 28, at 4:30 p.m. on ESPN.