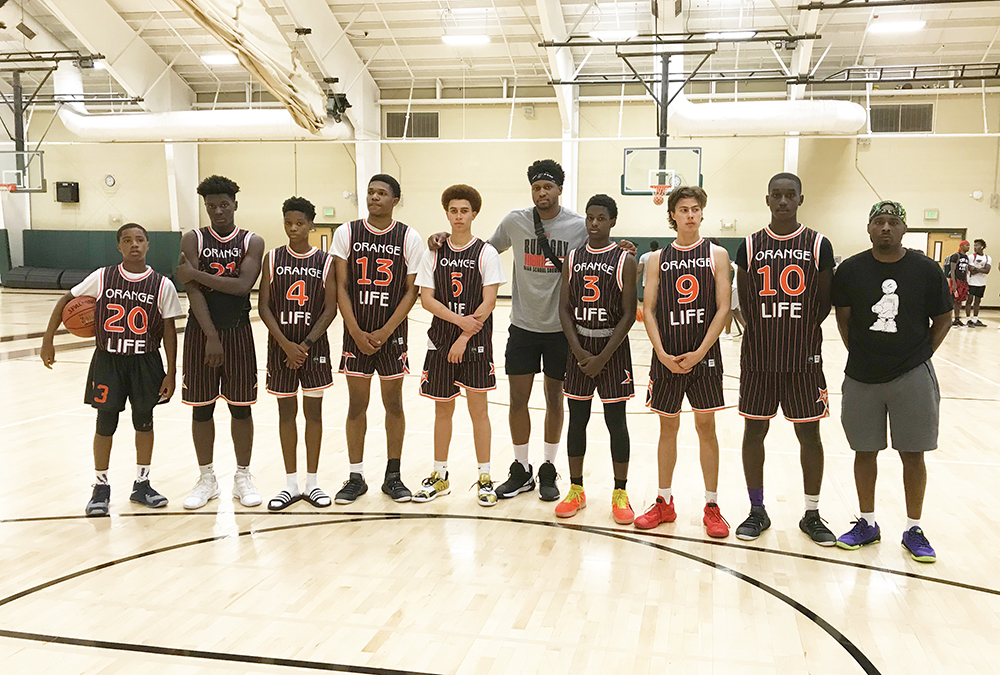 Corey McLaughlin
It was near 2 p.m. on a hot Sunday afternoon, only about four hours until the official opening of the NBA's free agency signing period—when players not under contract can decide which team they want to head to next. And Rudy Gay, the Baltimore native and 13-year pro basketball veteran due for a new contract, sat on a red plastic chair in an air-conditioned classroom on the tony campus of Park School, the century-old private pre-kindergarten through 12th-grade establishment in the suburban Pikesville hills just north of the city line.
With legs outstretched as one with a six-foot-nine body is inclined to prefer, he was here for one thing. In a gym across the hall, 16 teenage boys were about to play in the championship game of his brainchild, a high school-aged basketball tournament organized through his charitable foundation. But he was distracted, too. The iPhone Gay cradled in his right hand illuminated with text-messages.
"Attached at the hip with my agent," he said, taking yet another look at the device, "seeing what's going on."
By nightfall, he'd agree to a new two-year deal to stay with the San Antonio Spurs, worth $32 million, a life-changing amount for most of us, but just another contract for an established name like himself. He's made more than $130 million and is considered a locker-room leader in the wild world of pro sports, even to guys who aren't his teammates, like his friend Kevin Durant. (Gay's been giving him been there, done that advice on how to recover from a torn Achilles' tendon.)
"It's proof that if you do the right things, great things can happen," Gay said, and that message is really at the heart of why he's back home today, about to head to the bleachers to watch two teams—one, the Baltimore-based Orange Life club, led by Frederick Douglass High coach Tyree Bizzelle, and the other from Philadelphia— play for a trophy with his name on it.
Now 32 years old, Gay is almost two decades removed from his own high school days when he donned a uniform representing Essex's Eastern Tech and, after a somewhat controversial transfer, Archbishop Spalding in Severn. From there, he notably starred at the University of Connecticut, where he was a national player of the year finalist as a sophomore and left school early to become the eighth overall pick in the 2006 NBA Draft.
He's played for four different pro teams averaging 17 points per game, and made the playoffs three times including—after tearing his Achilles' tendon in January 2017—the last two seasons with the Spurs, regarded as one of the league's premier franchises. He has a wife and two kids, a house in typically sunny Ft. Lauderdale, Florida, and has seen most major U.S. cities and other far-flung parts of the world in his NBA travels. In fact, just recently, he was in Paris for fashion week (maybe that's why on Sunday he wore a Dior travel bag over his shoulder in addition to his Flight 22 High School Showcase gray t-shirt).
But Gay hasn't forgotten his roots. "If you're in a position to give back to Baltimore, you should," he says. And so he is.
The son of Rae, a longtime director of a Head Start program in the city, and father Rudy Sr., a landscaper, Gay is behind a series of public and not-so-public charitable initiatives that reflect his modest personality, as well as his own story.
There's things like this three-day summertime tournament, designed to provide exposure for high school athletes in front of college scouts. (Semi-pro tip: take note of Orange Life's Onias Outlaw and Wayne Blanchard, a pair of rising juniors.) The event brought together teams representing Gay's alma mater, Archbishop Spalding, his old AAU club team, Cecil Kirk, as well as other groups from Baltimore, Philadelphia, Connecticut, and North Carolina for hours upon hours of games. Philly's "Danny Rumph" squad won the title game, 52-47, and Tyrone Williams was the tournament's MVP.
"The biggest thing is giving kids the opportunity to be seen that might not necessarily be seen, or might not have the best avenues to do so," Gay says. "It's tough being a prep athlete. You got to be in the right place at the right time. I'm just trying to create the right place here in Baltimore."
That desire is rooted in his own path, including the type of mentorship his former AAU coach, Anthony Lewis, provided him during what's only a more confounding recruiting process today, and Gay's fruitful decision to head to Spalding after two years playing varsity basketball at Eastern as a freshman and sophomore.
"That was huge for me," Gay said. "It got me out of me out of my comfort zone, and put me in the right place, in front of the right people. If not, I'd be some 6-9 kid who could play basketball a little bit, who's from Baltimore, but nobody knows about."
Now a bonafide star, for several years, Gay has done other behind-the-scenes work through his independent nonprofit foundation, named the Flight 22 Foundation, with a nod to Gay's jersey number, 22. It's mission statement is "to provide disadvantaged youth with proper access to resources and opportunities that will increase their self-confidence and leadership skills in order to successfully compete in the 21st-century workforce."
He speaks about this part of his life with the wisdom of someone with perspective. He mentions the insane nature of the NBA road, often getting into hotels at 2 a.m. and getting up at 10 a.m. and "doing it all over again," as much the glitz and glamour the lifestyle affords. "An idle mind is the devil's playground," he says. "You just want to keep kids in something as much as you can. That's what it's all about."
His family largely runs the day-to-day operations of the foundation. Most of the volunteers on hand Sunday were related, like his mom, sister and cousins, who put the finishing touches on giveaway bags for the participating teams as Gay sat for an interview, or they were close friends.
The charity has donated to youth development programs in city schools for things like entrepreneurship classes, where money raised from this year's high school showcase will go toward. It's also funded the renovations of several city playgrounds. And dating back to his time playing for the Memphis Grizzles, Gay gave $22,222 in each of his last three seasons to St. Jude Children's Research Hospital.
Sometime later this year, Gay also plans to open an indoor basketball facility in Towson in conjunction with California-based fitness company PickUp USA. "Just another chance for kids to get off the streets," he says. "That's the biggest thing with the inner-city and Baltimore, we have to get people together and get kids together, doing something positive."
He says all this while surrounded by the detritus of a typical youth summertime sporting event. There's empty water bottles, candy wrappers, tournament results scribbled on a whiteboard in the hallway. Gay stands up and, man, he is tall. His phone's buzzing.
"I am busy, I am tired, but it's all good," he says, then plays with his young kids for a few minutes, bopping them on the head with National Basketball Players Association-branded inflatable thundersticks, before heading off to Park School's gym, the walls dotted by IAAM and MIAA championship banners, the type of stuff he wants everyone here to strive for.
At one point, Outlaw, from Owings Mills and probably the top player on Orange Life, drove inside the free-throw line, sneakers squeaking on the glossy hardwood, and soared to the basket for a dunk. The kid looked over into the stands to see if maybe Gay was watching. He was. "Oooooh!" the old pro had said in response to the play, impressed, inspired, and content. That's what it's all about.