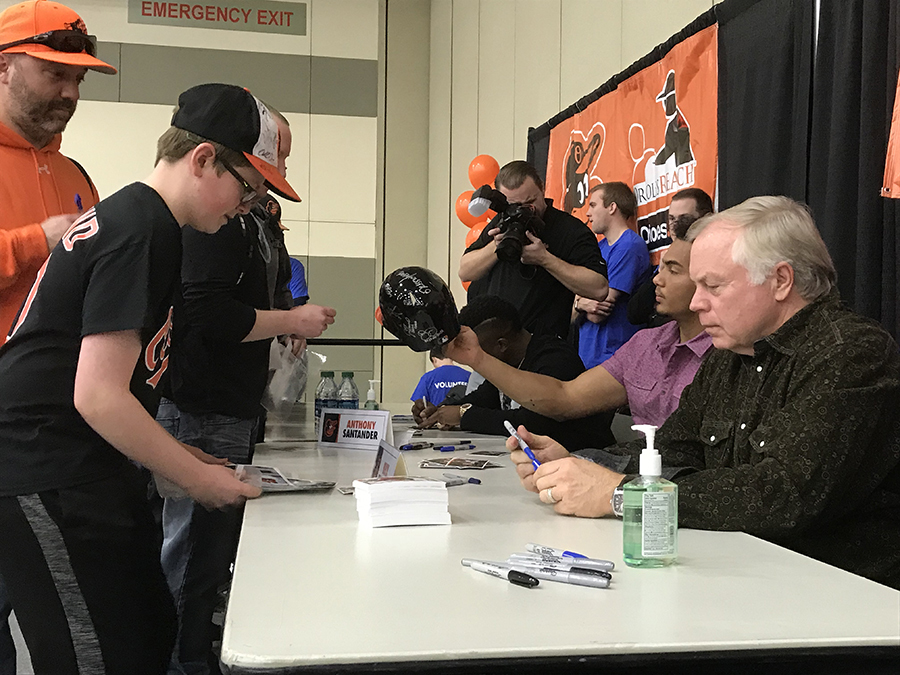 Corey McLaughlin
"Has anyone seen Manny?" relief pitcher Darren O'Day joked on the kids' press conference stage late in the day, in response to a teenage girl's question about Manny Machado's whereabouts at Orioles FanFest.
 
It was close to 5 p.m. Saturday, and most of the more than 11,000 people who attended the annual rite of the approaching baseball season had left the Baltimore Convention Center with their free giveaways, purchased merchandise and player autographs. Vendors began to pack up. Kids headed home with memories, perhaps of asking a question to players like Adam Jones or manager Buck Showalter—and getting a funny answer, like this one:
 
(Buck also said he's recently started to watch the Netflix series, The Crown. Nice! Jones said his favorite candy is Reese's—to much applause—and that his most-liked transformer is Bubblebee. "He's coddling and nurturing.")  
Though Machado wasn't present, the 25-year-old was nonetheless a big topic of conversation, too. First, just the fact he and buddy Jonathan Schoop weren't there for undisclosed reasons ruffled fans' feathers. Then Showalter casually mentioned to reporters that Machado will switch positions in 2018, to shortstop, and Tim Beckham will move to third base. The switch seems to acquiesce to Machado's desire to showcase his skills at shortstop ahead of his impending (and unfortunate) free-agent status once this season is over.  
About that. The dissolution of the six-year marriage between the Orioles and their prized homegrown talent — who's brought us so many great moments — appears inevitable. Especially when you hear this: "Stranger things have happened," Showalter told fans Saturday. "We may sign him."  
Machado, who the O's would trade now in exchange for a big haul, including some starting pitchers, likely will command mind-shattering and life-changing money on the free-agent market, and be promised a bright future from many teams across Major League Baseball, two things mid-market teams like the O's can't necessarily do. General manager Dan Duquette uttered the words "those teams up North," and spoke about the market advantages (i.e. more money) that they have—No, Yankees, no!—when answering question about what fans could do to convince O's ownership to keep and sign players of Machado's caliber long term.  
Alas, at least we have Buck's pearls of wisdom and plenty of other fun to get us through Manny's apparent lame duck year. 

A few other nuggets from FanFest:  
Jones, whose contract is also up after this season, said he'd like to play six to eight more years, but that the team hasn't approached him about a contract extension.
Dylan Bundy, when asked if he's wondering who will be in the starting pitching rotation with him and Kevin Gausman, said, "Yeah, definitely," with a laugh. "We have no idea."
O'Day, who along with Brad Brach and Mychal Givens, is in the running to close games while the injured Zach Britton (Achilles' tendon) is out to start the season, noted he's growing a beard until spring training, and he's feeling good. "I have two times dad strength now," the 35-year-old veteran said. "I have two kids. I have a beard. I like where I'm at." The O's bullpen also seems to have great camaraderie. Brach said during games they play their own game, throwing balls against the bullpen wall a certain number of times to keep score of the real game. Givens said he has an assigned seat. To be a fly on the wall beyond left-centerfield for a night.
Showalter was particularly concerned Saturday with getting sick, and he signed autographs later in the day with a container of hand sanitizer on the table with him.
Just three weeks until pitchers and catchers report in Florida, and 60 days until Opening Day.