Orioles Head Groundskeeper Nicole Sherry is in a League of Her Own
One of only two women in Major League Baseball's 118-year history to be in the role, Sherry is the keeper of Camden Yards.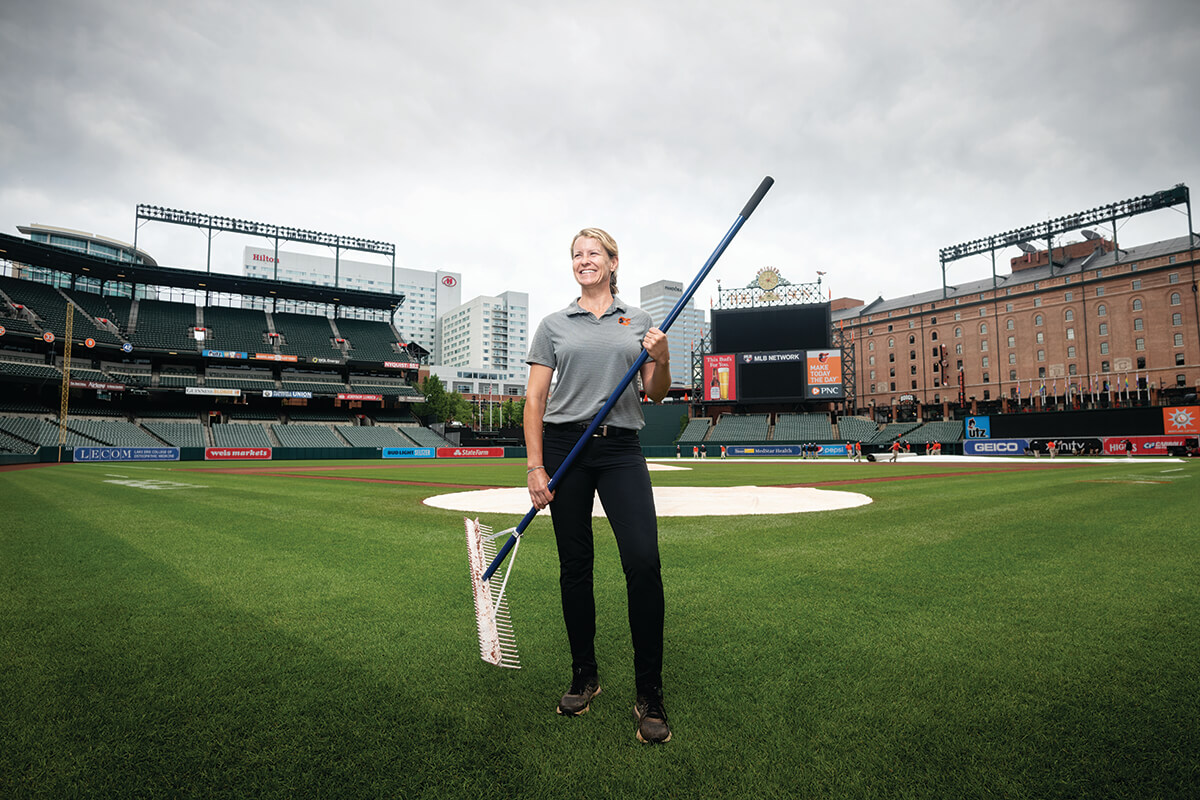 Oh, no. Not again. Light rain sprinkles from the overcast sky above Camden Yards, and Nicole Sherry instinctively unlocks her smartphone to check the weather radar. Because of a series of rain delays during last night's game, it was nearly 3 a.m. before she got to her Eldersburg home, and now, on this summer afternoon, the 30-person grounds crew that she manages is scattered about the right field grass, once again ready to drag a 170-foot, 2,000-pound tarp across the infield the minute she gives the word. Sherry, the Orioles' gregarious head groundskeeper, has as many weather apps on her phone as years in her role—15.
"I'm always checking them," she says, because, well, the digital weathermen can be as unreliable as those on TV. "You have to have a backup for a backup for a backup."
On this occasion, though, as she sits in the front row behind home plate, four hours before the O's will play the visiting Houston Astros, one is enough. It's been raining all morning, but the image on her phone shows a thin line of light blue and green above downtown Baltimore. This spritz is moving east, with nothing else behind it.
"We're just going to wait it out," Sherry says softly, looking toward short right field, where one of her full-time assistants is eagerly awaiting orders. Sherry raises her right hand near her neck and makes the universal hand signal for ixnay. "It can take water," she says of the ballpark's lush grass. "It took like eight million pounds since last night."
Sherry, of course, knows Oriole Park, the physical field, better than anyone else alive today. One of only two women in Major League Baseball's 118-year history to be a head groundskeeper and the first woman to be named professional facilities director for the national Sports Turf Managers Association's board of directors, she is the keeper of Camden Yards.
It's not hyperbole to say she knows every patch of grass. Specifically, Kentucky bluegrass, Sherry says, rooted in 12 inches of sand. This time of year, when extreme heat and humidity are the norm in Baltimore, she's more concerned about the high temperatures causing the grass to dry up than it getting too much water. The grass can drain 16 inches of rain per hour. But the thick infield dirt can't. That's why the bulky tarp,
and Sherry's call to use it, is so important.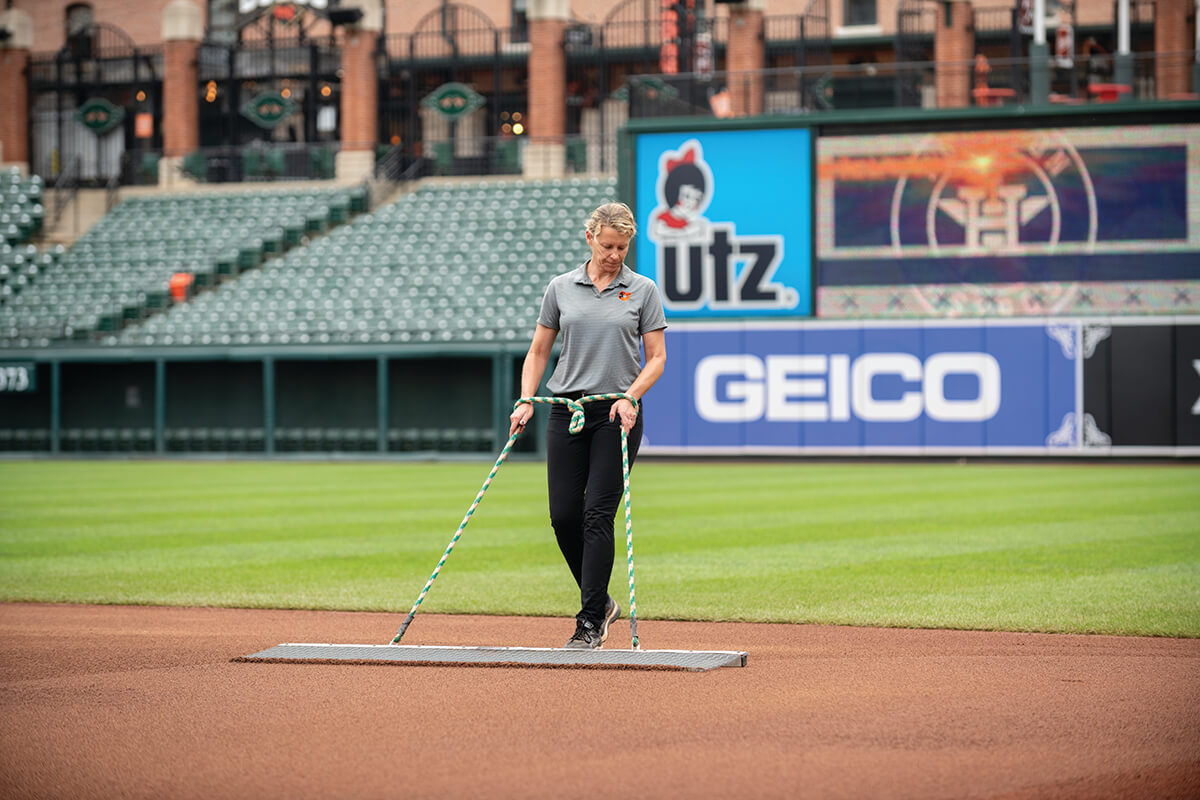 As a kid growing up in New Castle, Delaware, she never dreamt of monitoring radars and suggesting game delays to umpires. At the age of 9, Sherry was the only girl on her Little League team. Eventually, while pursuing an agriculture degree from Delaware Tech, she visited Camden Yards on an irrigation class field trip and fell in love with the idea of working at the stadium one day.
"I realized I could do this in baseball, my favorite sport," she says, and the thought of being a woman in a male-dominated profession never crossed her mind. It simply seemed more exciting than working with plants and flowers anywhere else.
Two years after that trip, she cold-called former O's head groundskeeper Al Capitos and landed an internship with the grounds crew. She was an assistant head groundskeeper for three seasons, then had a three-year run in the minor leagues as the Trenton Thunder's head groundskeeper in New Jersey. But in November 2006, Capitos left Baltimore for a new job. Shortly after, the head groundskeeper's office at Camden Yards became hers.
It's a corner office with a view unlike any other. Beneath the right field seats near the foul pole, a window carved into the wall looks onto the diamond and the westward sky—by design.
"I can actually see the big black clouds coming over the ballpark," she says, which in the end is way more reliable than some fancy radar.