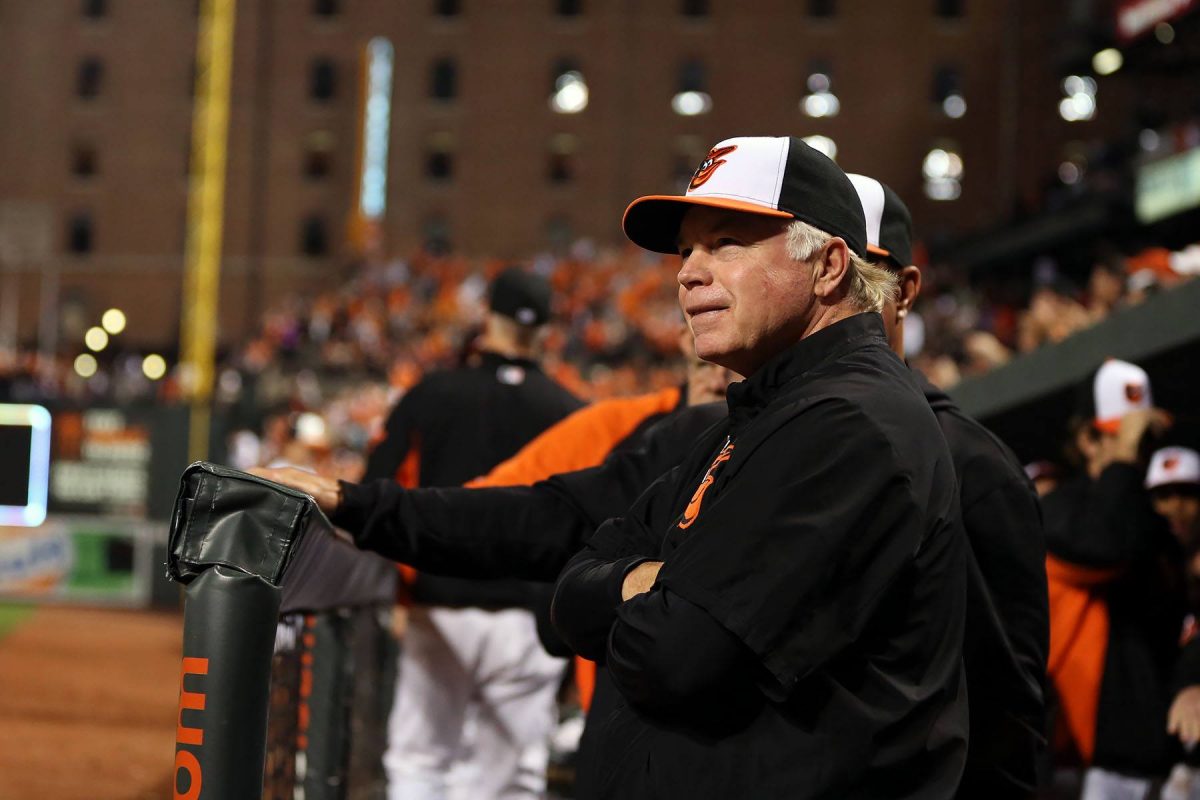 Baltimore Orioles
The feeling is almost surreal—especially to someone in my generation—that the Orioles finished the regular season on top of the American League East with a 12-game lead over the Yankees. We have completely cruised (pun intended) into the playoffs, somewhere we've only been twice in 16 years.
Not to mention, we lost three of our All-Stars and still managed to finish on top. You can't help but think this year's Orioles are a team of destiny, and the man controlling that fate earns our Stud of the Regular Season.
Stud of the Regular Season for March 31-September 28:
Buck Showalter
The Line:
This season, our manager helped the Orioles earn 96 wins—tied for the second-highest in the MLB this year behind the Angels, and the most wins for the O's since 1997.
Studliest Moment:
Showalter had a lot of studly moments this season—especially when it came to manipulating the roster to combat injuries, like Manny Machado returning from knee surgery in April only to go out again from his other knee in August. Chris Davis was on the disabled list with an oblique injury in April (and is currently riding out a 25-game suspension for Adderall) and, when he returned, Matt Wieters fell off the active roster for an elbow that needed Tommy John Surgery.
Losing three All-Stars would certainly crumble most franchises. But with Showalter and Dan Duquette at the helm, the team filled holes with unlikely replacements: Nick Hundley, a former third-string catcher for the Padres; catcher Caleb Joseph, a 28-year-old rookie; third baseman Jimmy Paredes from the Royals; outfielder Alejandro De Aza from the White Sox; and third baseman Kelly Johnson from the Red Sox.
With this unexpected set of tools, not big names by any means, Showalter juggled playing time according to match-ups and, ultimately, created plenty of Orioles magic moments that led the team to another playoff bid. To use the phrase the manager himself coined (and has since been turned into a t-shirt and hashtag): "I like our guys."
The Clincher:
Maybe even more impressive than his roster mechanics is his class as a leader. Starting with the clinch game on September 16, Showalter left the faltering Ubaldo Jiminez in a few extra innings because he could see in his eyes that it meant a lot to the pitcher, whose parents were attending the game. After the O's last out, players jumped in a huddle, sprayed bottles of beer on each other and into the crowd above the Orioles dugout. But Showalter stood on the first step of the dugout, watching quietly, taking it all in and letting his players have their moment.
This graciousness continued during Derek Jeter's last game in the Bronx, as the Orioles stayed in the visitors' dugout to clap and watch Jeter's celebration. After the game, Showalter explained the move in a quote that captures his humility, but he's also quick to point out that the Orioles—unlike the Yankees—aren't done playing yet. Classy, but tough.
"Our guys, everybody has a lot of respect for Derek and what his career has been about," he said. "You never like to lose a game, but you try to keep a grip on reality and the whole gamut of it. We wish him well and I'm sure it was a great moment for him here. And it will be a great moment for us as we go forward to continue to play."
I read this ESPN article a couple of years ago essentially saying that Buck Showalter was, among other things, a genius, a mind-reader, and a fortune teller. Judging by his tenure so far, I'm convinced that that is 100-percent true. I would only add to that last that he is a hard-worker (showing up at 11 a.m. for night games), detail-oriented (removing a photo from the clubhouse that depicted an Orioles loss), and can deliver a one-liner like nobody else (My favorite was his response to Buster Olney's "What'd you like about that home run?" "I like that it went over the fence.")
Birdland, it's time to #BuckleUp!
Be sure to check back for continuing coverage of Orioles post-season, as we'll be reporting live from the pep rallies and games, beginning with Thursday's ALDS opener against Detroit.