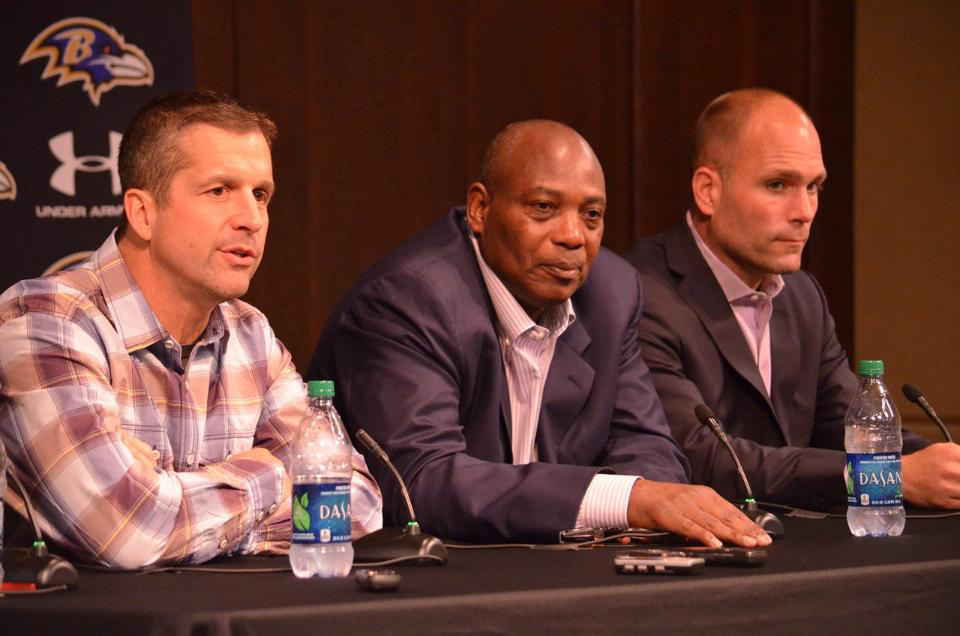 Baltimore Ravens
After watching his team go a third straight season without a playoff appearance, Baltimore Ravens owner Steve Bisciotti announced a (future) change at the top of the organization Friday.
No, John Harbaugh is still head coach, but Bisciotti told reporters at his annual "State of the Team" press conference at the Ravens' Owings Mills headquarters that longtime general manager Ozzie Newsome, the architect of the franchise's two Super Bowl championships, will step down at the end of the 2018 season. Newsome has been on staff since the Ravens' first season in 1996.
Ravens assistant general manager Eric DeCosta will take over control of the 53-man roster then, a move that's the culmination of a succession plan hatched after the 2013 season, when Newsome was given a five-year extension with the idea that DeCosta would take over when the contract was through.
"That's a year away," Bisciotti said, "so Ozzie will step down as GM, and has assured me that he's not going anywhere, and that he will work with me and work with Eric for a smooth transition."
Bisciotti made the announcement in response to a question about whether he considered firing Harbaugh or Newsome after the Ravens missed the playoffs for the fourth time in the last five years.
"It was certainly a consideration, but not one I was inclined to make this year," Bisciotti said.   
DeCosta, who has been courted by many NFL teams to be their general manager the last few seasons, has repeatedly declined interview opportunities in order to stay with the Ravens, most recently last offseason with the Green Bay Packers. 
It seems his loyalty is being rewarded now, as the team looks to reclaim its perch among the league's consistent playoff contenders. The Ravens have a 41-41 record since its Super Bowl XLVII win, and since signing quarterback Joe Flacco to a mammoth contract afterward. 
Newsome will remain with the organization after 2018 in a consulting role and Bisciotti joked "he'll be the highest paid scout in America." A 1999 Hall of Fame inductee as a tight end, Newsome became the NFL's first minority general manager when he was promoted from VP of player personnel in 2002.
Bisciotti said he's looking for changes in the scouting department—recent rookie drafts haven't necessarily panned out great for the team—and DeCosta is a "great leader of the scouts." 
DeCosta has worked for Newsome for 20 years. Before being named assistant general manager in 2012, he was the Ravens' director of player personnel and director of college scouting.
"I think he has learned from Ozzie," Bisciotti said. "It's Ozzie's department, but most of all the interaction with the scouts is with Eric. I've seen the way he goes about the business, embracing technology and analytics. I like working with him. … There are people running other franchises who got the job because Eric wouldn't take it."
Harbaugh, meanwhile, will appear on NBC's pregame, halftime, and postgame coverage of Sunday's Super Bowl between the New England Patriots and Philadelphia Eagles. No doubt he'll be asked about this front office move, and his own future.
Bisciotti said Friday that the coach is safe heading into what will be his 11th season at the helm of the franchise.
"I'm not going to give a playoff or bust edict to you all, or my coach," the owner said. "He's been under the most pressure he's been under his whole life. I may as well replace him now if I tell him make the playoffs or you're out of town next year."
He also brushed aside a question asking if the franchise was getting "stagnant."
"I don't think we're stagnant at One Winning Drive," Bisciotti said. "Disappointed, embarrassed, and determined, but not stagnant."