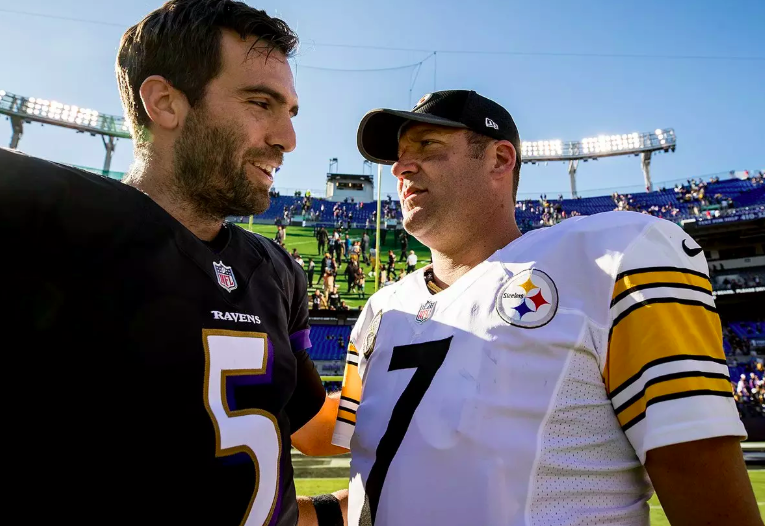 Baltimore Ravens
The Ravens-Steelers rivalry has brought some of the most memorable sports moments over the years: Big Ben's broken nose, the tragic playoff defeat of 2011, and who could forget Tomlin tripgate?
This Sunday night should be no different as the Baltimore Ravens (2-1) head to Heinz Field to take on their arch rivals (1-1-1) in a showdown that will surely come with some hard hits.
"They've turned into little mini-shootouts, and they've been a lot of fun to be a part of," Joe Flacco told reporters.
There is a certain brand of "AFC North" football, Steelers coach Mike Tomlin explained, which involves a lot of physicality and force.
"We've been going at it with these guys it seems like forever now," he said. "You learn not to go into this game with any preconceived notion."
One factor both teams are thinking about, though, are the new NFL guidelines prohibiting defenders from landing on quarterbacks with their full body weight.
"Let's not turn this into the NBA flop fest," Baltimore Ravens defensive coordinator Don Martindale told ESPN, referring to players embellishing contact (aka the Tom Brady special). "Because now the quarterbacks are making a mockery of it to the officials and the league. Now, you're insulting the officials and the league if you do that."
The Steelers QB has expressed concern about there being too many roughing the passer calls with the new guidelines and, when asked if they would apply to Terrell Suggs on Sunday, he had a pretty simple answer.
"Absolutely. If he gets close to me, I'm asking for the flag," he said. He then went on to talk about his long-time relationship with Suggs. "We've played so many years against each other . . . I know he does a lot of talking about me, too, but I think there's a lot of mutual respect there . . . some mutual respect trash talking, if you will."
When asked if he could share some of that trash talk that Suggs gives him on the field, he said, "When it comes from him, it's probably not family-friendly."
On the opposite end of that spectrum was Tampa Bay's Gerald McCoy, whose microphone picked up him apologizing to quarterback Ben Roethlisberger before hitting him in Pittburgh's win last Monday.
"I don't think you ever get an apology from a Raven," he said with a laugh. "You know the whole world is watching and you want to give it everything you have."
The Steelers will be playing without star running back Le'Veon Bell, who's waiting to sign his franchise tender. The Ravens will still be without cornerback Jimmy Smith, who is still out on his suspension for using performance enhancers.
The good news is that C.J. Mosley will play Sunday night after recovering from a knee injury, which should give the Ravens defense a nice boost.
The Steelers defense hasn't looked great so far and hopefully the Ravens can take advantage, especially considering Baltimore is the first team in NFL history to start a season with touchdowns on each of its 12 trips into the red zone.
What the Steelers will try to do to keep us out of the red zone is apply a ton of pressure up front, like they did against Tampa Bay, forcing four straight turnovers with QB Ryan Fitzpatrick looking very roughed up.
Joe, you've been warned.
"We know if we can get in his face and disrupt his timing it's going to help the DBs out," Steelers defensive end Stephon Tuitt said about Flacco. "We brought it from all over against Tampa Bay and that's what you need to do against a veteran guy like Flacco."
Martindale summed up what what it will be like watching the two adversarial teams battle it out Sunday night in prime time.
"I liken it to Ali-Frazier, Bird-Magic," he said. "I think if you're a sports fan, that's how you view it."