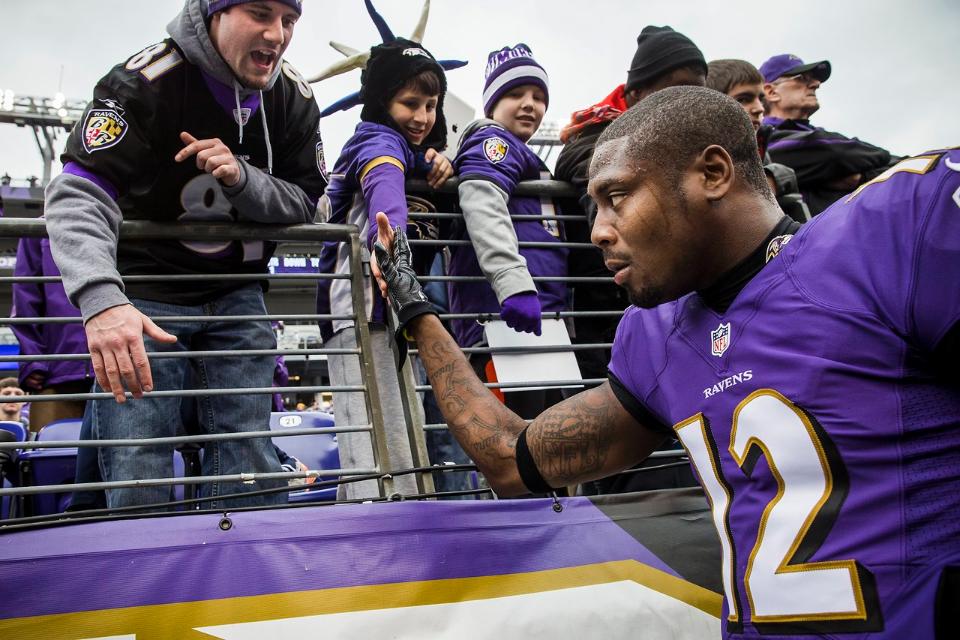 Courtesy of Baltimore Ravens
The Ravens terminated Jacoby Jones' contract this afternoon, after he spent three years in Baltimore.
This past year Jones was primarily used as a returner, dropping five passes and muffing two punts, catching just nine passes for 131 yards.
However, Jones was one of two players to rank in the top 10 last season in both kickoff and punt returns. Plus, he was largely responsible for our epic post-season run in 2013.
"We don't win Super Bowl XLVII without Jacoby," general manager Ozzie Newsome told BaltimoreRavens.com. "You immediately think of the touchdown against Denver in the Divisional round and then the big plays in that Super Bowl—the long touchdown from Joe [Flacco] and the kickoff to open the second half. He also had a big punt return in that game. Jacoby was an outstanding Raven, good teammate—on and off the field."
According to the Ravens, cutting Jones frees up $750,000 in salary cap space, giving the team some flexibility heading into free agency.
During his three years here, Jones became a particular fan favorite, appearing on Dancing With the Stars, performing many a memorable touchdown dance, and recently fulfilling the dreams of a young cancer patient.
"Jacoby is one of my most favorite players ever to coach, an absolute joy to be around," said head coach John Harbaugh. "He's a good person with a good heart."
For his part, Jacoby simply tweeted:
#RavensNation it's been real….. #luv
— Jacoby jones (@TheRealJacoby12) February 25, 2015