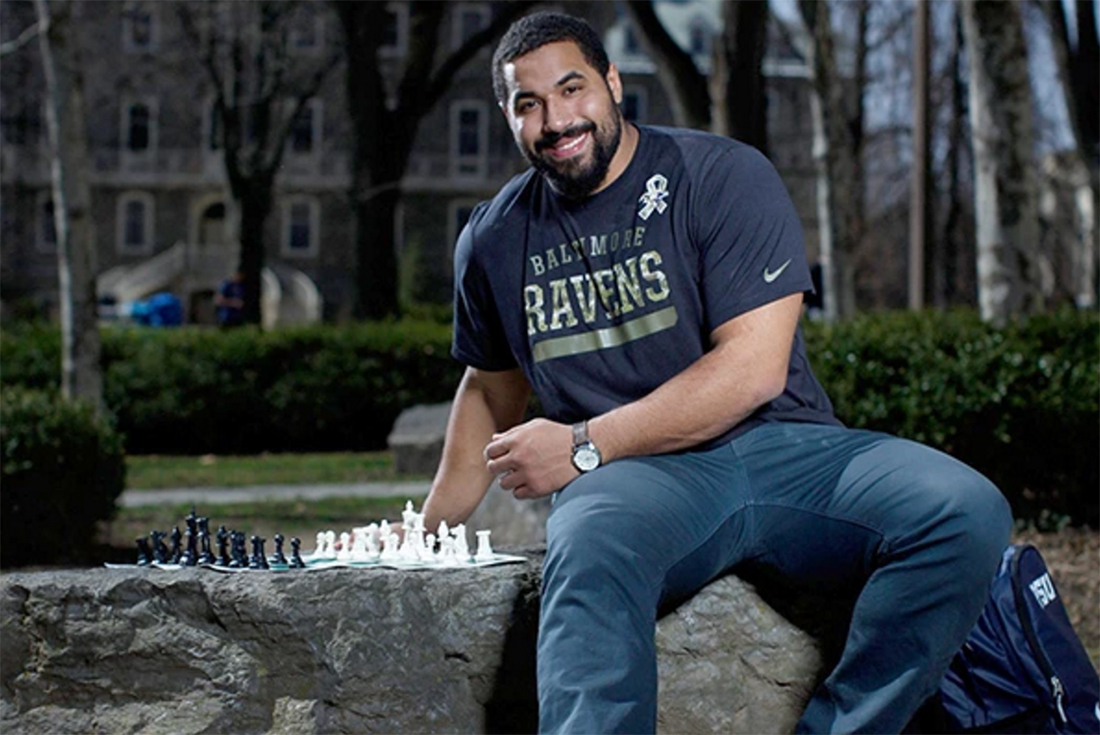 Courtesy of Chess.com
Chris Tillman is bright light in series against his former team.
We admit that this week wasn't the best for the Orioles, who lost the series to the Seattle Mariners. But the good news is that we're still tied for first place in the division and that the three-game series had some shining moments.
One was Joey Rickard's amazing defensive skills. And certainly another was Chris Tillman's outing on Wednesday night against his former team. Tillman held the Mariners to two runs for 6 1/3 innings, making this his sixth quality start and holding his ERA steady at 2.61. Whether it's a coincidence or not, Tillman remains undefeated against his former team. With characteristic modesty, the pitcher told The Sun that the win had very little to do with him. "We just seem to swing the bats well every time I pitch against these guys," Tillman said. "A big defense night for us tonight, too . . . We took some really good swings off a really good pitcher."

Towson and Loyola's lacrosse teams will duke it out in NCAA quarterfinal.
Coming off of an upset over the No. 2 Denver Pioneers on Sunday, the Towson Tigers lacrosse team heads to Ohio to take on regional rivals Loyola. Just a few short years ago, the Loyola Greyhounds were considered the fierce and persistent underdogs in the Maryland lacrosse world, but now Towson is reminding us of a team with that same tenacity.
"To go out and beat the No. 2 see really showed the kind of team that we are," Towson redshirt senior midfielder Ben McCarty told The Sun. "We were really happy to get that win." The Tigers better keep that fire going when they meet the Greyhounds (13-3) in an NCAA quarterfinal Sunday at Ohio Stadium in Columbus, Ohio. The two teams have already met earlier this year, when Towson defeated Loyola for the first time since 2007.
"Playing Towson is awesome because they're close to home," sophomore long-stick midfielder Zac Davliakos told The Sun. "We know they beat us last time. It really gets you fired up to go out there and try to put your best foot forward." Watch it all go down on Sunday at 2:30 p.m. on ESPNU.
Ravens' draft pick Chris Moore plans to give out footballs to fans.
ESPN's Jamison Hensley had a great story on its website this week about Ravens fourth-round draft pick Chris Moore. Last Christmas Eve, the University of Cincinnati wide receiver got flagged for a unsportsmanlike penalty after he gave away the ball from a 47-yard pass to a young fan at the Hawaii Bowl.
"I was more upset that they took the ball from the kid," Moore told ESPN. "After the game, I gave him all my stuff and all the gear I could. I felt bad."
So it's music to Moore's ears that, unlike in college football, there is no penalty when players give out a football to the crowd. But, his first touchdown catch won't be going to a fan. "Every other one after that, they can have them," he said. "I'm not going to lie about that. The first one has to go to mom."
After that, though, expect Moore to be handing out footballs Cam Newton-style. Moore is known for going deep—his 21.8 yards per reception in 2015 was ranked eighth in the nation, and he finished with 26 career touchdowns. "When I got the phone call on draft day, I got real excited. I know Joe Flacco has that cannon," Moore told ESPN. "I love to go deep and I love to make the big plays and get the fans into the game."
We like this guy already!