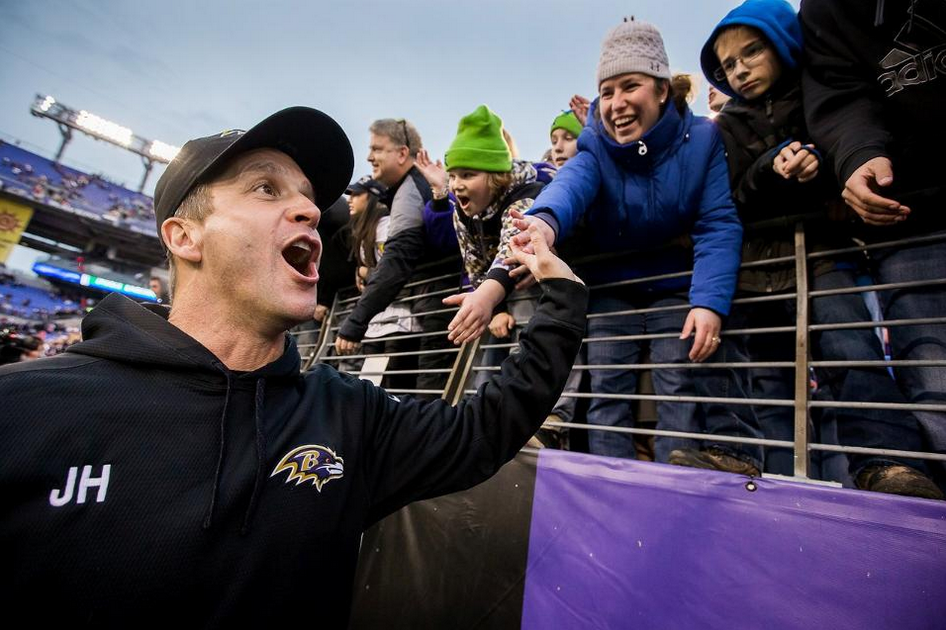 Baltimore Ravens
When Joe Flacco tossed a 53-yard pass down the sidelines to Torrey Smith during the fourth quarter on Sunday, Ravens nation collectively held its breath. But Smith hauled in the completion, and followed it with a 16-yard touchdown on the very next play, to save the Ravens season and spark a playoff run.
To celebrate the start of the playoffs, the Ravens will be hosting various "Flock Parties" throughout the state, complete with alumni players, cheerleaders, Poe, and chances to hang out with 98 Rock, get your car painted, and win prizes. A schedule of the parties, which start tomorrow, is below:
Tue., Dec. 30, 2014
5:00-6:00 pm
Giant Food
1020 W. 41st Street

Baltimore, MD 21211
Wed., Dec. 31, 2014
9:30-10:30 am
Merritt Athletic Club
5301 Campbell Boulevard

Nottingham, MD 21236
Wed., Dec. 31, 2014
12:00-1:00 pm
Verizon Wireless
2476 Solomons Island Road

Annapolis, MD 21401
Fri., Jan. 2, 2015
12:00-1:00 pm
M&T Bank
8200 Perry Hall Boulevard

Baltimore, MD 21236
Fri., Jan. 2, 2015
2:00-3:00 pm
Smyth Jewelers
2020 York Road

Timonium, MD 21093
Fri., Jan. 2, 2015
4:00-5:00 pm
Giant Food
8100 Loch Raven Boulevard

Towson, MD 21286
Additionally, the Ravens digital team is giving fans opportunities to win prizes throughout the week. Contest codes will be announced on various mobile and social platforms and, each day, fans enter that unique code
into this form to win the prize. Various prizes include autographed helmets, jerseys, footballs, and posters.
Though it's been a season of ups and downs, it certainly feels nice to be back in the playoffs. So, go ahead, celebrate a little.