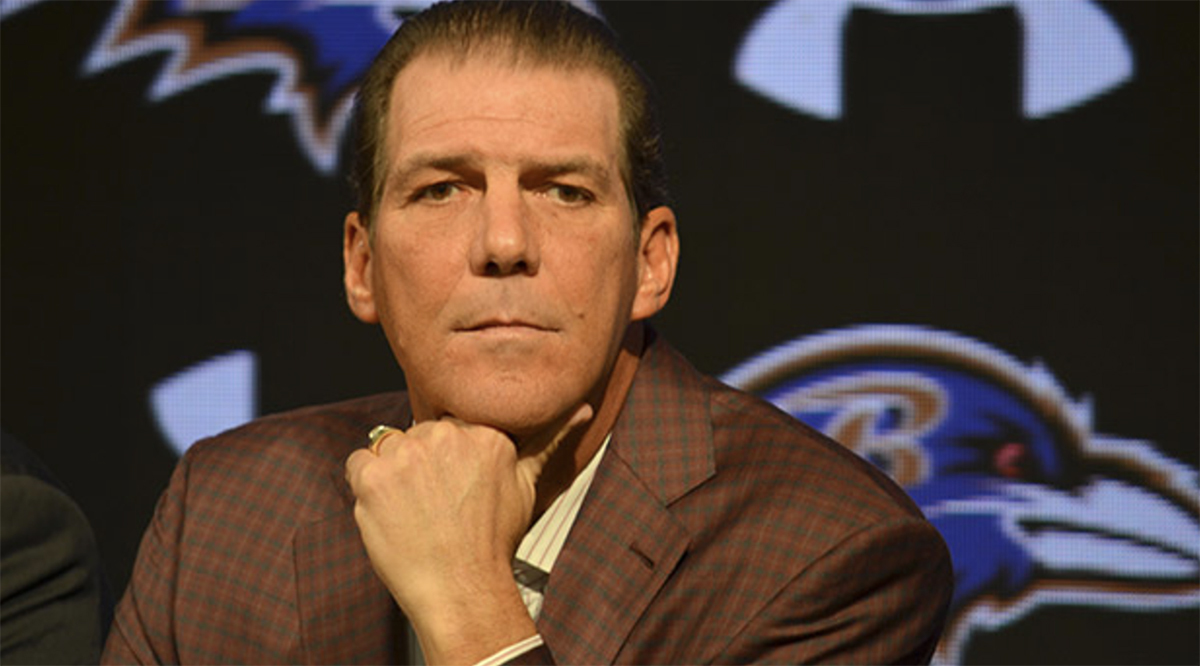 Ravens owner Steve Bisciotti says team will continue to pass on players with domestic violence history. 
Watching from afar, it was unclear who asked the question during the Ravens' annual State of the Team press conference on Tuesday in Owings Mills, but kudos. It came not in these exact words, but team owner Steve Bisciotti answered as if it did. More than two years after video surfaced that turned Ray Rice from a loveable small-sized hero to a toxic, unemployable running back, are the Ravens still staying 100 yards away from drafting or signing players with questionable pasts, or nebulous "character issues"?
"Character is a pretty big pot," Bisciotti said, "but some people we're going to take off our board. That's the way it goes. Domestic abuse? Not taking them. Kansas City is in the playoffs, partly because of a guy they took a chance on. Will we take chances like that again? I don't think so."
In the razor-thin, competitive, and big money NFL environment, the approach can make a difference. The Ravens had an 8-8 record with nine games decided by six or fewer points and . . . we all know what happened in the Steelers game on Christmas. As the Ravens self-made billionaire owner noted, Chiefs rookie wide receiver Tyreek Hill, who in 2015 pleaded guilty to beating his pregnant girlfriend while in college at Oklahoma State, has been a key player as Kansas City grabbed the second seed in the AFC postseason. In the name of winning, teams take calculated, if not morally questionable, risks. "It does [come up] all the time," Bisciotti said, like with talented Oklahoma running back Joe Mixon in December (who, like Rice, was caught on tape).
The Ravens aren't going there. Even with "the pitchforks," out from fans, after a second straight playoff-less year, as the owner acknowledged during the 30-question, 70-minute media session. Bisciotti, general manager Ozzie Newsome, and coach John Harbaugh primarily fielded questions about how the team can improve.
"We need to get more out of Joe [Flacco]," Bisciotti said in one of the answers, which were typically measured and reasonable, and also included mention of a potential ticket price increase for next season.
West Baltimore boxer Gervonta Davis gets first world championship shot Saturday. 
As we wrote in the December issue, 23-year-old West Baltimore-native and up-and-coming boxer Gervonta "Tank" Davis was waiting for his first world championship title shot. He will get it on Saturday night at Barclays Center in Brooklyn, New York, against Puerto Rico's Jose Pedraza, the IBF super featherweight (130-pound) champion.
Davis, a relatively small 5-foot-6 lefty, is pound-for-pound strong with amazingly quick hands and a remarkable backstory. He trains out of Upton Boxing Gym on Pennsylvania Ave., under the mentorship of coach Calvin Ford—the inspiration for The Wire character, Cutty—and has endured all kinds of rough situations, with drug-addicted parents for starters. Ford's been a father figure, Upton a refuge.
"I dedicate this fight to my team," Davis said Thursday at a press conference in New York. "I'm no Mike Tyson, Floyd Mayweather, or Sugar Ray Leonard. I'm Gervonta Davis, and on January 14th, I will become a world champion."
Saturday night's fight will air live at 9:30 p.m. on Showtime. Watch early. Davis usually makes quick work of opponents. He's 16-0 with 15 knockouts, 13 coming within the first four rounds, and is promising something similar this time around against the more experienced, taller Pedraza. If Davis wins, he will be Baltimore's fourth world champion boxer; the others are Joe Gans, who owned the world lightweight title during the time of segregation more than 100 years ago, Vincent Pettway (1994) and Hasim Rahman (2001).
Orioles have a minicamp in Florida.
It's not much, but just the sight of the Orioles black-and-orange uniforms under sunny skies makes winter feel a tad warmer. (And it really was yesterday!)
The start of spring training is the traditional sign that baseball season is near. Minicamp? Not so much. Not many major league teams even have them, but the Orioles have the last few years under Buck Showalter, who finds the time valuable. He and a small gang of players had a three-day camp in Sarasota, Florida, this week, mainly to evaluate those coming off injuries, and to look at a few of the organization's minor league pitchers who are a bit more off the radar, but may be factors come the six-month, 162-game slog that is a major league baseball season.
Minicamp did not appear too stressful for veteran players like Chris Tillman, the O's top hurler. Guys like him aren't the focus. Select prospects are. Here Tillman, alongside Showalter and the team's new pitching coach, Roger McDowell, watches young pitchers Garrett Cleavinger and Brian Gonzalez throw.
One pitcher not there? Yovanni Gallardo, who the Orioles traded to Seattle last Friday in exchange for corner outfielder Seth Smith. Gallardo went 6-8 last year with a 5.32 ERA in 23 starts, and spent a good amount of time on the disabled list with shoulder issues. Smith is a veteran, 34-year-old left-hand hitting outfielder, something the O's needed (with Mark Trumbo gone, for now). Last season, while his batting average wasn't spectacular (.249), Smith played in 137 games, had an on-base percentage of .342, hit 16 home runs, and a career-high 63 RBIs. Fun fact: Smith, a Mississippi native and multi-sport athlete, was Eli Manning's backup quarterback at Ole Miss in the early 2000s.

Just 32 days until spring training and less than two months until Opening Day at Camden Yards. Not that we're counting.
Terps win, Terps win!
With a 75-72 win over Indiana on national TV on Tuesday night, the Maryland men's basketball team improved to 15-2 and 3-1 in the Big Ten, and should enter national top-25 polls early next week. The hero of their latest triumph? That would be 6-foot-7, 190-pound ginger-headed freshman guard Kevin Huerter. Call him Big Red. The former Mr. Basketball from New York, who had a late growth spurt in high school, sank a go-ahead three-pointer with just under two minutes left then grabbed a rebound and fed fellow freshman Anthony Cowan with a long pass to give Maryland a three-point lead with 1:12 to go. Fight on, turtles!