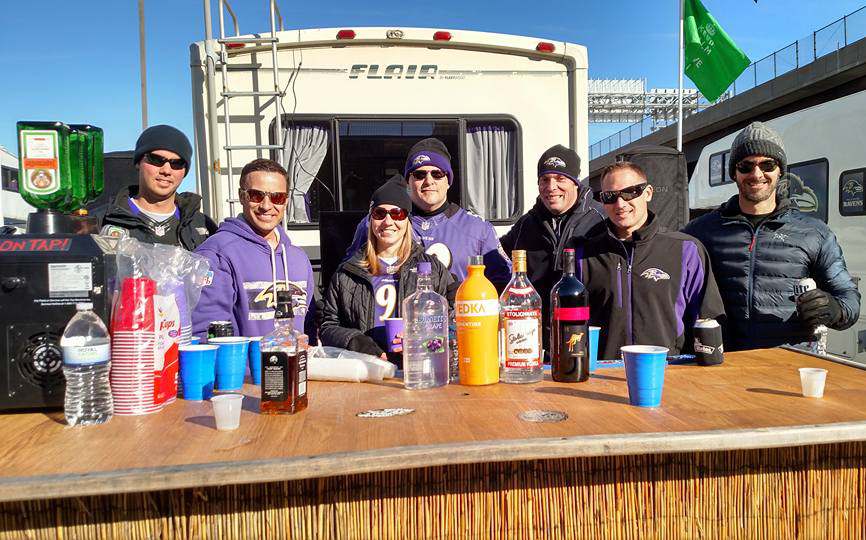 Courtesy of The Original Ravens Tiki Tailgate
Every Sunday home game, as the sun rises over M&T Bank Stadium hours before kickoff, Mike Ayres and a group of his childhood friends arrive at the gates of Lot H in their 23-foot, 1989 Ford Fleetwood Flair RV.
Once parked in section H5, the guys fire up the grill, prepare their playlist, and fully stock a custom-built, eight-foot tiki bar with Jägermeister, Fireball, and an array of flavored vodka. It's a tradition that the group has upheld for the better part of 18 years.
"There was one game last year at the beginning of the season where something happened to the RV and we missed the tailgate," says Ayres, a Bel Air native. "I can't even tell you how many people texted me or saw me at the following game and said 'Where the heck were you?' You get to a point where it's just expected."
Though Ayres has been a regular for years, it wasn't until 2011 that he officially started organizing the tailgate, which was initially started by his friends Chris Schattall and Sean Halligan in 1998—the first year that the Ravens started playing at M&T Bank Stadium.
"In the late '90s, all of the popular bars were tiki bars," Ayres says with a laugh. "So they took it upon themselves to build a portable tiki bar in the back of a box van. There were a lot of tailgates back then, but that was something that nobody else had."
During the 2005 season, the van was replaced by a 1969 Winnebago that Schattall and Halligan painted, gutted, and converted into a cleverly named "Tikibago."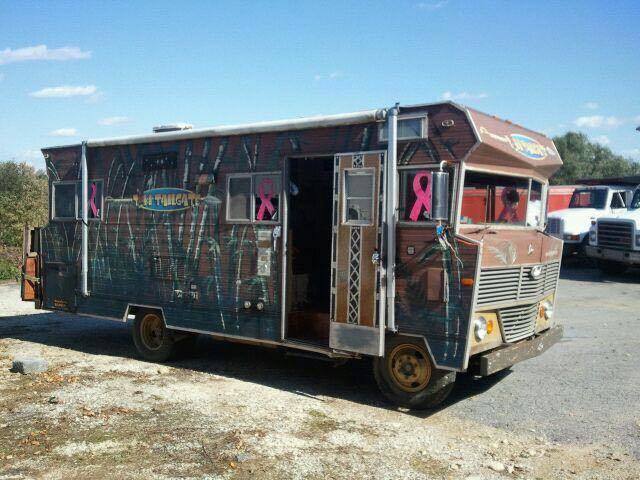 "Anybody was welcome," Ayres says. "There was always a huge group of guys that knew each other, but it's not like you had to be best friends with Sean or Chris. Even now we get 40 to 100 people per tailgate, and at least half are strangers just walking by that hear the music."
The Tikibago was on its last legs by 2010, and has since been replaced with the current Ravens-themed RV, which boasts leather sofas and a flat-screen TV inside. Though the tailgate has changed hands (and motorhomes) over the years, Ayres says that its "the-more-the-merrier" philosophy is one thing that remains a staple.
One of his all-time favorite traditions habitually occurs when the guys invite surrounding fans to crowd around the bar and collectively throw back a Ravens Bomb (grape soda and grape vodka)—a ritual that they've dubbed the "community shot."
"It's all about the fun for us," he says. "We want to be able to share what we've developed over the past 20 years with people who don't have that type of setup. And bringing over people you don't know to do a community shot is the best way to do it. It takes hours and hours of work beforehand, but it all pays off during those five hours."
To get a better idea of just how much work it takes to pull off a top-notch tailgate, check out this timeline of how things usually play out for the Tiki Tailgaters leading up to a 1 p.m. home game:
A few days prior to the game: The guys finalize the details of who's bringing what via group text. Necessities range from hamburger and hotdog rolls to 30-packs of beer and bottles of liquor.
The night before: Ayres picks up the RV from a nearby storage facility. He fills its tank with fresh water for the on-board restroom, and cleans it thoroughly. Fellow organizer Jeff Ford, who serves as the official Tiki Tailgate DJ, loads up all of his equipment in the RV.
On gameday:
6:45 a.m.: The group leaves from Ayres's house in Bel Air.
7:15 a.m.: They make one pit-stop in Perry Hall to pick up a few fellow tailgaters, and another to buy ice to fill the beer coolers.
7:45 a.m.: The RV pulls up at the gates outside of Lot H, which open promptly at 8 a.m.
8:05 a.m.: Once parked in section H5, the guys raise the RV's flagpole and get to work. Adds Ayres: "We purposely bought the flagpole and the Ravens and Miller Lite flags so that people could spot us from across the parking lot." Everyone has their own stomping orders when it comes to setting up. Ayres stocks the bar, Ford assembles the speakers, and others assist with filling coolers and organizing food tables.
9:00-10:30 a.m.: "This is usually the most boring part of the tailgate," Ayres says. "It's normally a group of 10 or 15 of us, but then around 11 a.m. more people start walking over."
11 a.m.: From 11 a.m. to game time is the window that Ayres describes as "peak" time: "The music is going, the shots are going, people are dancing," he notes. "For a night game, we once had almost 100 people outside line dancing."
12:35 p.m.: The group starts packing up so that those who have tickets can head into the stadium. Although Ravens authorities make fans turn off the music in the lots before the game, that doesn't stop the Tiki Tailgate crew from keeping the party going. "Every single tailgate for the past 20 years, at least 50 percent of our group doesn't have tickets," Ayres says. "They have no intention of going to the game. Their only intention is to go and party until it's over."