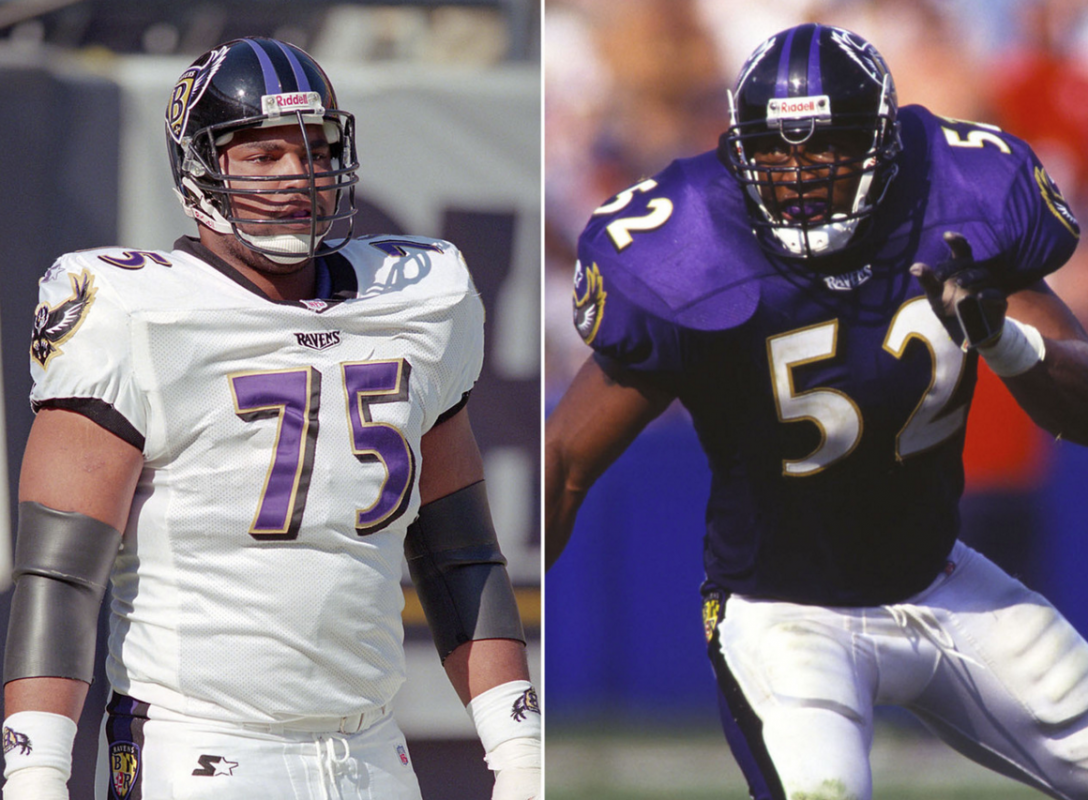 #4: First Draft in Franchise History
April 20, 1996
How it happened: Out of the gate, our brand new Baltimore Ravens picked what the NFL Network ranked as the sixth best draft class in league history. We don't have to remind any serious Ravens fan that the team set a franchise and Super Bowl-winning foundation that day, selecting UCLA offensive tackle Jonathan Ogden with their first ever pick—and the No. 4 pick overall—and University of Miami linebacker Ray Lewis with their second pick and No. 22 overall.
"We were in a new team, in a new city, that didn't have any type of identity," recalls Ozzie Newsome, then running his first draft.
Ogden, of course, is already enshrined at the Pro Football Hall of Fame. Lewis, who already has a statue outside M&T Bank Stadium, will certainly follow suit when he's eligible in 2018. If these picks appear like no-brainers in hindsight, consider the first-rounders selected before Lewis, considered undersized, who either washed out (like Oklahoma defensive end Cedric Jones and Nebraska star running back Lawrence Phillips, picked fifth and sixth overall, respectively) or that you don't remember at all.
---
All season long, we'll be counting down the Ravens top moments in franchise history to celebrate the team's 20th season in Baltimore. Take a look back at what moments we've chronicled so far.
#20: Naming the Team
#19: Testaverde Throws for 429 Yards

#18: First Ring of Honor

#17: Terrell Suggs Becomes Thigh Master

#16: The Insane Final Minutes of the Vikings Snow Game

#15: Torrey Smith's Emotional Win Over Patriots

#14: Peter Boulware Gets Four Sacks in a Single Game

#13: Justin Tucker Nails a 61-Yard Field Goal to Beat Detroit

#12: Flacco Connects With Ray Rice on Fourth and 29

#11: Ray Lewis Strips Eddie George in 2000 Playoffs

#10: Ed Reed's 106-yard Interception Return Against the Browns

#9: Jamal Lewis Rushes For 295 Yards Against the Browns

#8: First Game in (New) Franchise History

#7: Ray Lewis's Last Dance
#6: Ravens Beat Steelers in Playoffs For First Time in Franchise History