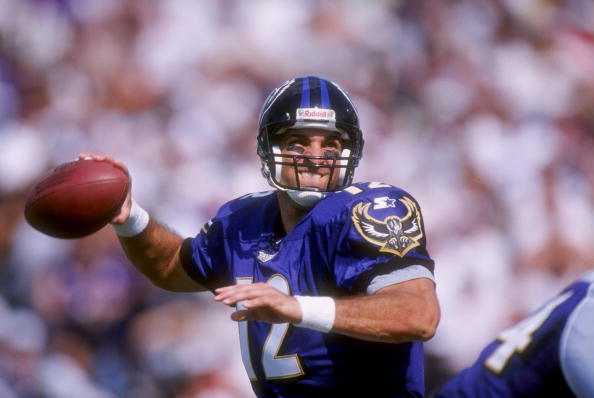 baltimore.cbslocal.com
#19: Testaverde Throws for 429 Yards
Oct. 27, 1996
How it happened: Hard to imagine now, but during their first season the Ravens' identity was the exact opposite of what we know and love as the team's defense-first, battle-in-the-trenches approach to winning.
In 1996, the Ravens only went 4-12. There were some glorious offensive highlights along the way, however. The oft-maligned Vinny Testaverde, a Pro Bowl selection that season, delivered a career year under former Colts' coach Ted Marchibroda, completing 59.2 percent of his passes for 4,177 yards and 33 TDs—the latter two, team records to this day. (We hope, of course, that Joe Flacco breaks all those marks this year—he came close last season.)
The highlight came in eighth game of the season—before 60,000-plus hometown fans—when the Brooklyn-born quarterback hit on 31 of 51 passes, racking 429 yards and three TDs in a wild 37-31 overtime win over the St. Louis Rams. The game-winning throw: a 22-yarder down the left side of the field to Michael Jackson.
The Rams, coincidentally led by future Ravens' QB Tony Banks that day, were a few years away from becoming "The Greatest Show on Turf," but it hardly diminishes Testaverde's effort—the game was his fourth-straight, 3-TD performance.
Viva Vinny!