Turf War
Why we love to hate the Steelers.
Eight seconds and a tiny sliver of pigskin.
That's all that separated Torrey Smith from infamy.
He'd just let a sure touchdown pass dance off his fingertips, and Ravens fans in bars and living rooms everywhere could taste another soul-crushing defeat to the Steelers in their Natty Bohs.
But Smith never wavered. His team trailed by four when, on its final snap, he streaked down the right side of the field, shed a pesky defender, and hauled in the winning touchdown—cementing his name in Ravens lore.
In professional sports' best rivalry, heroes are revered and goats reviled, but neither is forgotten.
Torrey Smith was king that week. In restaurants, at the mall, on the street with his pit bull, Prince, the rookie reveled in the fans' praise about the catch that beat the team they love to hate. He had heard the rhetoric, witnessed the passion from afar, but it wasn't until then that he fully understood what football fans from Baltimore to Bakersfield, from Pittsburgh to Portland already knew—there's nothing like Ravens-Steelers.
"I don't think I'll ever be able to live that one down," Smith says of his grab, which gave the Ravens a 23-20 victory. "No matter where I go in Baltimore, everyone's like, 'Steelers game, Steelers game, Steelers game.' People are like, 'That's my favorite play ever.' I'm like, 'Man, Baltimore's won the Super Bowl.' For people to say that, it's crazy."
Sanity has never been a strong suit for sports fanatics. Let level heads prevail Monday through Friday at the office. Come Sunday, social norms evaporate. Purple camouflage is somehow acceptable attire. Standing in a parking lot at 10 a.m. drinking isn't alcoholism—it's "pregaming." Irrational disdain for another set of jerseys, a neighboring city, for rabid fans not unlike ourselves festers until it reaches a boiling point we call a rivalry.
But it's only when the athletes themselves buy in to the elevation of one opponent above all others, to the sheer magnitude of not only beating but bludgeoning that team year after year, that a true rivalry materializes.
Consider these comments highly unusual and insightful as compared to the standard "it's just a game" drivel:
"Everybody gets their game face on," linebacker Terrell Suggs says of "Steelers Week." "This is the one game we better win. It's very personal."
"It's a lot of hate there on the field," Pittsburgh linebacker James Harrison told Steelers.com. "I hate losing to them. I hate losing to anybody, but to them, it's a lot worse."
Granted, Suggs and Harrison delight in the sound of their own voices more than Pittsburghers love fries on their sandwiches, but in this case, their words ring true.
"You could feel the vibe," Smith says of his first trip to Heinz Field. "I was trying to take it all in. I saw plenty of people flipping that bird as the bus came in. I was like a fan coming into it, because I'd heard so much about the rivalry. It was easily the best environment in terms of being away [from home] I've been in."
"Rival," a 16th-century word stemming from the Latin root rivalis, means "a person or thing that is in position to dispute another's preeminence or superiority." This, in short, is what has led to the emergence of Pittsburgh-Baltimore as the game's best. For the past decade, the teams have ruled their division, clashing twice a year with the ferocity of two alpha males fighting for the last female on Earth.
"It's old-school, smash-mouth football," says Rod Woodson, a Hall of Famer who spent 10 seasons with the Steelers and four with the Ravens. "Each player on each team, they understand that."
On November 18, the teams will meet again in Pittsburgh. For the fourth straight year the game is on Sunday night, a showcase for nationally attractive match-ups.
Two weeks later, they'll face one another in Baltimore. Kickoff is set for 4:25 p.m., the NFL's new time slot for the featured late game. Two Ravens-Steelers games in a physically and emotionally exhaustive three-week stretch. Fans, players, coaches—will anybody be able to get out of bed on Monday morning?
Pro-football teams from Pittsburgh and Baltimore first met on November 12, 1950. The Steelers beat the Baltimore Colts 17-7 before 24,414 fans at Pittsburgh's Forbes Field. It was a rough year for the Colts, who folded after finishing the season 1-11. The team was born again in 1953.
The Colts, of course, became beloved in Baltimore, winning titles in the 1950s, '60s, and '70s. But the rest of the disco decade belonged to the Steelers, which won four Super Bowls from 1974-79.
"When you talk about the Steelers and the Baltimore Ravens you talk about trash-talking, hard-hitting football games. These guys genuinely do not like each other."
Historically, Pittsburgh's main rival has been the Cleveland Browns. The cities are separated by just 135 miles and share working-class values. So, in 1996, when the Browns moved to Baltimore, a city not unlike Cleveland in its blue-collar mentality and love for football, the possibility of continued hostilities existed.
"The question was, 'Would the Ravens be relevant to make it a rivalry?'" says longtime Baltimore sportscaster Scott Garceau, host of a sports talk show on 105.7 The Fan. "I remember the first game in '96 at Memorial Stadium (a 31-17 Ravens win, for the record). It might as well have been played in Pittsburgh. Every time the Steelers did something, you saw about 40,000 Terrible Towels. They just owned the ballpark back then."
It wasn't until Baltimore rode a stifling defense and punishing running game—traditionally the Steelers' formula for success—to win the Super Bowl in 2001 that the rivalry exploded.
"They're so similar it's eerie," says Woodson, whose signing by the Ravens added another dash of spice to the pot. "If you would strip the colors off both teams and you had them play, I don't think you'd be able to tell the difference between who's who because they have such a similar style."
When the expansion Cleveland Browns began play in 1999, many assumed it would reclaim its role as the Steelers' chief rival. Largely because of its ineptitude on the field, that hasn't happened.
"The Ravens are definitely the Steelers' number-one rivals. The Browns are an afterthought. They're really more like a Steelers' punching bag lately," says Jim Colony, co-host of The Fan Morning Show on 93.7 FM in Pittsburgh. "Steeler fans will say, 'I hate the Ravens.' Ravens fans will say, 'Man, I hate the Steelers.' Why is that? It's because the other team's standing in the way, but to me, it's because they're alike. They're almost the same team."
Much as Ed Reed patrols the secondary for the Ravens, Troy Polamalu looms large in Pittsburgh. Ray Lewis and Terrell Suggs dominate defensively in Baltimore, as James Harrison and LaMarr Woodley do for the Steelers. Joe Flacco and Ben Roethlisberger, both towering and tough, are two of the league's more talented young quarterbacks. Untested John Harbaugh and Mike Tomlin took over for successful veterans and haven't missed a beat. Each team's front office and ownership are models of stability.
Still, symmetry alone does not spark a rivalry. The Chicago Bears lead the NFL's oldest rivalry with the Green Bay Packers 92-86-6, but rarely in recent years have both teams been contenders at the same time. Redskins-Cowboys hasn't meant anything in 20 years. Yankees-Red Sox features two collections of millionaire mercenaries playing 18 times a season. Snore.
Only twice in the last decade has a team other than Baltimore or Pittsburgh won the AFC North division. The Steelers lead the regular season series 18-14.
"A rivalry is when both teams win, not when one side beats up on the other," says former New England Patriot Willie McGinest, now an NFL Network analyst. In July, fans on NFL.com chose Ravens-Steelers as the league's best rivalry.
"I agree totally with the fans," he says. "When you talk about the Steelers and the Baltimore Ravens, you talk about trash-talking, hard-hitting football games. These guys genuinely do not like each other, so you know that these games are going to be action packed from the start to the end."
When the two teams tangle, there will be blood. Perpetual nuisance Hines Ward busted Woodson's nose when the safety returned to Pittsburgh as a Raven. Steelers linebacker Joey Porter delivered a cheap shot on Todd Heap in 2004, sidelining him for the rest of the game. Ray Lewis snapped running back Rashard Mendenhall's shoulder in 2008.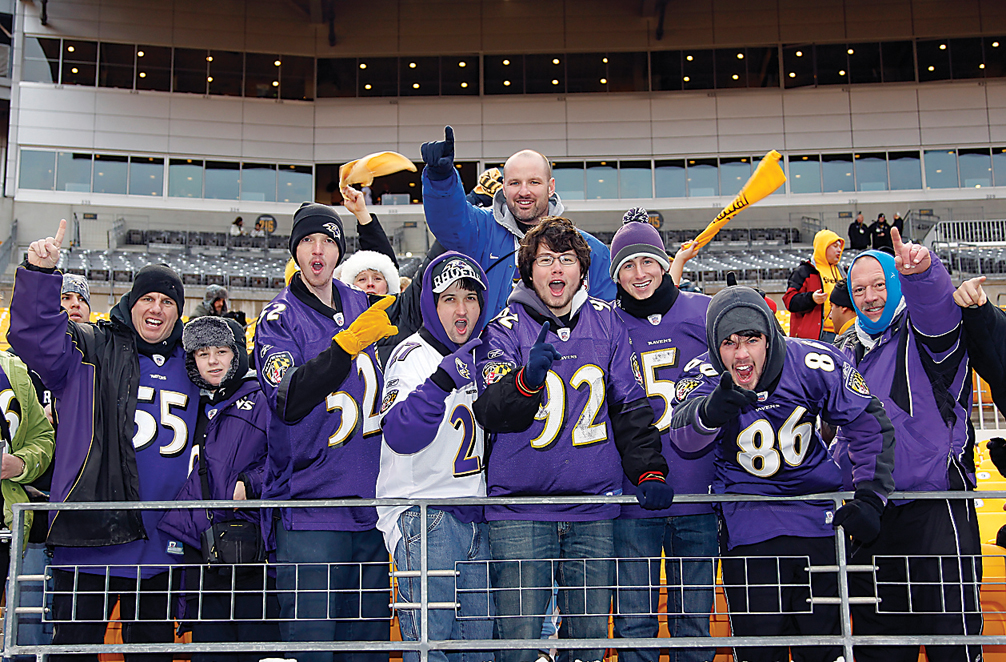 The yapping also is world class, and several times it's centered on pee as much as D. In 2001, former Raven Tony Siragusa suggested that Ravens fans follow anyone wearing black and gold "into the bathroom and take care of business yourself."
"That whole thing was directed more at our fans," he told the Pittsburgh Post-Gazette. "I was tired of seeing all the Steelers fans in our stadium. So I told our fans to stop selling their tickets to Steelers fans. Then, I might have said something crazy like they should pee on their leg. But it was all in good fun."
A year after Ward claimed Baltimore linebacker Bart Scott threatened to kill him, Suggs suggested the Ravens put out a bounty for both Ward and Mendenhall. After hearing from the displeased league office, Suggs backed away from his comments.
"The players, for those of us who have been in it, we know it's Steelers Week, but some of the younger guys, they kind of get a reality check," says the injured Suggs, who donned a T-shirt of a raven flipping Pittsburgh the bird in 2011 and vows to be on the field for this year's Steelers games. "Their piss gets hot, so to say. We know it's the most physical game of the year."
Upon Woodson's Pittsburgh homecoming, some Steelers fans in the parking lot used his old jersey as a urinal. But, Woodson says, his loyalties are divided come game day.
"When they play each other, I'm probably the worst couch potato because I'm yelling at both teams," he says. "I really have a soft spot in my heart for both teams. It's love-hate."
Bryan Gruver and Courtney Squilace can relate. They met in December 2007 when Courtney, a Baltimore native, yet avid Steelers fan, left M&T Bank Stadium early. (The Ravens won 27-21.) She wound up at Bill Bateman's in Reisterstown, where she began arguing/flirting with Bryan, a Ravens fan.
"We blew them out, so I was all about talking to Steelers fans at that point," he says.
Love conquered football loyalty, and this mixed relationship has thrived ever since.
"Two years ago, December 5, 2010, the Steelers played the Ravens," Courtney says. "I remember this clearly only because we had this little rivalry going on. I said, 'Baby, after my team beats your ass, the best thing ever would be if you kneel down before me and give me a ring.' After the Steelers beat his ass, he knelt down and gave me a ring."
Life's been blissful for the happy couple ever since—except when the Ravens beat the Steelers. That profoundly affects Courtney's mood and, thus, Bryan's chances of, shall we say, getting lucky.
"It ain't gonna happen," Courtney says.
Further proof, not that Torrey Smith or anyone else needs it, that Ravens-Steelers is a rivalry with real ramifications.
---
10 Ways to Talk Smack to Steelers Fans:
Your theme song is by Styx. Enough said.
It took you 40 years to win your first championship. It took us four.
"Steelers Nation": The reason there are Steeler fans everywhere is because people can't wait to get out of Pittsburgh.
Your mascot, Steely McBeam, looks like the lovechild of Bill Cowher and Marge Simpson.
The Immaculate Reception was an illegal play.
Would you feel comfortable in the same bathroom as Ben Roethlisberger?
You guys got Tebowed.
The Terrible Towel isn't an invention. It's a washcloth.
You know you play dirty when there's a "Hines Ward rule" and James Harrison is singled out in a massive concussion lawsuit.
Who would you rather see in a Head and Shoulders commercial: Troy Polamalu or Michael Phelps?
"Yinz" is backwards mountain speak