Purple Heart
Ray Lewis is going to retire a Raven. You can exhale now.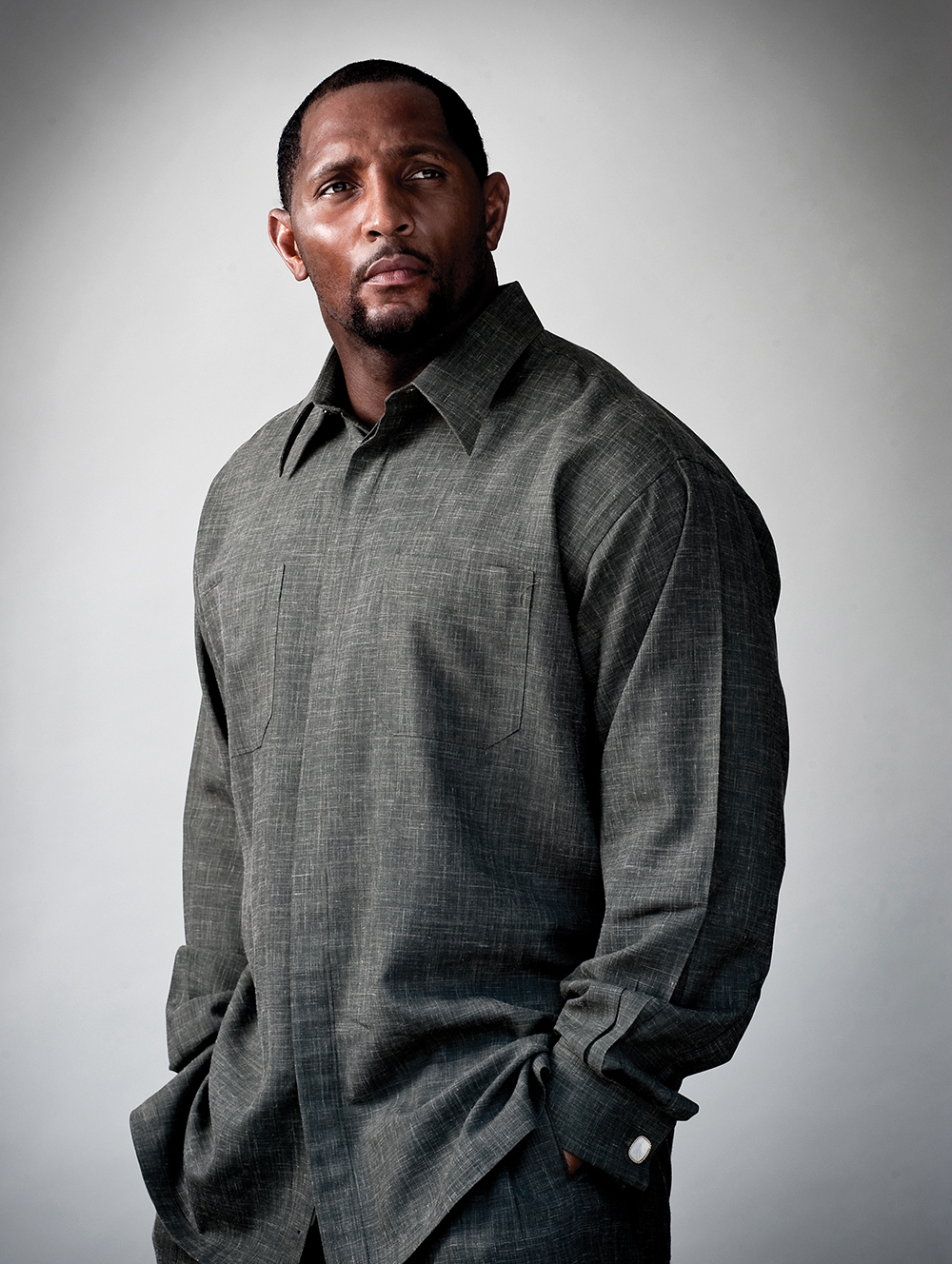 Even Ray Lewis's displays of affection are physical. As he roams from station to station at his youth fitness clinic on a Saturday morning in June, he's constantly reaching out—patting one boy's back, rubbing another's head, gently tugging a little girl's ear. As the children scamper from one activity to another, Lewis reaches down and scoops up 8-year-old Nyeema Harrison with the same cat-like quickness he's exhibited through one of the greatest careers in NFL history. A few whispered words from the linebacker, a quick peck planted on her cheek, and Nyeema's smile beams as brightly as the white beads in her hair.
A muddy field has moved the event inside the DiPietro Family Ice Skating Rink in Patterson Park, but the rain hasn't dampened the kids' enthusiasm—or Ray's. Floating among the groups, he executes running, jumping, and cutting drills at half-speed but with a distinct sense of purpose.
"You want to be really good at something? Anything? Watch the way Ray does it," says Ravens head coach John Harbaugh. "He is relentlessly obsessed with improvement in everything he does in his life."
Leading by example. It's been the Ray Lewis way throughout his remarkable 13-year career on the field, and—for anyone who's bothered to look since that dark night in Atlanta nearly a decade ago—off it as well.
Indeed, if there is one theme to the 34-year-old's life right now, it's this: The drama is over. The indictment in Atlanta? Ancient history. The contract disputes? Resolved. Controversy over the famous pregame warrior dance? In the past. (The dance stayed, as if there was ever any doubt.) Rumors that Lewis was ever seriously thinking of leaving Baltimore? Greatly exaggerated.
"Very few guys get a chance to finish their career in the same place," says Ravens owner Steve Bisciotti. "When we grew up, guys stayed with you their whole career. I think from the fan perspective, people are still not used to losing people that they've fallen in love with. It didn't used to happen. Thankfully, it's not going to happen with Ray."
His connection to the people of the city and their bond with him is a major reason Lewis says he never really considered leaving the Ravens this offseason, despite "flirting" with other teams.
"I flirt when I pass a beautiful woman on the street, that doesn't mean I talk to her," he says. "I would never leave my city. I would never go put on another uniform and go play for another year. It's just not worth it. What I give back to my city, and what my city gives back to me, there's no greater reward. I love Baltimore."
By the end of the free clinic, a ring of sweat has soaked the neck of Lewis's gray T-shirt, which has the words "Heart of a Lion" scripted across the back. The children sit on the floor in a semicircle surrounding their hero: It's story time.
"Don't ever let no one in life tell you who and what you can or cannot be," Lewis tells them, as they listen in rapt attention. "Somebody has the same dream you have. Somebody has that dream to be the next great linebacker, the next great cheerleader, the next great lawyer, the next great doctor. Everybody here has the opportunity to be whatever they want to be."
Lewis is rolling now, that familiar preacher's cadence emerging in his voice: "At the age of nine I decided I want to be here. It was a dream, but I chased that dream. I promise you to this day, I don't believe there's a man living that can flat-out outwork me. I'm not the biggest, I'm not the fastest, not the strongest. Never have been. But when it comes to working, you can wake up in the morning and be a better person because you want to be a better person."
It's that drive to greet every day as an opportunity to better himself and those around him, and most of all, to serve God, that has propelled Lewis to the highest echelon of sports and what can only be called "Ripkenesque" status in Baltimore. It's what motivates him to train three times a day, five days a week during the offseason, a regimen that includes everything from backpedaling up the big hill at Oregon Ridge Park wearing a 40-pound weight vest to swimming through waves in the Atlantic Ocean off the coast of Miami.
While every offseason is packed with such physical challenges for Lewis, few have been as emotionally tumultuous as the past one. A free agent for the first time, it was far from certain that Lewis would end his career where it was born, a place he refers to as "my city." There was talk of "hometown discounts" (that is, Lewis taking a pay cut to stay in Baltimore), rumblings he had lost a step, reports of him bolting to the Big Apple, or even worse, Big D (Dallas).
Lewis, now 34, ultimately signed a new seven-year contract in March worth more than $40 million that will enable the last original Raven to end his career wearing purple and black.
But then, in July, friend and former teammate Steve McNair was murdered in his sleep.
"All of our days, whether we want to face it or not, will come," he testified during a rousing eulogy he delivered to 4,500 mourners at a memorial service for McNair. "One day all of our eyes will close. What will your legacy be? If I had to hear two great words from the Great King, if he could just whisper to me, 'Well done, well done,' then I'm okay to keep fighting."
As always, there's plenty of fight left in Ray Lewis.
Only a few weeks after the funeral, Lewis plays with regular season intensity during the first Friday of training camp. He barks instructions in the defensive huddle as if it's January, not July, and as if he's facing the Steelers, not his own teammates, on the other side of the field.
"They don't have a chance to move the ball on us!" he screams.
He's right.
Speaking to the media after practice, Lewis is asked if he's the same player today as he once was.
"I think I'm probably better now," he says. "I'm just wiser. Wisdom overrides talent. Wisdom never leaves, wisdom grows. I'm a better player because I can make my [teammates] better. Influencing them is what my job is today."
Neither Ray Lewis's father nor his mother carried the surname Lewis. When he was born to 16-year-old Sunseria Smith on May 15, 1975, his dad was nowhere in sight.
"My father and I have a relationship now, but he was not in my life," Lewis says. "He left me and my mom in the hospital. My mom was very poor. We couldn't afford medical bills. She had a friend who was in the military named Ray Lewis, so she called him up and she asked him would he lend me his name." Smith often worked multiple jobs to put food on the table for Lewis and his four younger brothers and sisters while the family was struggling in Lakeland, FL. There wasn't even enough money for little Ray to play pee-wee football.
"I used to play football all the time in the streets or the backyard. I enjoyed the physical contact," Lewis says. "I lived right across the street from the first place I started playing. I went to my mom and said 'I want to play football.' She was like, 'I don't have no money to sign you up for football.' So I used to stand and watch practice. One day one of the coaches walked over to me and said, 'Why aren't you playing?'"
Impressed by the young man's obvious love for the sport, the coach forked over the fee and convinced Smith to let her baby play ball. From the second he joined the Lakeland Lumberjacks, Lewis was determined to achieve greatness.
"Football became my bread and butter," he says. "That was my way to deal with all the things I was going through."
With no extra money floating around, Lewis was resourceful in gathering training tools. His first was a deck of cards, which he used to dictate how many push-ups and sit-ups to do. Face cards counted for 10, aces 20, jokers 25. A two would provide a welcome rest, yet Lewis yearned for kings and queens. It's an exercise he continues today, only now he uses three decks at once.
Despite his resolve, not many big-time colleges recruited Lewis, a running back and kick returner at Kathleen High School. (Hard as it is to fathom, Lewis has always been considered "undersized" in football terms.)
"We were the only ones that offered him a scholarship," says Pete Garcia, then a recruiter at the University of Miami. "I went to a playoff game to see another player. I didn't even know about Ray Lewis."
But he was totally wowed by the intense young man on the field. "He had athletic ability, speed, instincts, nastiness," Garcia says. "He had it all."
Lewis accepted a scholarship to become a Hurricane without even visiting the school. But he wasn't content just to make the team—he wanted to be immortal.
"From the day he stepped foot on campus he was a leader," Garcia says. "He started his first game against Colorado. I came into the locker room afterwards and I saw him addressing the media. He said, 'I am going to be the greatest linebacker in University of Miami history.' I called him over and said, 'Ray, maybe you better slow down.' He said, 'Pete, you don't believe in me?' Some kids talk and they can't back it up. Ray backed it up."
Butch Davis was Miami's head coach during Lewis's junior year.
"We were winning a game that first year on the road at Pittsburgh," recalls Davis. "It was hard fought, back and forth. We finally took the lead late in the fourth quarter. He basically took the defense on his back that last possession. I could see he was gassed. He said, 'We're not about to lose this game.' Ray was famous for challenging people to make a play, well, he made the play. He made the interception to clinch the win."
Lewis left school after his junior year to enter the NFL draft. The Ravens, gearing up for their inaugural season, used a first-round pick to snag him. A star from the moment he fastened his chinstrap, Lewis has won two NFL Defensive Player of the Year awards and gone to 10 Pro Bowls. He was named MVP of the Ravens' Super Bowl XXXV victory, capping a surreal year that began with his very freedom in jeopardy, and ended with him reaching the mountaintop.
In the early hours of Jan. 31, 2000, Lewis was present at an altercation outside an Atlanta nightclub that left two men dead. Lewis has always maintained his innocence, and murder charges against him quickly were dropped. He pleaded guilty to one misdemeanor count of obstruction of justice and was sentenced to a year's probation.
"I pray about it," says Lewis. "Nobody has ever walked this earth and been perfect, so you have to ask yourself a question: What will you do to make yourself a better person? Will you dwell on yesterday?"
Some do. In chat rooms and opposing stadiums, the mere mention of his name still occasionally elicits venom.
"Human nature is such that I don't think people will forget," says James T. Brown, studio host of CBS's NFL Today and Showtime's Inside the NFL. "As time goes on, I think it gets relegated to the background, especially if one is actively engaged in doing the things he's doing."
Whether the incident served as a catalyst for Lewis to change his life only he knows, but it's clear it altered the trajectory of it. In 2001, he launched his foundation and began the work of lifting the spirits of Baltimore's underprivileged. Each year, the Ray Lewis 52 Foundation provides back-to-school backpacks filled with supplies to 500 kids, gives Christmas presents to hundreds more, and hands out Thanksgiving baskets to nearly 1,000 needy families.
Brown took notice. In 2006, he awarded Lewis a JB Act of Kindness Award, given to an NFL player who exemplifies leadership, dedication, and commitment to team and community.
"His teammates had nominated him, and that spoke volumes," Brown says. "When I was doing radio that year, I interviewed him. He shared some of the things he was involved with in terms of helping children in the Baltimore area, and he got truly excited about it. He definitely stood out head and shoulders above."
Wade Brown, executive director of Diakon Kathryn's Kloset, a community ministry in West Baltimore, has worked closely with Lewis's foundation since its inception.
"For him, it's about the kids," he says. "It's not about Ray Lewis."
Last November, East Baltimore's Maxine Freeman, who's raising her grandchildren—Tylil, 10, and Dennis, 3—on her own, received a basket of Thanksgiving goodies thanks to Lewis's foundation.
"There's a lot of people out here who need food," Freeman says. "It was a long wait and I'm on a cane, but I was very fortunate. We had a fabulous Thanksgiving. If I hadn't gotten a basket, I would have made some kind of dinner. It might not have been what [my grandchildren] wanted, but I would not have let them go hungry. The baskets made it special."
Lewis's influence reaches beyond the walls of his own locker room. Players from around the league routinely seek him out in search of advice and inspiration.
"You can just talk to him, and he can motivate you to do something you didn't even know you could do," says Redskins wide receiver Santana Moss. "When I got into the league, my first game against him, the first thing he said was, 'I love you. Have a good game.' Just to see that he had that much respect for a guy on the opposing team, it touched me in a different way. I'll always remember that."
Steve Bisciotti feels that Lewis is a natural-born leader of men. "Leadership is like beauty. You know it when you see it," he says.
Nonetheless, the Ravens' decision to re-sign Lewis was far from a no-brainer. Ninety-nine percent of linebackers are on the downward spiral of their career at age 34. Is Lewis?
"He's lost a step as far as speed, but he ain't lost anything with hittin'," says Redskins running back Clinton Portis.
"If he's lost a step or two, that means he's now probably just as fast as every other linebacker in the league," says Adam Schefter, an NFL reporter for ESPN. "How many teams in the NFL have a defensive player as the face of the franchise? Most teams make sure their quarterback doesn't get away. This team had to make sure its quarterback, who happens to be a linebacker, didn't get away."
Ray Lewis isn't going anywhere. He's engaged to be married and is more involved than ever in the lives of his six kids (two of whom live with him at his Baltimore County home). He's recording a spoken-word album that's scheduled to be released by December and says acting and motivational speaking are in his future, when retirement beckons. Just when that will be, God only knows.
"Only He can tell me that," Lewis says. "When I'm done, I won't go back and forth. Right now, I'm having too much fun. I'm going to keep leading these men."
After practice Lewis jogs toward the throng waiting for his autograph. As he walks down the line signing, thousands of fans and a mass of reporters, team employees, a few teammates—all of Baltimore, it seems—follow behind.