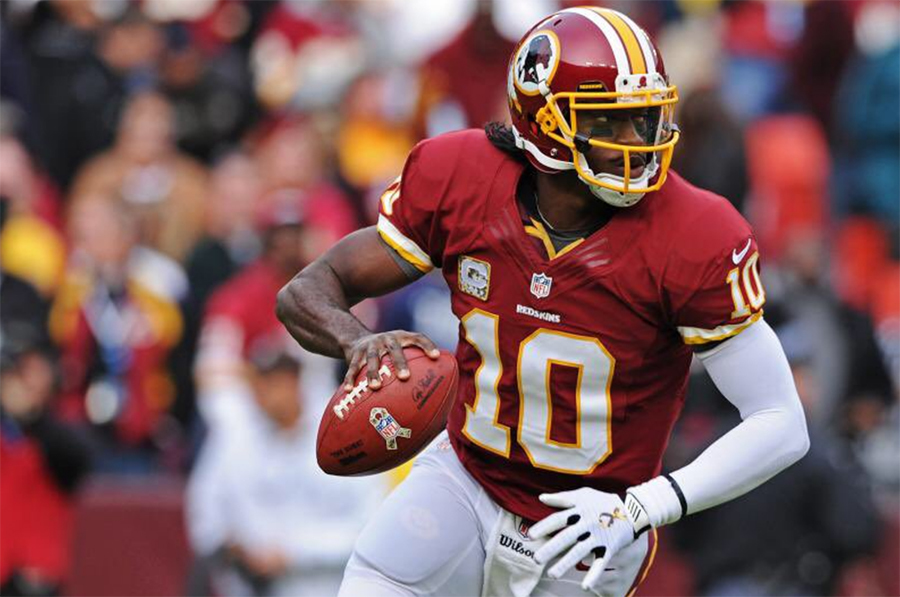 NFL.com
Not for nothing, but being a backup quarterback in the NFL is a dream job. A team pays you at least a million dollars a year to maybe play in a game. Fans scream in support of you when your superior struggles, and nobody expects anything if you happen to see the field and have responsibility thrust upon you.
 
Well, perhaps Baltimore's best job, which has been open for a few months, has been filled again. The Ravens on Tuesday agreed in principle to a one-year contract with former Washington Redskins quarterback Robert Griffin III, the idea being that he will be Joe Flacco's backup. The deal is reportedly worth $1 million, plus a small signing bonus, and will become official next week.
 
Griffin, 28, is a bit of a headliner, but he hasn't played in the NFL in more than a year. Known as RGIII since he first made national headlines in college at Baylor, when he won the Heisman Trophy as college football's top player as a junior, the Redskins selected him No. 2 overall in the 2012 NFL Draft. He was the league's rookie of the year, showing off a strong arm and trademark brand of electric playmaking ability, throwing for over 3,200 yards and rushing for 815. But he sprained his knee that season in a December game against the Ravens, of all teams, and his career never fully recovered.  
The Redskins released Griffin in 2015 and the Browns did the same in 2016 after a not-so-great year of play, and Griffin was out of the league completely until impressing the Ravens in a workout in Owings Mills last week. Flacco's previous backup, Ryan Mallett, is currently a free agent. "You look at the quarterbacks out there and, where we're at right now, I'm pretty excited about this player," Ravens coach John Harbaugh said of Griffin during a press conference Wednesday. "I'm really feeling like we got a steal. . . . I felt like he really wanted to be here, really wanted to be a Raven, felt like this was the place for him."
 
Indeed . . .
Almost immediately after the signing was announced, social media commenters and sports writers wondered why the Ravens decided to take a shot on Griffin to be the No. 2 QB and not, let's say, Colin Kaepernick, the former 49ers quarterback who faced the Ravens in Super Bowl XLVII, who is still available. Many observers think Kaepernick is being blackballed for starting the league-wide social justice protest of kneeling for the national anthem last year.  
It didn't seem the Ravens wanted to touch the hot-button issue with 10-foot pole after Harbaugh floated the possibility of signing Kaepernick last preseason. (At the time, the team sought more reinforcement for Flacco, who's endured some injuries in recent years, including a herniated disk last season.) Plus, Ravens owner Steve Bisciotti said in December that several Ravens players kneeling for the anthem before the team's Week 3 game in London and fans' reactions to that was a factor for low attendance numbers at M&T Bank Stadium last season.
 
So, the RGIII experiment begins.  
A bit of internet snooping reveals that Griffin, also known for a gregarious personality and charm, was recently married, in March in Miami, to Grete Sadeiko, an Estonian heptathlete (that's the crazy track and field competition with seven different events). Check out their wedding highlight video:
So, there's some good karma around this signing. Griffin's honeymoon period is still going strong, and he just landed a cushy new job. Doesn't get much better than that.