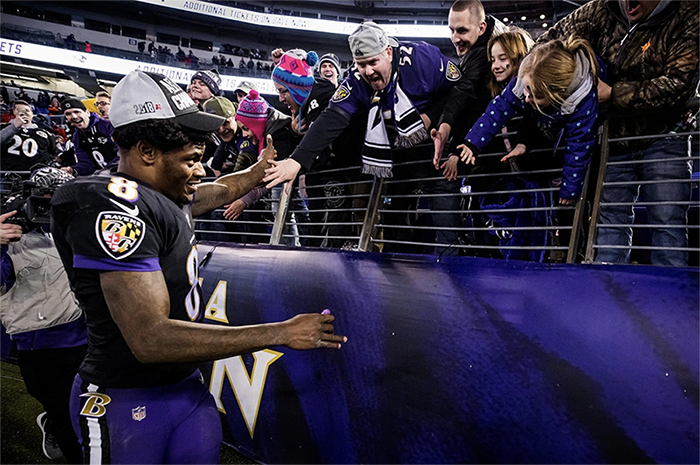 Shawn Hubbard / Baltimore Ravens
The first impression was just about the same as the current impression. Back in August 2018, when we watched Lamar Jackson's post-game interview following his stellar preseason debut at M&T Bank Stadium, there was this 21-year-old kid wearing a backpack, looking like he just got out of school, while also appearing completely comfortable delivering forthright answers to reporters' questions.
"I was kind of lost," Jackson said, very much a rookie, while describing his feelings about leading the Ravens out of the tunnel and onto the field, as he did in his first game in Baltimore that night, even with incumbent quarterback Joe Flacco starting the game.
More than one year and a playoff run later, having unseated Flacco amid a meteoric rise to stardom as quick as one of Jackson's sprints downfield, Jackson's personality, honesty, and sometimes unintentionally funny one- and two-liners to the media are even more endearing.
Like, when someone asked if he felt any different about showing up to work after last year's cathartic regular-season finale that advanced the Ravens to the playoffs, after C.J. Mosley's late-game interception? "I changed my clothes," Jackson said, eliciting laughter. "That's about it. Everything else in the same."
He's likeable. By being himself on and off the field—fast and dynamic, fun and authentic—Jackson had won over a postseason-starved fanbase, teammates, and coaches, all before he turned 22. "That's what you appreciate about him," coach John Harbaugh said this last season. "He's not trying to prove to anybody that he's this or that or the other. He's very comfortable with who he is. You like being around people like that."
We'll take it one step further. Here's seven reasons why it's so easy to love Jackson right now:
He's led the Ravens to the playoffs.
Let's just start with the obvious. We wouldn't be having this discussion if the Ravens missed the playoffs for a fourth straight year. Jackson is the single most important factor in why fortunes turned.
Yes, you'll hear a lot about the Ravens' great defense, and their ball-control scheme, or other players, but all of that would not have been highlighted or given a chance to thrive had Jackson not excelled when given the chance after Flacco's hip injury last November.
There is no more critical position in the NFL than quarterback, and Jackson's has emerged as a bonafide game-changer—with speed, poise, improvisation and, yes, tell the world—LAMAR JACKSON CAN THROW!
He shares.
He's quiet and private in some ways—for instance, you probably haven't heard Jackson talk about how his father died in a car accident when Jackson was just 8 years old, and how that happened on the same day his great-grandmother died from cancer—but he's very outgoing and public in other respects.
If you want a good look at who Jackson really is, just follow his social media accounts. He's an open book, as authentic as they come, just like your little brother or cousin that Instagrams their daily activities. Except almost 1 million people follow new_era8.
And his social media performance of late has rivaled his play on the field. As in…
He'll take a picture with you, take one for himself, then post them both.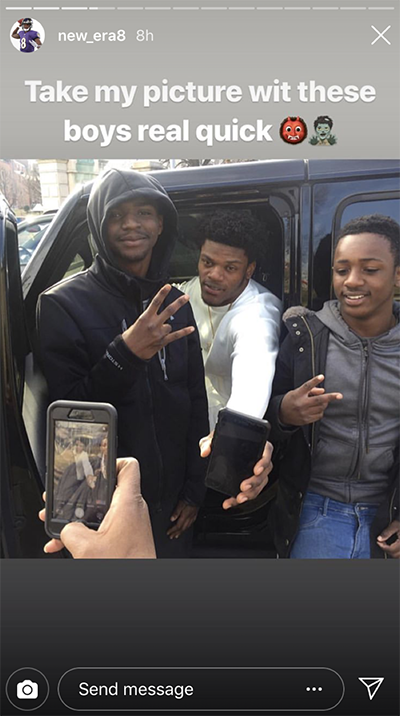 I still can't figure out the logistics of this picture. He might have asked whoever took it to send it to him, which is great. But the point is Jackson seems to have embraced his newfound celebrity in Baltimore just fine.
"I just love it here," Jackson said. "Anywhere I go, people notice it's me, stuff like that. Even when I first came out of college, when I first got drafted, whenever I go out, people always came up to me, this and that, 'Lamar!' They want to take pictures and stuff, so it's pretty cool to have that going on. People don't hate me here, so I love it."
He's a creative writer, and an appreciative neighbor.

Jackson went all "this is your captain speaking," with beautiful and inspiring metaphors in a New Year's social media post that made us want to start tailgating.
That came after he thanked his neighbors for the appreciation:
His mom was his agent heading into the NFL draft.
This confused and concerned some NFL teams, but didn't put off the Ravens.
Jackson's bond with his mom, Felicia Jones, is as strong as they come. She is his immediate family and most prominent champion. At the start of Jackson's freshman season at the University of Louisville, the team had plenty of quarterback options on the roster, but needed a punt returner. Jackson's athleticism made him an attractive option, and someone on the staff asked him to go return a punt one day at practice. When Jackson's mom found out, she called the head coach, Bobby Petrino.
According to Sports Illustrated, she said, "Punt returner doesn't look like quarterback," and "reminded them all of the promise Petrino had made to her and her son while sitting on a couch in their South Florida home. Jackson never went back for a punt return in practice again."
Similarly, when teams wanted her son to play wide receiver, which happened often, Jackson always said no. Be it when he was playing in high school, or being recruited to play in college, or the pros, many coaches or observers have suggested Jackson go play another position like wide receiver. His throwing accuracy was the culprit. At every step, NFL included, the coaches ultimately adjusted to him. He won the Heisman Trophy at Louisville as college football's top player in 2016, the Ravens drafted him at the end of the first round, and he's already about to make NFL history.
He'll be the youngest quarterback to ever start an NFL playoff game.
At age 21 Jackson set a league record, and have the chance to for another: as the youngest starting QB to ever start in a playoff game.
Not that he'd admit that stat is a big deal. "I was 21 all year, so this is another game for me," he said.
He's reflective of the city.
This might be the elephant in the room. We're not one to insert discussion about race where it might not belong, but you can't deny a few things here. Baltimore's population is 64-percent black, at last U.S. census count. Football is America's most-watched sport. To have a promising, young black player at quarterback, the team's most prominent position, is a big deal here.
Jackson's presence as a headliner—it's been 11 years since the Ravens last had a black starting quarterback—has to be a welcome sign for the majority of the city, especially its youth. Once asked about seeing kids wear his No. 8 jersey, Jackson said, "I love it. I might buy my own jersey and wear it. I might join them."
You can't make this stuff up, and it's why we've quickly learned to love Lamar.