Owings Mills High School alum Donovan Smith is a starting offensive lineman for Tampa Bay. —Photography by Kyle Zedaker/Tampa Bay Buccaneers via AP
Like a pair of boats drifting in opposite directions on a still Chesapeake Bay night, Donovan Smith and Shaquil Barrett—future NFL standouts, now teammates with the Tampa Bay Buccaneers—came and went from Baltimore in the summer of 2008, not recognizing each other one bit.
Smith, then going into his sophomore year of high school, was just arriving in Owings Mills with his twin sister from Hempstead, New York, on Long Island—where the neighborhood was getting too dangerous for his family's liking. "Baltimore paved the way for us," Smith told us this week, "and we took advantage of it."
At the same time, Barrett was leaving a different part of town—Baltimore City—for similar reasons. His parents were unsettled after their boy was robbed of his phone and wallet at age 15, and after he started to miss football practices. So before what would have been his junior year at City College High, Barrett followed one of his three older brothers, Kevin, far, far away to a strict boarding school called Boys Town in Nebraska.
At first, Barrett's father, Steven, who nudged his boys into sports like football, wrestling, and baseball to stay out of trouble, didn't think young Shaquil—the second youngest of six siblings—necessarily needed to go away. But his mom wasn't against it. Ultimately, Barrett says it was his decision and both of his parents agreed with it. "I wanted somewhere with more structure," he says.
Thirteen years ago, Smith and Barrett were just high school kids being steered away from trouble. They didn't know what the next few weeks would bring, much less years. Or that now, more than a decade later, they'd be teammates sharing the same field, the same locker room, the same colors with Tom Brady, about to play together in a Super Bowl at the end of a pandemic—and that tens of millions of people will watch the biggest game of their lives.
But here they are.
Smith, 27, is a starting offensive lineman for Tampa Bay, one of the big (and friendly, affable) guys—he's 6-foot-6, 340-pounds—in charge of keeping Brady and his uniform clean. Meanwhile, Barrett, 28, is a quick pass-rushing linebacker making more than $15 million this season alone to chase down quarterbacks. Not unlike what he did for free as a kid at Leon Day Park, playing for the rec-league Charm City Buccaneers. "That's where it all started," Barrett says. "That's where I fell in love with the game."
If all goes well for them during the big game Sunday, you should hear Barrett's name and see his jersey number, 58, a good amount as he harasses Kansas City star Patrick Mahomes. And, if things are going good for Smith, you won't hear about him at all; the only time offensive lineman get attention—especially during a Super Bowl—is if they make a mistake.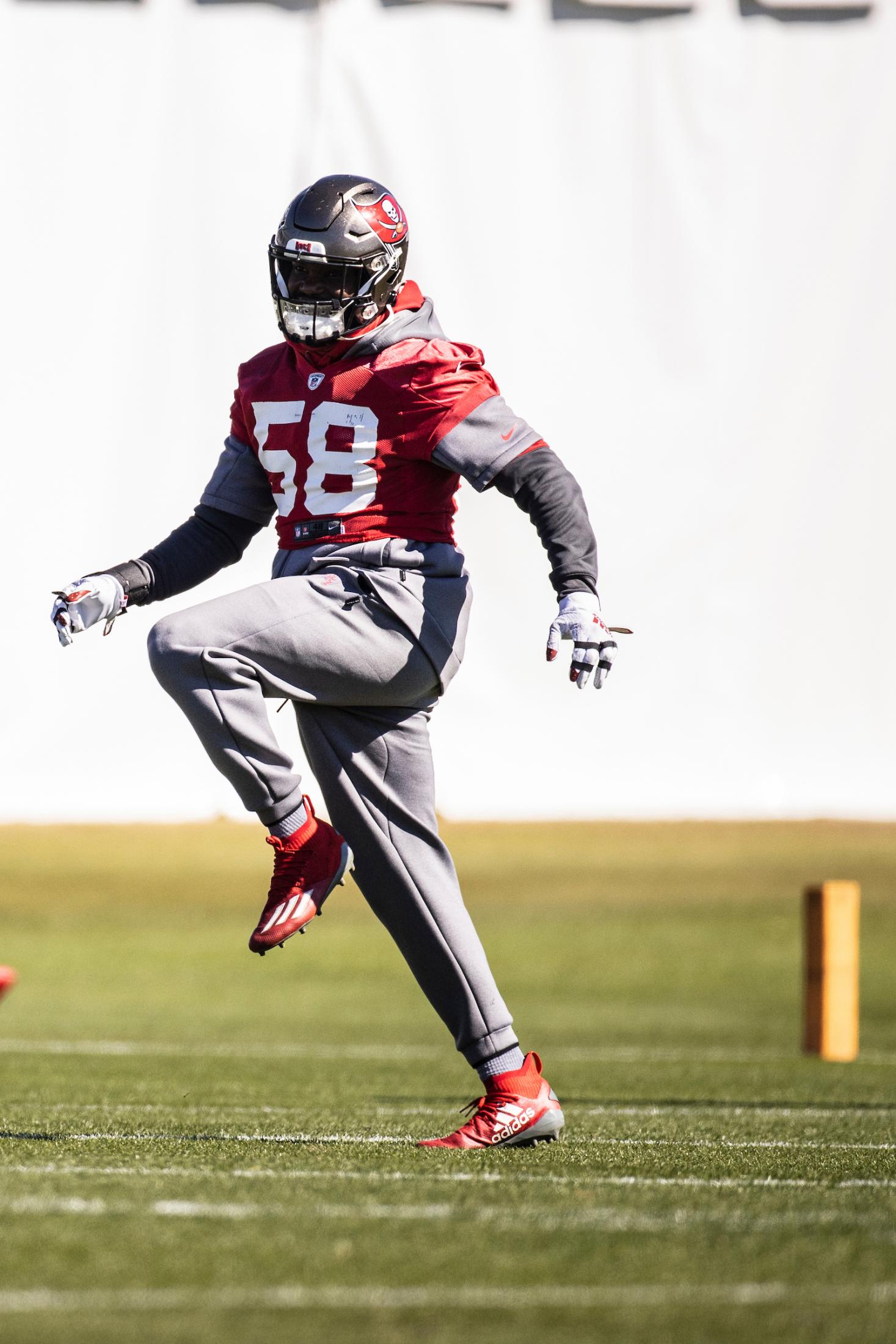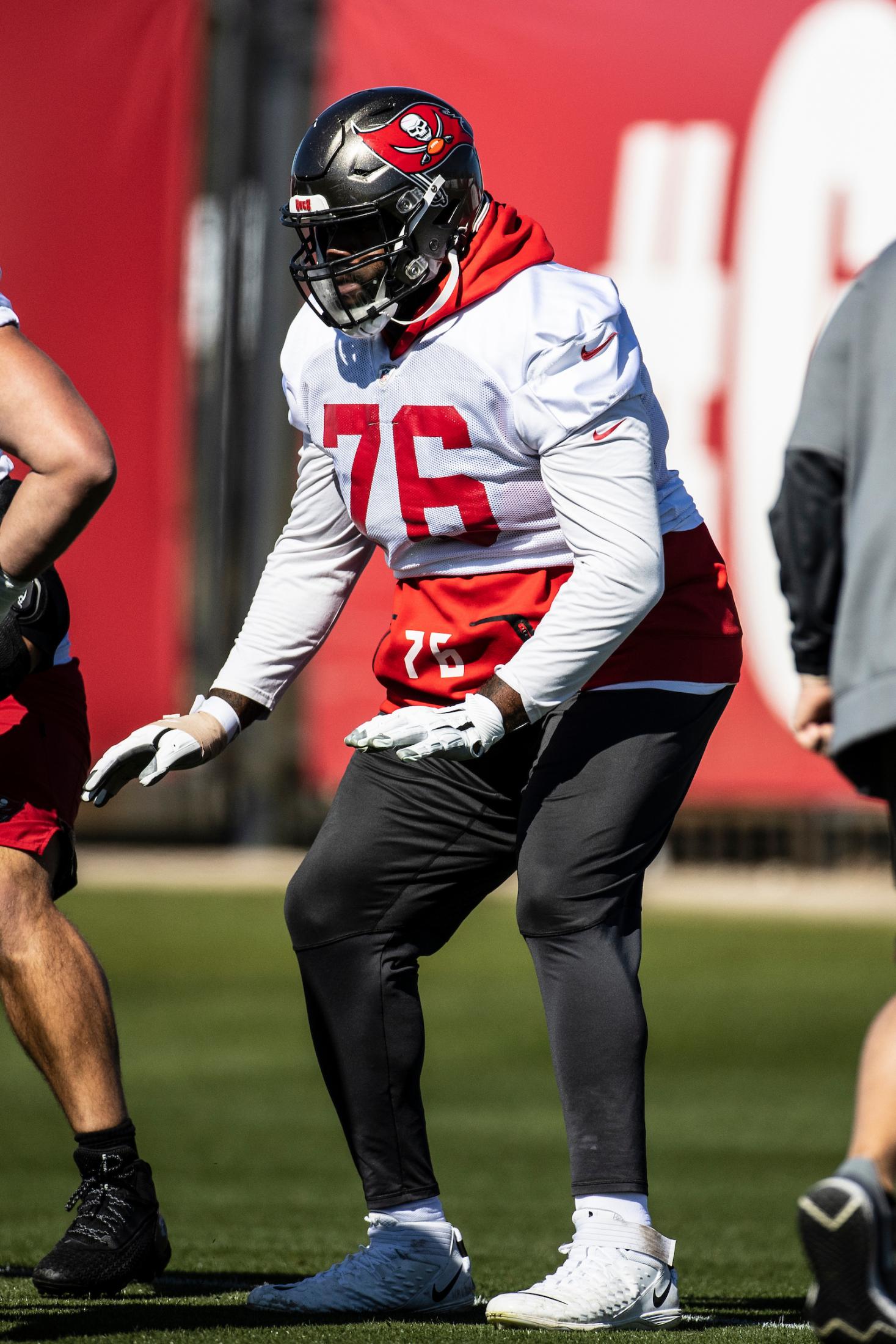 But you most likely won't hear either of the stories about their formative years in Baltimore, so we'll do that here.
Smith, back in his teenage days, was big and powerful for his age and grew to 6-foot-5, 280 pounds as a high school senior. After he moved to suburban Owings Mills to live with his uncle, he almost immediately started attracting the attention of NCAA Division I college recruiters as he dominated opponents, even as the Owings Mills High School football team went 0-10 in each of his first two seasons.
"Gang up on No. 75," opponents often shouted during games, referencing Smith's jersey number. And the college coaches knew the potential they saw in him. Then, in 2009, the team finally won a game after an 0-3 start.
"When I got to Owings Mills, we were not good," Smith says. "But we chipped away. We got our first win, then second, and third. Over the years, they've done a great job developing the guys and becoming a program that is playing ball and winning games."
Off the field, Smith says the move to Baltimore County, "opened my eyes to a lot of different things," like, we imagine, reportedly being picked up for a recruited trip via a helicopter by one coaching staff. "New York was fast-paced, the whole mentality in Baltimore was just different. I met so many people in all different walks of life. It allowed me to see things different."
Smith ultimately decided to attend and play football at Penn State. After starring there, too, the Bucs drafted him 34th overall in the second round of the 2015 NFL Draft.
During these very same years, Barrett found a sense of comfort in a new place, too—way out in Omaha, where cornfields were more common than anxiety-provoking city streets.
"It was a culture-shock for sure, but for good things—not having to watch your back 24/7 or having to worry about wearing the wrong colors in the wrong place," Barrett says, sharing a sobering, yet all-too-typical thought for many kids growing up in the city. "It was a good, refreshing change of scenery."
While playing football at Boys Town, Barrett started to hone his skills and got the attention of the coaches at the University of Nebraska-Omaha. He did well there—and met his future wife—until the school dropped the football program after his freshman season.
Eventually, he landed at Colorado State—where he says nuanced coaching by former Pittsburgh Steelers thorn Joey Porter accelerated his career. He blossomed into the Mountain West Defensive Player of the Year as a senior, but was passed on by all 32 NFL teams in the 2014 NFL Draft. He signed with Denver Broncos as an undrafted free agent, and has stuck in the league, getting better each year. This will actually be his second Super Bowl appearance; he won a championship with the Broncos five years ago, though mostly in a reserve role as a much lesser-known talent then he is today.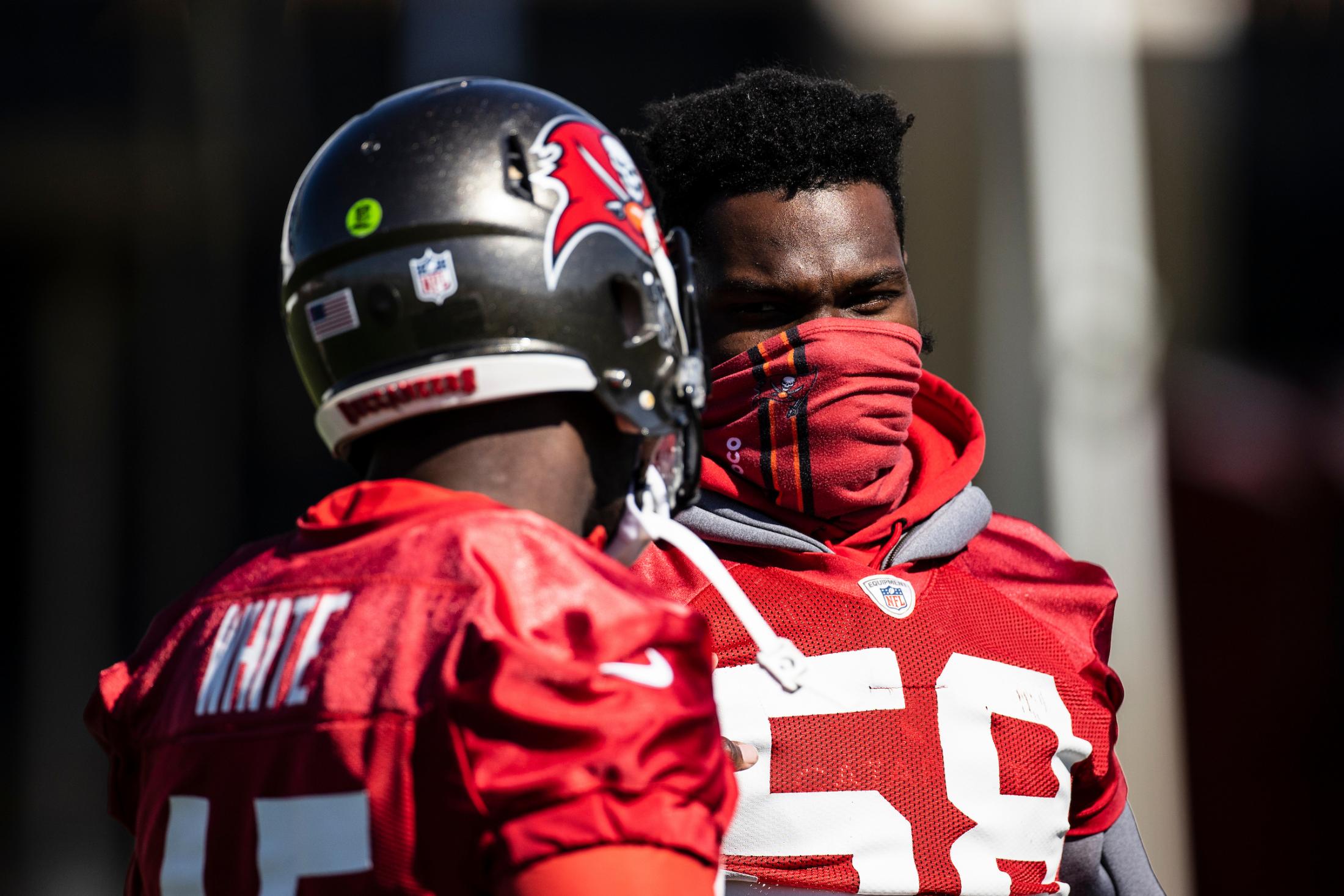 In his first season with the Bucs in 2020, Barrett had a breakout year, leading the NFL with 19.5 sacks. He's starred again this year, most recently with high-profile sacks against the Green Bay Packers and Aaron Rodgers two weeks ago. After getting the franchise tag (a big, renegotiated one-year contract) with Tampa Bay this season, Barrett is about to hit the free-agent market again. (Ravens, anyone?)
We could hope, but it sounds unlikely. Barrett said this week that he's happy with how things are going in Tampa. He was hopeful he could come to a new long-term deal with the Bucs, and he talked about building a home in Florida for his wife, Jordanna, and three children, 8-year-old Shaquil Jr., 7-year-old Braylon, and 5-year-old Aaliyah. He also mentioned eventually moving back to Colorado when his playing days are done.
He hasn't been back to Baltimore in about two-and-a-half years, he told us, though his father still coaches youth football in the city. A few older siblings remain, but he says his time in Baltimore shaped his journey to becoming one of the game's best players, and maybe most importantly, put him on a path to provide "security and stability for my family," he says.
"Growing up in Baltimore is an experience that I wouldn't take back or trade for anything," Barrett says. "It helped me become the man I am today. It's dog-eat-dog. You got to grow up fast. That's just part of the culture. It makes you tough-skinned. It makes you focus on yourself and not let too much outside criticism bring you down or too much outside positivity take you up. You've got to stay even-keeled through everything."
Smith, in the meantime, is a familiar figure around the Owings Mills program. He paid for new uniforms for the football team last season and says he enjoys being a visible role model.
"I like to give back," Smith says. "I always wish when I was younger we had people who were successful and came to the schools and gave us an idea that, 'You can make it out of here. You can go be something from this place.' I try to get back out there and touch as many people as I can."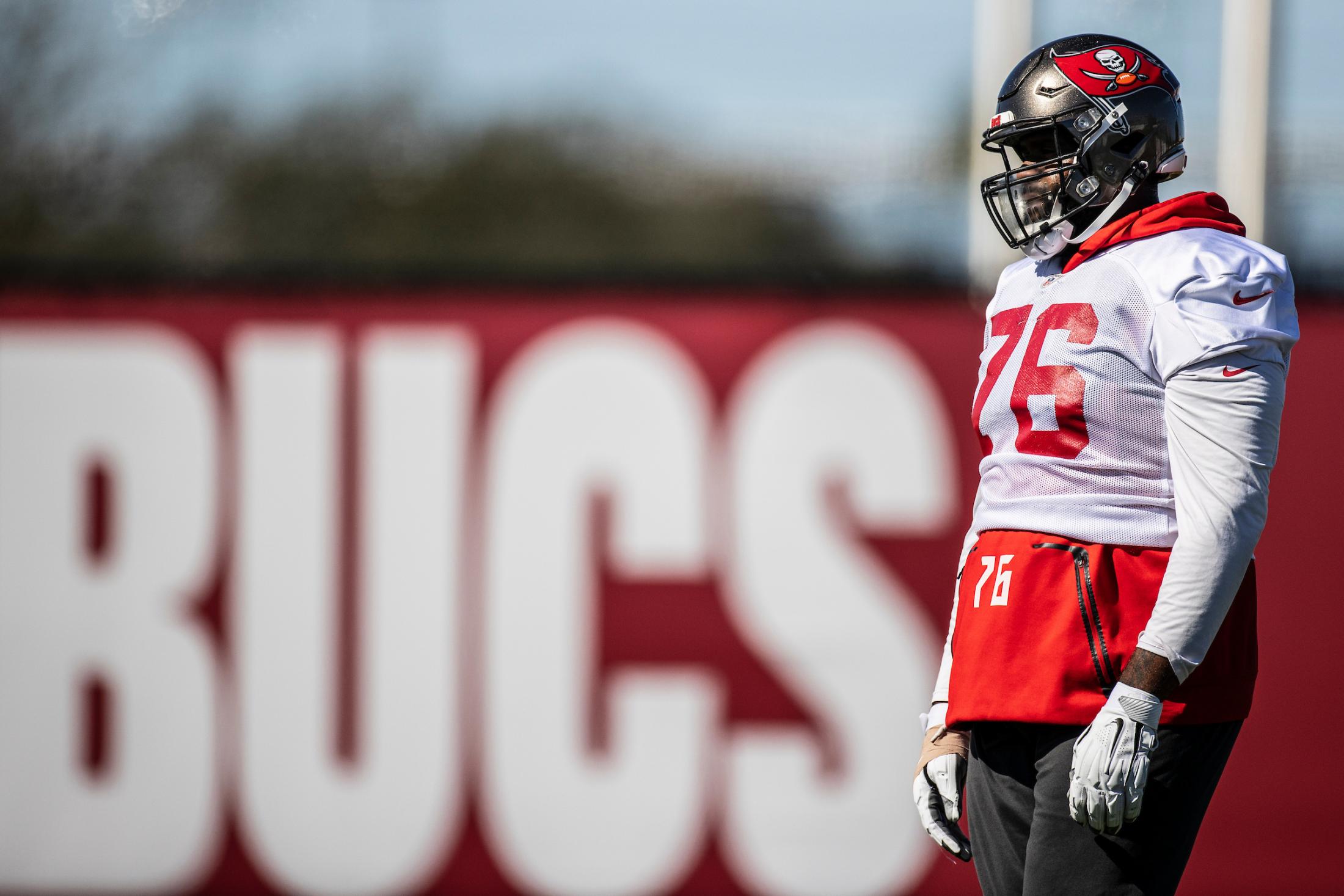 In Tampa this year, Smith has been particularly vocal and invested in social-justice initiatives, including fighting for compensation for a man, Robert DuBoise, who six months ago was released from prison after 37 years—after he was found to be wrongfully sentenced to death row at the age of 18 for a murder and rape he did not commit. Under Florida law, DuBoise was supposed to receive $1.8 million ($50,000 a year), and Smith and other teammates were stunned when they read a local article that said the man wasn't getting anything.
They stepped up with dollars and advocacy. "You can't replace 37 years, let alone being on death row," Smith says, "We just thought, 'How can we get him started?'"
He meant getting him started living life again, with a job, and the hope for brighter days ahead. As Smith knows—and Barrett, too—sometimes you can use some help, a nudge in the right direction, to a game, or a field, or different school, or sometimes a new city, even if you don't know for sure what will happen when you get there.
Sometimes, years later, you just might end up playing in the Super Bowl.